"Salaried Positions Are Scams" — Woman Says She Actually Makes Less per Hour After Promotion
A woman went viral on TikTok after claiming that she now hates working a salaried job because she's earning less per hour.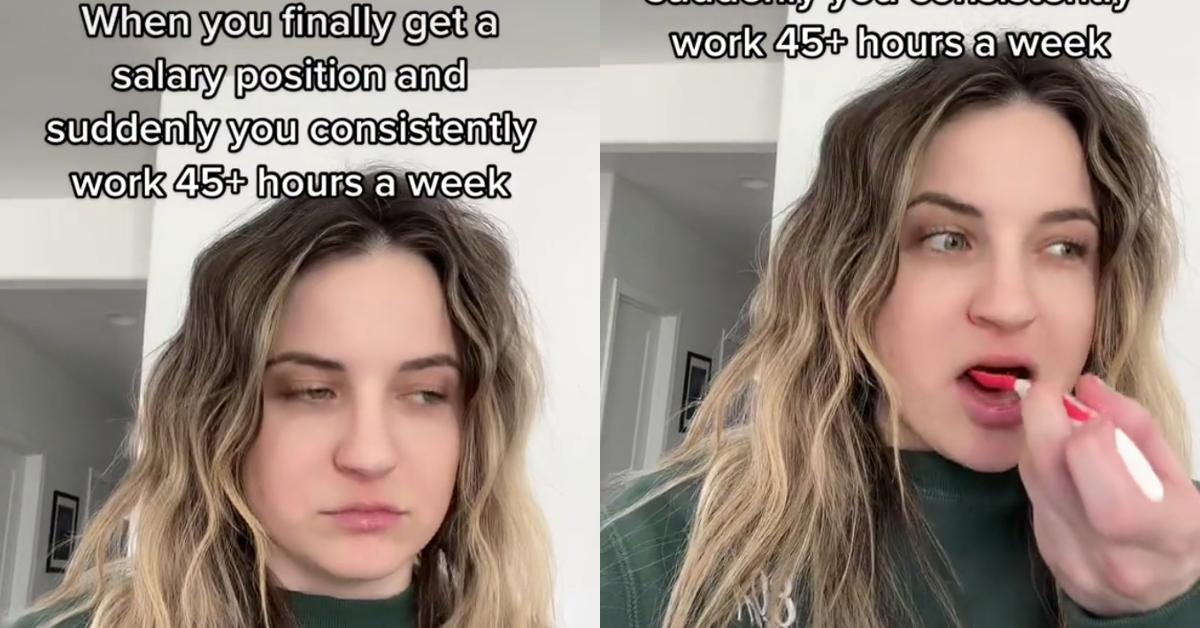 A woman went viral on TikTok blasting full-time salary pay structures because she claims she now earns less money per hour than she did while she was employed as an hourly laborer.
Full-time work schedules are considered to be 40 hours a week, with 30-minute lunch breaks per each 8-hour shift, typically divided up among 5 days a week.
Article continues below advertisement
This means that of those 40 hours someone is scheduled to be "on the clock" for the week, they're actually getting paid for those 37.5 hours. According to an article published by The Balance Money in September of 2022, the average American works 38.7 hours a week, or 1.2 hours more per week than they're getting compensated for.
The outlet goes on to state that women, on average, work 36.6 hours per week, with men clocking 40.5 hours. These averages also factor in weeks where national holidays and other "off" shifts. Like any study, there are outliers, and there some folks may work much more or much less than these figures indicate.
TikToker @financialteller says she falls into the former category in a clip titled, "at least take a girl to dinner before you f*** her up the a**"
Article continues below advertisement
She writes in a text overlay of the video, while eating what appears to be chocolate pudding: "When you finally get a salary position and suddenly you consistently work 45+ hours a week"
Article continues below advertisement

Her video sparked a debate in the comments section, with some folks stating that they were happy to transition from working hourly to salaried jobs, but many others agreed with the TikToker.
Article continues below advertisement

The personal anecdotes from various other users in the comments section highlighted some common themes when it comes to the nature of people's work. It appears that ,depending on the industry, workloads can vary from time to time.
Article continues below advertisement

For example, if you work in the retail industry, or in shipping management, there will definitely be a massive uptick in traffic or deadlines to complete in a timely fashion during the holiday season, because there will be a heck of a lot of folks ordering and shippinggoods all over the country.
Article continues below advertisement

If you work for the IRS, you know in the weeks leading up to tax season and a little while after, you're going to probably have a lotmore work. If you work the help desk in a university, you'll be handling tons of password reset requests and account creations at the beginning of the fall semester.
Article continues below advertisement

There were some TikTokers, who, despite not exactly mentioning the industry that they worked in, expressed that the volume of work they're expected to tackle on a daily basis varies from day to day.
Article continues below advertisement

"Uuuuuh I work either 4 hour days or 12. There is no in between lol," commented one salaried worker.
"Better start setting alarms to stop working at 40 hours," suggested another.
Some people had the opposite experience moving to salary: "I went from an hourly position working 50 hours a week to a salaried position working 30 hours a week at the same company."
Some are working the equivalent of two full time jobs. "72 hours for me last week /: 50 at my store and 22 at home doing booking orders and inventory. Fun."
Article continues below advertisement

What does your work schedule look like? Do you primarily work remotely or in an office? Is it hourly or salary? Do you prefer salary because it comes with an insurance package and don't mind working the extra hours? Or are you sure to try and get all of your work done during your shift and when you're clocked out you're clocked out and leave your work for the following day?