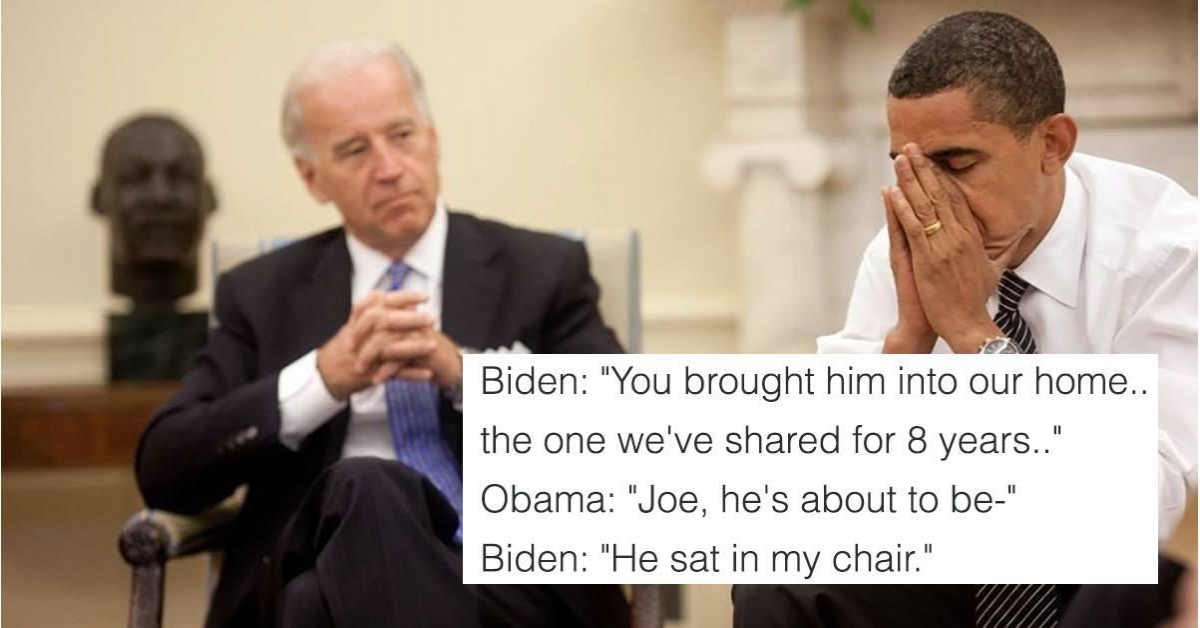 31 Obama And Biden Memes That Are So Good They Should Get Four More Years
By Mark Pygas
Barack Obama and Joe Biden — or Jobama as some people are calling them — better start looking for a place to live, because in a few months, Donald Trump and Mike Pence will be taking over the White House.
With Obama enjoying some of his most favorable approval ratings in the past few months, it's safe to say a lot of people won't be happy to see them go. In an attempt to escape from this horrible reality, the people of Twitter have been taking a guess at what conversations are taking place in the White House right now.
In an interview with NBC News, Biden said that the majority of memes about the duo accurately reflect their relationship. "All those memes — there are thousands of them out there — in essence, they're all true. We had that kind of relationship," he said. "My granddaughters and his daughters are each other's best friends. They vacation together. You know, it's family."
The VP said his favorite meme is the one that says, "Biden: cmon you gotta print a fake birth certificate, put it in an envelope labeled 'SECRET' and leave it in the oval office desk. Obama: joe."
He added, "A couple of ones I liked were ones where I was trying on Ray Bans and he's lying on the couch and I turn around and I said, 'Which ones do you like?' And he looks at me and says, 'Joe, Joe, come on, focus here.'"
Obama even made his own meme for Biden's birthday. On Twitter, he wrote, "ME: Joe, about halfway through the speech, I'm gonna wish you a happy birth--
BIDEN: IT'S MY BIRTHDAY!
ME: Joe.
Happy birthday to @JoeBiden, my brother and the best vice president anybody could have."
We love these two.