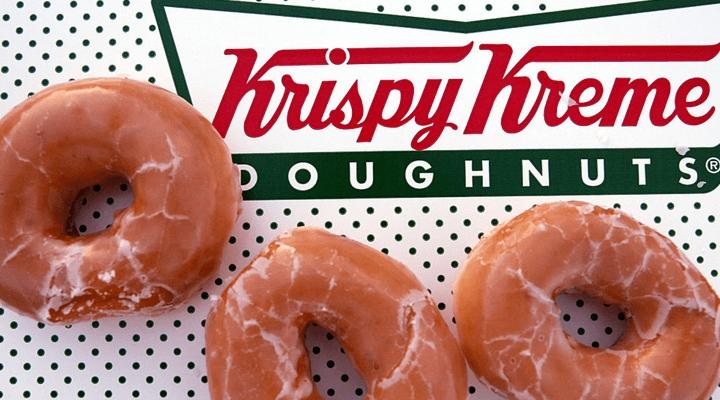 Valentine's Day Might Not Suck Because Krispy Kreme Is Giving Away Free Donuts This Month
By Margot Harris
As the worst month of the year drags on, we're going to need a pick-me-up. It's cold, gray, and Valentine's Day — how can we possibly remedy all that negativity?
...With free doughnuts, of course. And Krispy Kreme is here to save the day.
Starting February 6th, Krispy Kreme will be giving away a free original glazed doughnut to every customer who purchases a cup of coffee.
So why not get your caffeine fix and reward yourself with a sugar high? If you have yet to treat yourself to the warm and gooey goodness of a Kristy Kreme doughnut, do not waste another second. Some Americans argue that they're the best doughnuts you'll ever eat.
The company, which was founded in Winston-Salem, N.C. in 1937, made a name for itself with its "Hot Doughnuts Now" drive-thru (which is impossible to resist) and inside look at the doughnut glazing process. It has since expanded its operations overseas, with the latest Krispy Kreme location opening in Kópavogur, Iceland.
Plus, the brand has given its coffee offerings a makeover (perhaps in an effort to compete with Dunkin' Donuts and Starbucks?) and has recently begun serving two new blends called "smooth" and "rich." We'd gladly volunteer for a taste test.
According to a press release from Jackie Woodward Chief Marketing Officer of Krispy Kreme Doughnuts, their coffee is now fit for doughnuts:
"Our new smooth coffee is the only coffee designed to be the perfect complement to Krispy Kreme's freshly-made original glazed doughnuts and other treats. It's a combination that's deliciously inseparable, and we're proud to say that our coffee is now doughnut-worthy."
Thankfully, the deal lasts until February 28th, so you can chow down on some free donuts for the next three weeks. Try and convince us that's not better than having a Valentine.