These Unexpected Wedding Guests Got The Ultimate Photoshop Treatment From Reddit
Wedding photos gave people the chance to get creative with photoshop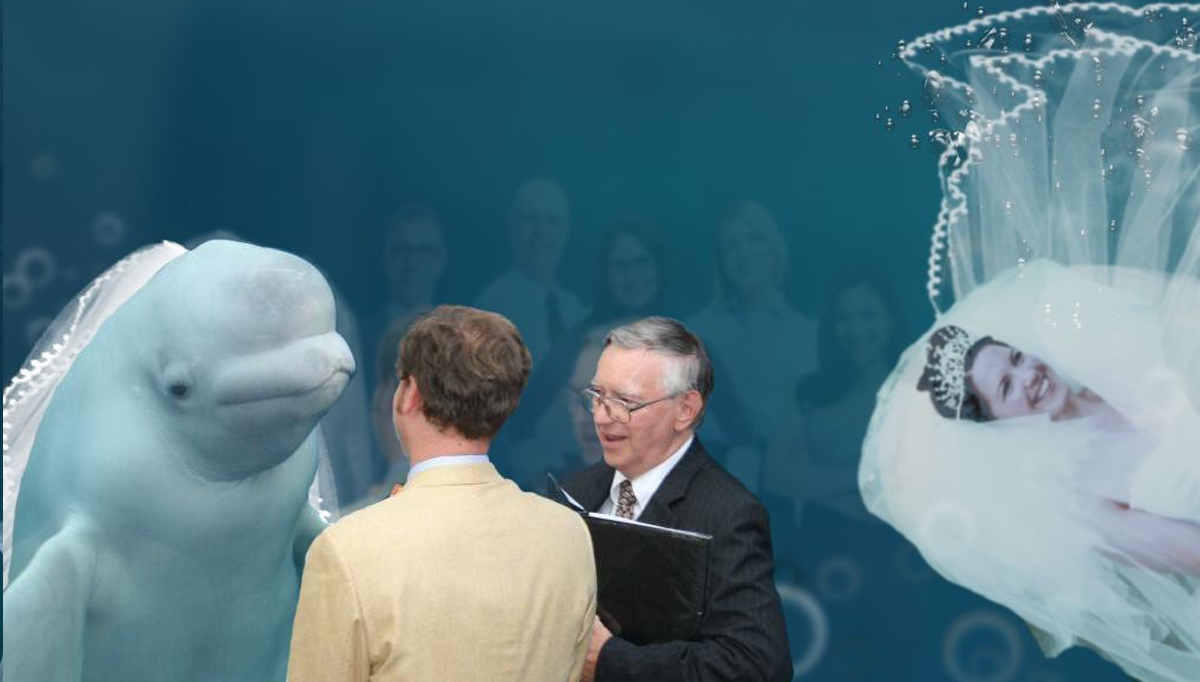 Destination weddings have their limitations. If you're going for a full-on Little Mermaid themed wedding and don't hold it underwater, you've failed from the get-go. Luckily, an increasing number of aquariums are opening their doors to anyone that wants to host their wedding there. This, of course, leads to some pretty interesting wedding photos, especially if one of the fishier wedding guests decides to photobomb a few shots.
Article continues below advertisement
This couple's photo made its way to Reddit's Photoshop Battles subforum because, well, just look at it.
For those unfamiliar with Reddit's PSbattles, master photoshoppers (along with plenty of amateurs) do their best to improve on some pretty amazing unedited photos. The Beluga Whale best man photo was a prime candidate, and they didn't disappoint.
Article continues below advertisement
I'm sorry Mindy, we don't choose who we fall in love with
Best man
Article continues below advertisement
You may now touch fins
Does anyone object?
Article continues below advertisement
In an alternate universe...
Unda tha sea!
It was a tremendous wedding
The average wedding in America costs over $30,000, which is kinda crazy when you think about it. In some parts of the country, that's a down payment on a house or a sweet new car. Or a lifetime of repairs and maintenance for two 9th generation Toyota Corollas (they're pretty much indestructible).
And while the curmudgeon in me wants to poo poo parties in general and spending money on stuff that doesn't have a ready, practical and functional application, I can see why you would want to go all out when celebrating your wedding day.
You're supposed to be head-over-heels with the love of your life. You're supposed to be praising the universe for giving you someone you're so overjoyed to be spending the rest of your life with that you want to share it with all of your friends and family members. It's a celebration of love, which is what life is all about, isn't it?