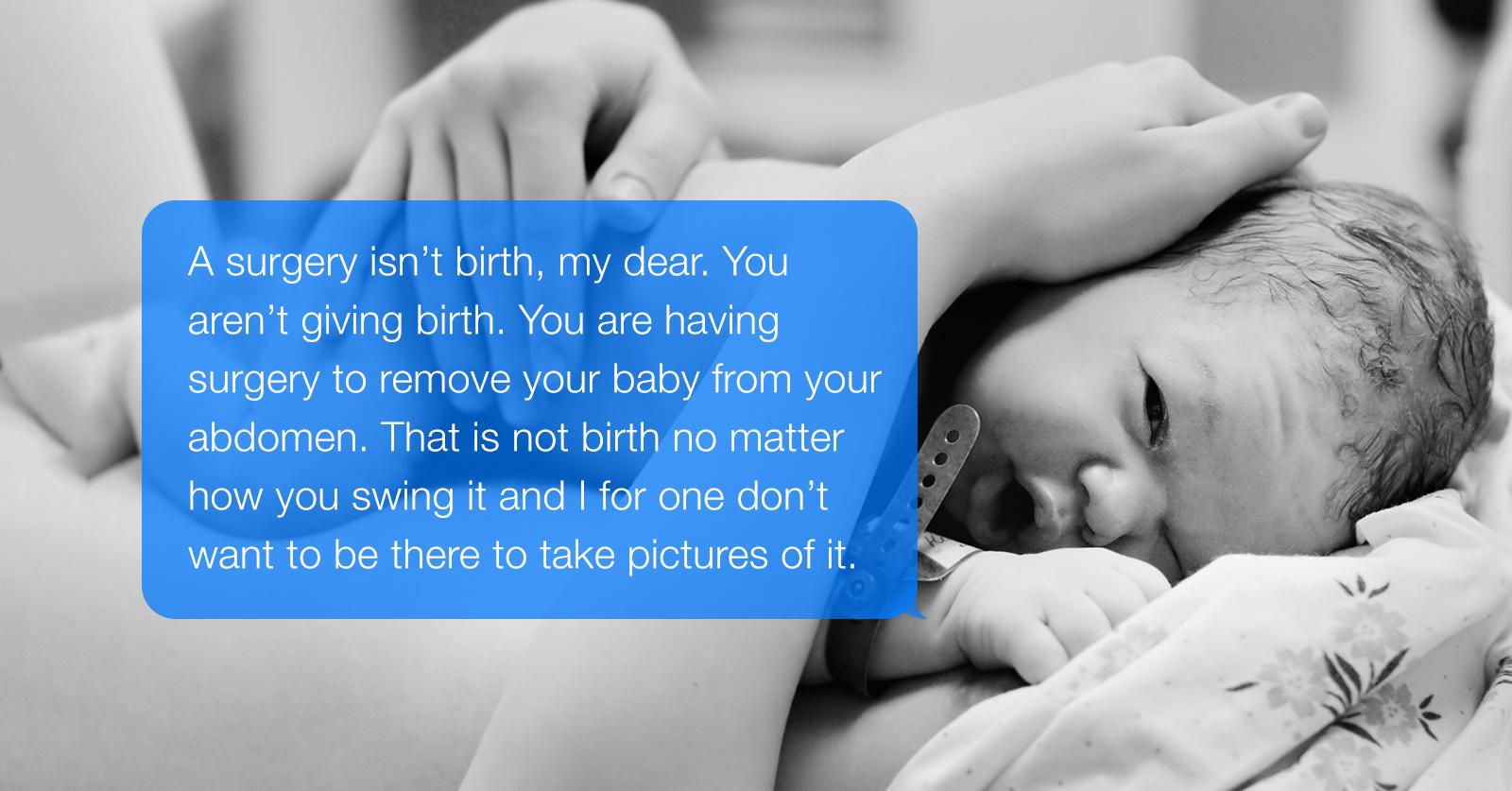 Photographer Refuses To Document Birth For This Controversial Reason And People Are Furious
For some reason, there's a small group of people who believe that if a woman has a C-section, she never actually gave birth because it's the "easy way out." Obviously, this is total inaccurate and there are many different reasons some moms have to have a C-section. In an emergency situation, they can save the life of mother and child, and be way more damaging and painful than traditional birth.
Article continues below advertisement
Sanctimommy is a Facebook community where moms share the bizarre comments they get online for doing normal mom stuff that shouldn't be an issue. Recently, one member decided to share the end of a conversation she got into with her birth photographer after they cancelled on her because she was having a C-section.
"That is not birth no matter how you swing it."
Article continues below advertisement
As you can image, mothers had some pretty good responses to the conversation.
"This infuriates me and I can't even make a joke," one commeter wrote. "Sorry I didn't just let us both die after 18 hours of trying."
Another added:
"This photographer would need surgery to remove my foot from their ass."
Article continues below advertisement
While others tried in vain to work out the logic:
"So C-section babies don't have birthdays then I guess, since they are never born."
"Happy Removal Day to you! Happy Removal Day to you! Happy Removal Day to my children, who I obviously don't love enough to have a working vagina for."
Article continues below advertisement
Others pondered how the photographer still gets work:
"I'd hate to know what the photographer would say if she'd been hired to photograph the conception, and found out the mom had taken the easy way out with IVF. Cutting corners!"
Another mother wondered how she was going to break the news to her daughter: "I'm in Pinterest hell planning my daughters mermaid "birth"day party right now. I'll break it to her gently that it will now have to be a mermaid surgically removed day party. Goddamn it. Now I have to make a new banner."
Childbirth isn't a competition, and however the baby is delivered, it isn't exactly "easy."