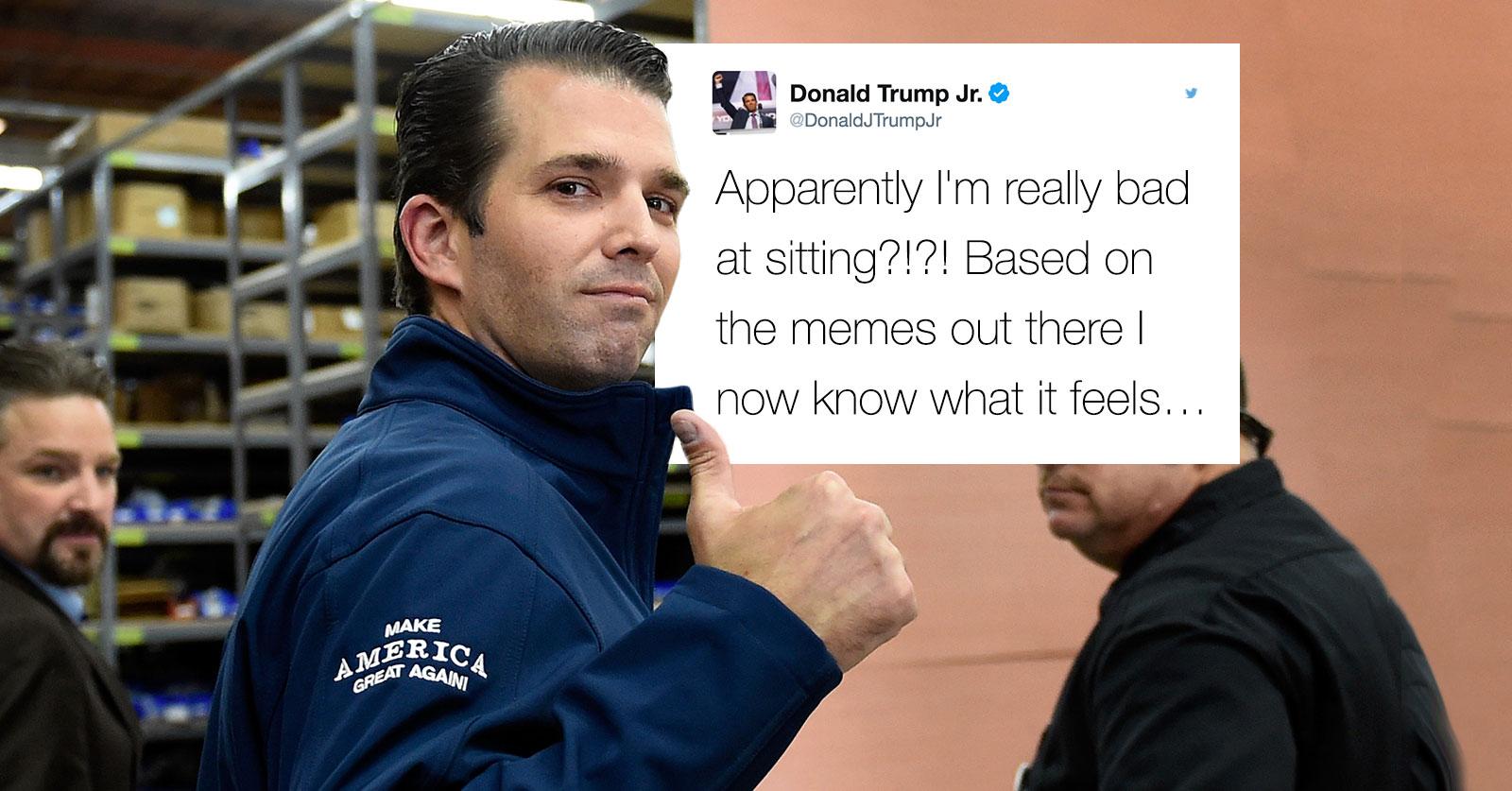 Donald Trump Jr. Responds To Meme That Suggests He Can't Sit Correctly
By Mark Pygas

Updated
After Alec Baldwin as President Donald Trump, Mikey Day as Donald Trump Jr. and Alex Moffatt as Eric Trump are fierce competitors for the best portrayals on Saturday Night Live. 
And Day has plenty of new material after the internet discovered over the weekend that Donald Trump Jr. doesn't know how to sit properly. 
It all started with this article from the New York Times, featuring Trump Jr. sitting on a tree stump on the family estate in New York, staring off into the wilderness. 
Twitter users were quick to point out that it looks pretty uncomfortable... 
While one user pointed out that his inability to sit isn't exactly new...
The tweet even earned a reply from the man himself. 
Trump Jr. wrote in an Instagram post: "Apparently I'm really bad at sitting?!?! Based on the memes out there I now know what it feels like to be Salt Bae! Thanks internet... And in all honesty if a couple bad pics is all you've got I'm pretty psyched. #tryharder#saltbae #trump #haters#hatersgonnahate"
Hopefully he gets a little more comfortable during the next four years.
Donald John Trump is the 45th and current President of the United States. Before taking office on January 20, 2017, having beat opponent Hillary Clinton in the electoral college but not the popular vote, Trump was a real estate mogul, and a former reality TV star. 
Born in Queens, New York, in 1971 Trump became involved in large, profitable building projects in Manhattan, under the guidance of his father, real estate developer Fred Trump. 
In 1980, Donald Trump opened the Grand Hyatt New York, making him the city's best-known developer. 
In 2004, Trump began starring in The Apprentice, a hit NBC reality series, and later in a spin-off series, The Celebrity Apprentice.  
In 2015, Trump announced his candidacy for president of the United States running as a Republican. Trump win a majority of the primaries and caucuses, becoming the official Republican candidate for president on July 19, 2016. That same November, Trump was elected the 45th President of the United States, after defeating Democratic candidate Hillary Clinton.