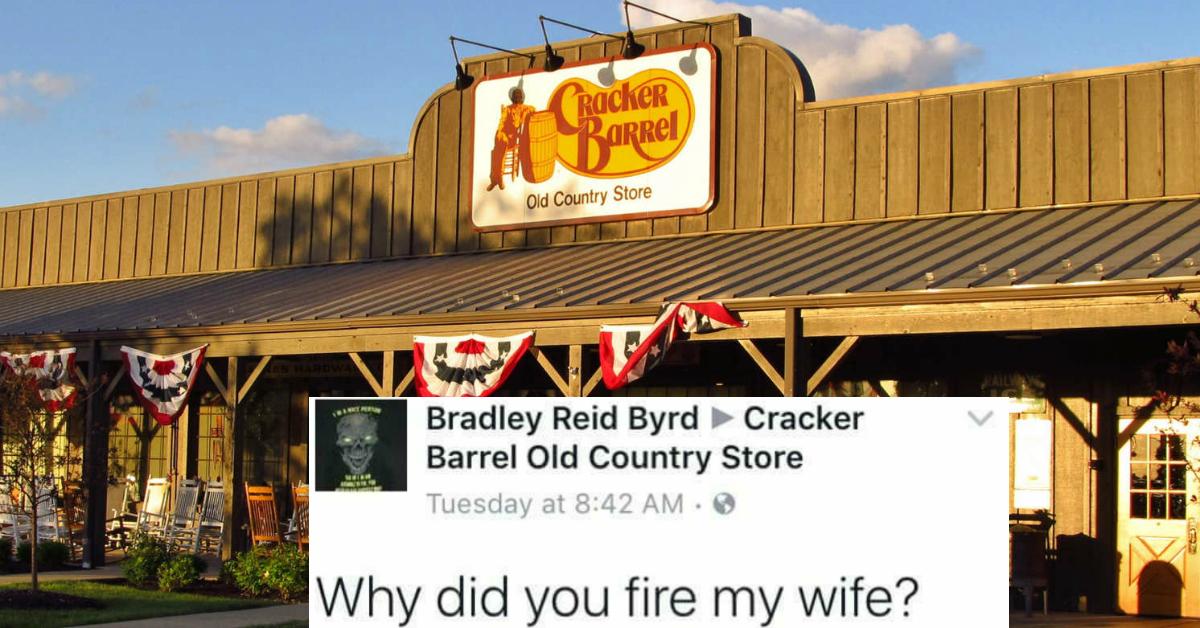 People Have A Big Question For Cracker Barrel And It Has Nothing To Do With Food
By Mustafa Gatollari

Updated
I love me some Cracker Barrel. I can't think of many other places in America where you can eat enough food for six adults and it cost under $20.
From peach pancakes, to egg and cheese biscuit sliders, to all the stuff they sell while you wait for your table, I'm in love with the place.
But sadly, not anymore. Why? Because according to the latest Internet scandal, they had the audacity to fire Bradley Reid Byrd's wife on his birthday, of all days. Not only that, but allegedly after 11 years of dutiful service, and I'm just not having it.
It started with this post by comedian Amiri King who wanted to know why Cracker Barrel went and did such a dirty thing.
Everyone flocked to social media to insist Cracker Barrel provide an answer for their crimes.
Now some people might find this whole thing hilarious, and I admit it is.
But it doesn't change the fact that Brad's wife was let go after breaking her back for them for 11 long years. And people were annoyed by Cracker Barrel's lack of response.
One Facebook user wrote, "As someone who works in social media, Cracker Barrel is actually gonna need to come and respond to this PR crisis. The world wants answers as to why Brad's wife was fired."
I just don't think I'll ever get over this sad event.
Important edits had to be made to the company's Wikipedia.
#JusticeForBradsWife. Of course, all of this said, we don't actually know why Brad's wife was fired, how long she worked there, or what her relationship is like with the company now. But like the rest of the Internet, we're curious: What happened with Brad's wife?