Photo Of The 'Invisible' Way Teachers Support Hungry Students Goes Viral
This teacher posted a photo of the cupboard she keeps stocked with snacks to feed the hungry children in her class.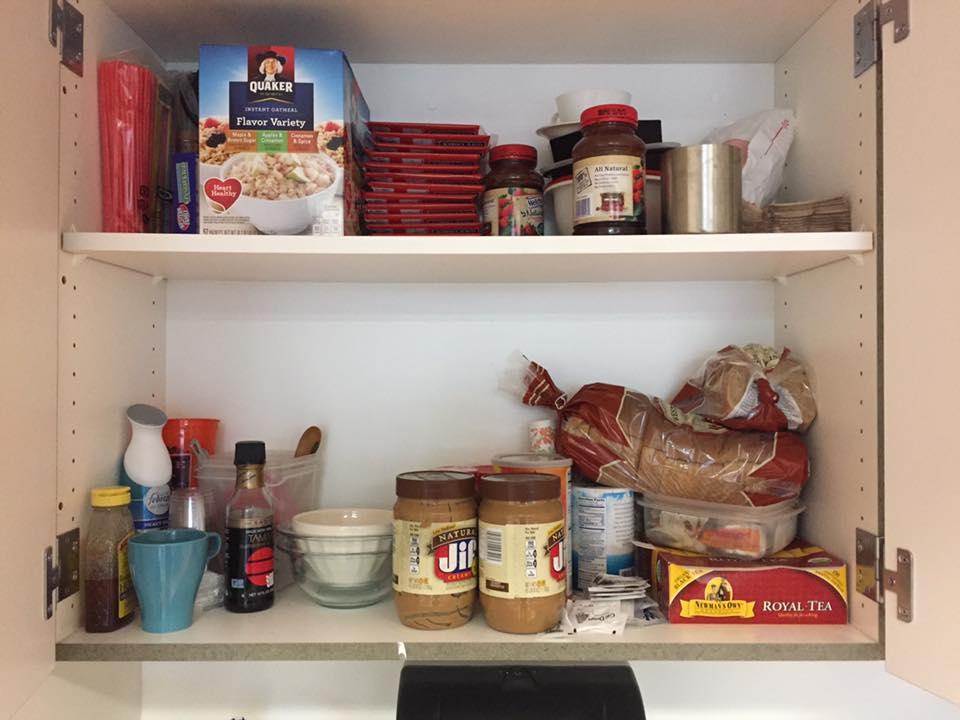 In his first proposed budget as President, Donald Trump suggested making major cuts to a number of anti-poverty programs. These include Meals on Wheels for the elderly and after-school programs that feed children from low-income families.
Article continues below advertisement
Director of the Office of Budget Management John Mulvaney told press that the decision to defund these vital after-school programs was taken because there's no "demonstrable evidence" that they help kids perform better in school.
One area of the country that these proposed cuts could hit hardest is in Fairview, Oregon. At Reynolds Learning Academy, 84% of students qualify for free or reduced lunch, and over 20% experience housing instability.
Article continues below advertisement
Angry over Mulvaney's remarks, teacher Katherine Gibson Howton decided to show just how bad things already are in her school. In a Facebook post she shared earlier this month, Howton showed a cupboard she keeps stocked with snacks to feed hungry children in her class.
Article continues below advertisement
In a caption alongside the photo, Howton explained that this is an all too common practice.
"We are your children's teachers. We know that we may have more time with your child than you do."
Article continues below advertisement
We don't want them to be hungry, and not just because a hungry child can't learn but because we care about them. Hungry feels scary.
"Almost every teacher I know has a cabinet in their classroom with emergency food for their hungry students. This is the cabinet I share with another teacher, Julie Mack."
Article continues below advertisement
"Children come into our classroom everyday telling us they are hungry. Many more never say a word because they are embarrassed and it is up to us to notice that they are distracted, tired, grumpy."
"Skilled and compassionate teachers learn to ask if there is food in the house and when was the last time you ate? And the really skilled teachers just know when to make an extra sandwich, grab an orange, make a bag of popcorn or bowl of oatmeal, and set it in front of a student and tell them to eat."
Article continues below advertisement
Howton's post has received a lot of attention since it was first posted. It has been shared by pages including Pantsuit Nation and Love What Matters, where it acquired thousands of shares and likes.
Article continues below advertisement
Howton told The Huffington Post that she decided to share the photo and her experience after hearing Mulvaney's justification for proposed cuts to after-school meals. She explained:
"That phrase, 'There's no demonstrable evidence' just stuck with me. It really bothered me that an adult would say that children have to perform some trick to be fed. But mostly I felt that Mulvaney really doesn't know what is happening in the nation's schools."
Article continues below advertisement
Howton said that she'd never told anyone she fed some of her students before, but then realized that the same thing is probably happening in classrooms across the country.
"I think that in the micro world of the individual classroom it's not that interesting, but taken in its totality, the macro view that this is happening all over the country in thousands of classrooms is interesting. Mulvaney can only say what he said because those of us in schools have been quietly filling in the gaps. He has been allowed to stay ignorant because we are providing an invisible safety net."
Article continues below advertisement
Howton wants people to realize that these kids "are genuinely hungry," and that while she doesn't mind feeding them, she can only do so much. She wants to reduce the stigma around receiving free food at school.
"I have never seen a student waste the food I give them. I have never felt that the food is a distraction."
"Food not only satisfies their stomachs but it nourishes them. Our students aren't nourished. When I have a group of girls sitting together munching on apple slices and peanut butter working on their geometry, they are being nourished. And that whole scene started because a girl told me she had a headache. When I offered her a glass of water, she declined and said she just hadn't eaten all day. The two other girls got up and made her that snack. Feeling hungry feels scary. If satisfying their stomach makes them feel less afraid, less anxious, more cared for... everything else becomes easier."
Article continues below advertisement
And to do so, she wants other teachers to post photos of the pantry they keep.
"It would be a powerful message to those who are making policy if teachers and school nurses and whoever sent pictures of the drawer or the bag or the pantry that they keep in their own classrooms."
Article continues below advertisement
Hopefully this viral image educates people in two important areas: First being that no child should go hungry, regardless to how they perform in school, and second, that teachers put in tons of invisible labor to provide safe, healthy, and happy environments for children to learn and thrive.
More from Distractify