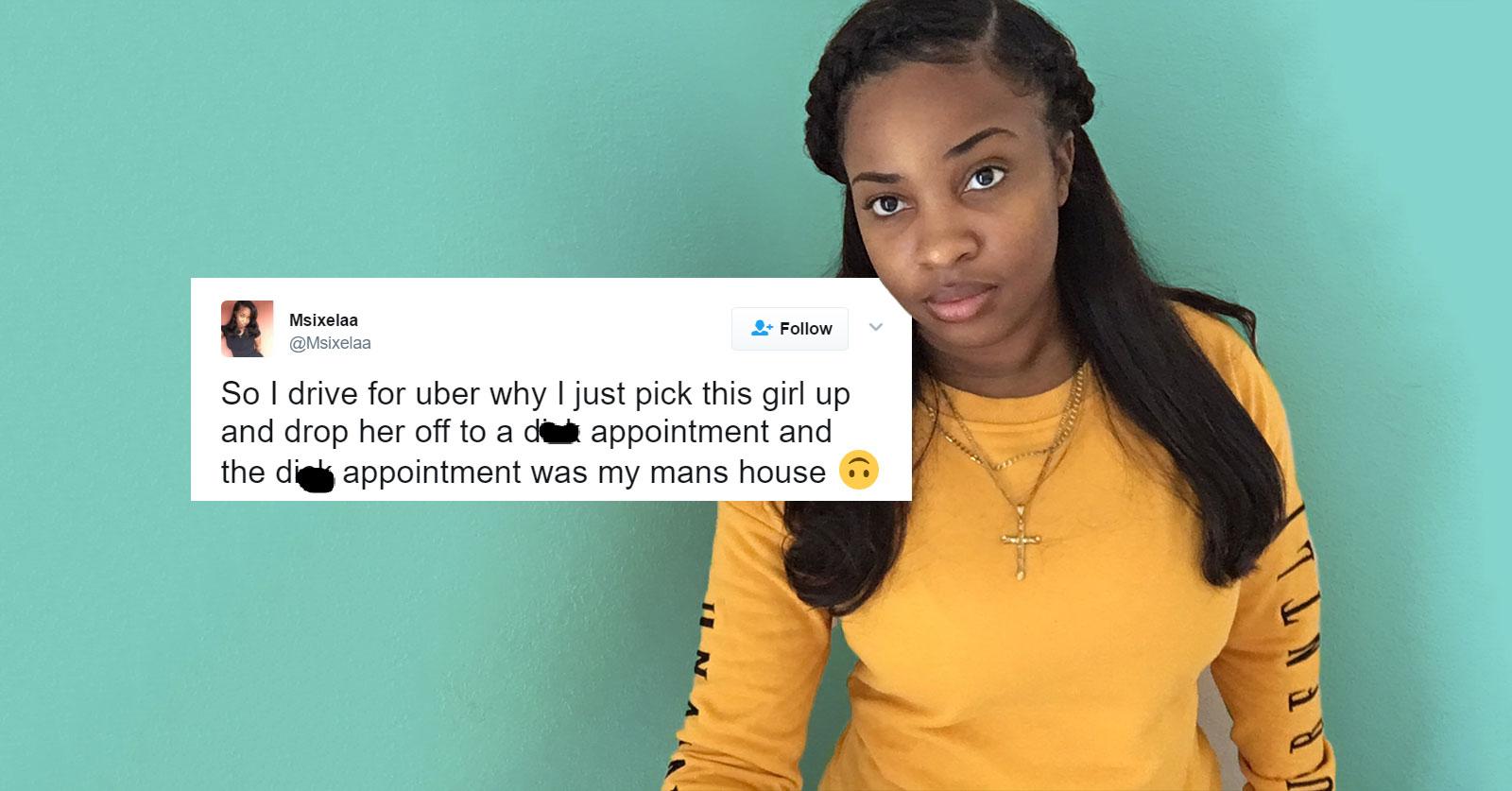 Uber Driver Catches Boyfriend Cheating After Picking Up His Other Girlfriend
By Omar Rimawi

Updated
Without a doubt, rideshare apps have changed the way we travel. For some people, they introduce a new way to earn a few extra bucks during your free time, or even the flexibility to leave a traditional job and set your own hours. Do it long enough and you're bound to run into someone you know, or at least someone that knows the same people you do, as was the case for Twitter user @Misixela.
While working for Uber, she picked up a passenger who shared a mutual acquaintance with her.
"So I drive for uber why I just pick this girl up and drop her off to a dick appointment and the dick appointment was my mans house," @Misixela writes. If that doesn't pique your interest, we're not sure what will.
At first, nothing seemed out of the ordinary.
"She put the apartment complex address not the actual apartment number," @Misixela explains.
They were enjoying each other's company, for the most part.
We in the car and we just riding she telling me about herself I let her help herself to my dam water In my backseat

— Msixelaa (@Msixelaa) March 27, 2017
Some background with her boyfriend.
My man told me he was going to ny to see his mom she's in the hospital he had luggage packed an everything I stayed with him the night befor

— Msixelaa (@Msixelaa) March 27, 2017
Some background on @Msixelaa.
Here's where it starts to get good.
Anyways fast forward to us pulling up to the gate at the apartment complex I'm like my boyfriend lives out here

— Msixelaa (@Msixelaa) March 27, 2017
She's like ok I got the number at this point I'm like ok we counting the building numbers down as we are riding through the buildings

— Msixelaa (@Msixelaa) March 27, 2017
He dun goofed.
He played himself.
At least she got something out of it.
Follow-up conversation with her now ex:
Yeah, no one is feeling sorry for him.
After sharing the story on Twitter, the Internet named her #UberBae.
She's the Internet's newest hero.
Most of us see her ex as the chump of the month.
Anyone addicted to drama has had enough to satiate their appetite for a week.
But if there's a lesson in all of this, it's this:
Or not. Either way, it's good entertainment, right?