IHOP Waiter Helps Feed Disabled Customer, Rekindles Our Faith In Humanity
This IHOP waiter is being praised by thousands for helping feed a disabled customer.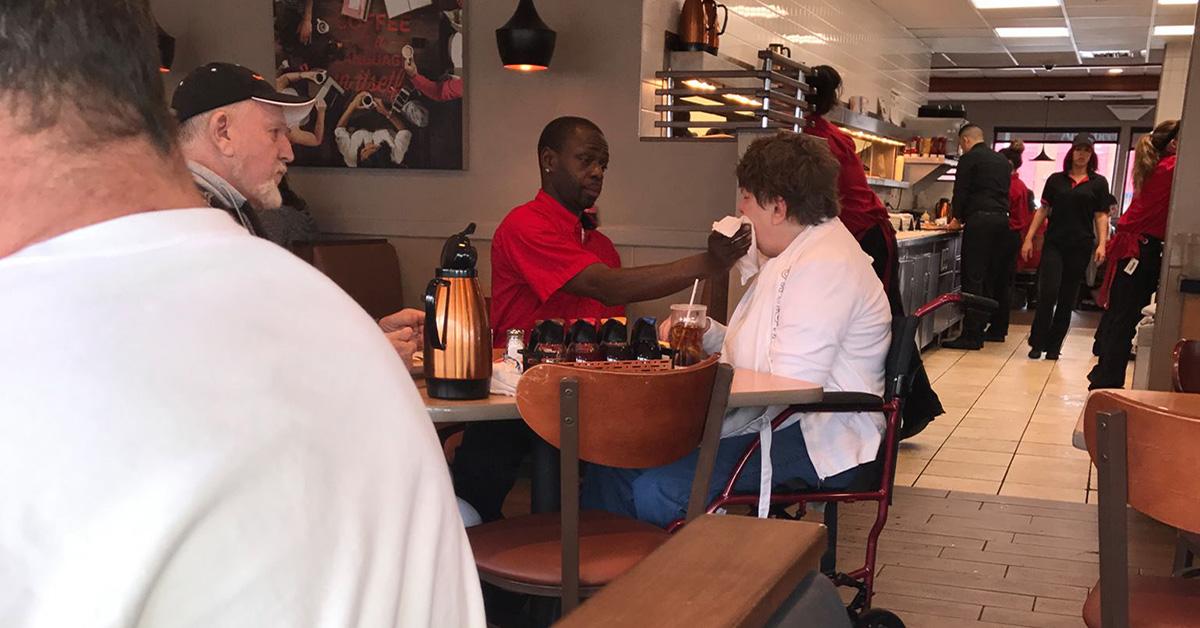 Joe Thomas, 43, has been working at an IHOP restaurant in Springfield, Illinois, for more than a decade. All the regular customers know and love him. Now, Thomas is being praised by thousands online for doing something he's been doing for seven years.
Article continues below advertisement
One of his regular customers, identified only as 'Ma,' has Huntington's disease, which makes it difficult for her to use utensils. Whenever she comes to the restaurant with her husband, Thomas always helps to feed her so that he can eat his own meal.
But this weekend, Keshia Dotson spotted the sweet moment and decided to upload a photo to Facebook, where it's been shared thousands of times.
Article continues below advertisement
"Today while visiting your Springfield, IL location on Dirksen I witnessed a very touching moment involving one of your servers. A man and disabled women were dining and your server sat down with them and proceeded to help feed the disabled woman while her companion enjoyed his food. My faith in humanity has been restored a little today."
Article continues below advertisement
Thomas told Buzzfeed that the couple have been regulars for seven years, and he's witnessed Ma's deterioration as her condition got worse. So a while back, he decided to ask if they needed any help.
"I always see him stop eating to feed her, and I was like, 'Heck, if I'm not doing anything, why don't I go feed her so he can eat and everyone can be happy?'" Thomas told WICS.
Article continues below advertisement
"I remember when she was able to walk and feed herself more than she can now. We've become good friends, and I've grown attached to her. I'm just here to help."
Thomas says that Ma and her husband now come in every weekend, and that helping her has become "a standard weekend tradition." She usually always orders applesauce, fruit, and eggs.
Article continues below advertisement
In response to the positive comments the post received from around the world, Thomas hopes that it will inspire others to help in whatever way they can.
"It really felt good for somebody to actually see another person is doing something and take notice. It felt good, but at the same time I was like I really don't care for the recognition too much because it's just something that should automatically be done regardless."
Article continues below advertisement
Thomas told WICS that since the photo went viral, he's received a job opportunity to become a nurse and is seriously considering the offer.
More from Distractify