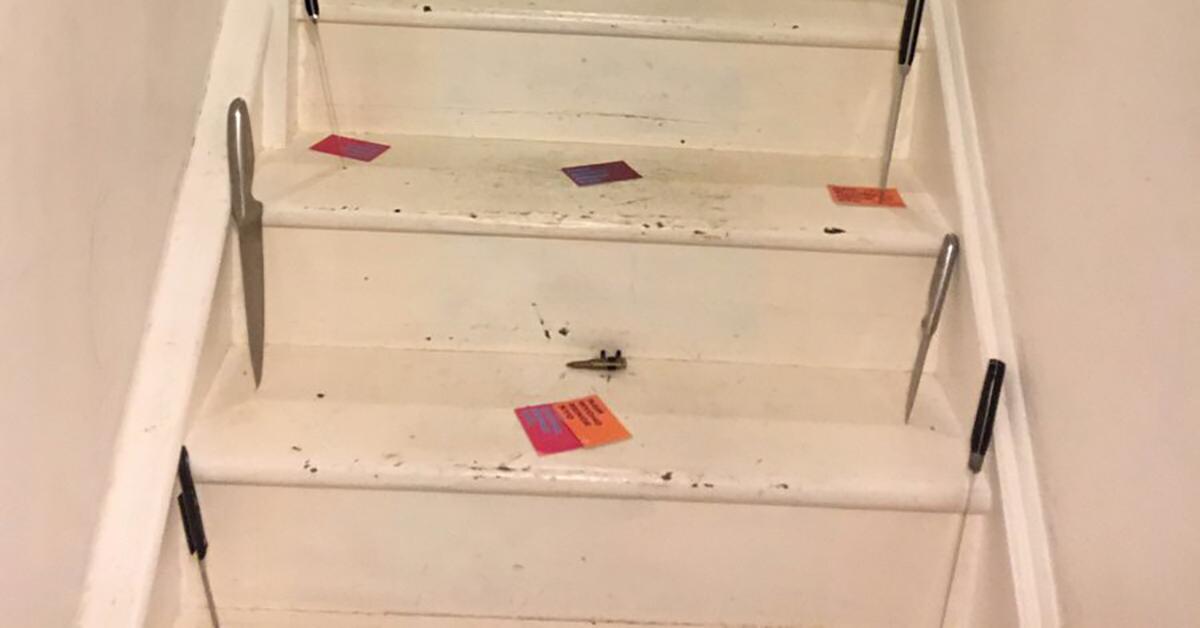 Police Share Disturbing 'Stair Of Knives' Found At Home Of Domestic Abuse Victim
Police in the United Kingdom have shared a horrifying look into the reality that domestic abuse victims face, and it's getting a big reaction on social media. After police entered a house and found a stairway with 21 kitchen knives embedded in the wood on every step, along with what appears to be a bullet, people are reminded of just how serious domestic violence is.
Article continues below advertisement
Inspector Jack Rowlands shared the photo on Twitter. It was taken by a colleague after the Metropolitan Police were called to a house in Hounslow, London. A 42-year-old man was arrested and charged with common assault.
As Rowlands stated on Twitter, he believes things could have gotten much worse if police had not acted when they did.
Article continues below advertisement
Article continues below advertisement
Twitter users immediately compared the scene to something out of a horror movie.
Article continues below advertisement
Article continues below advertisement
Article continues below advertisement
Two women are killed by a current or former partner every week in England and Wales. And the situation is very similar in the United States. According to some studies, less than 1% of domestic violence cases are reported to police in the U.S. And in 2007, there were 2,340 deaths caused by domestic violence, or 14% of all homicides. Domestic violence is no joke, but it can often go under the radar, which is why awareness and compassion are so important.
"What this chilling picture shows is the real threat to life that domestic abuse is. The knives represent that threat. They say, very clearly, 'If you try to leave, I will hurt you,'" Polly Neate, the Chief Executive of Women's Aid, told Huffington Post UK.
"This is why many women are unable to leave — for fear for their life or their children's lives. The Femicide Census proved that women are at significant risk at the point of separation from an abusive partner. 76% of women killed by their ex-partner or ex-spouse between 2009 and 2015 were killed within the first year that followed their separation. This picture is a snapshot of the horrific reality of domestic abuse. We hope it raises awareness of the barriers facing survivors who want to flee."
If you or someone you know is suffering from domestic abuse, call the National Domestic Violence Hotline at 1−800−799−7233.
More from Distractify