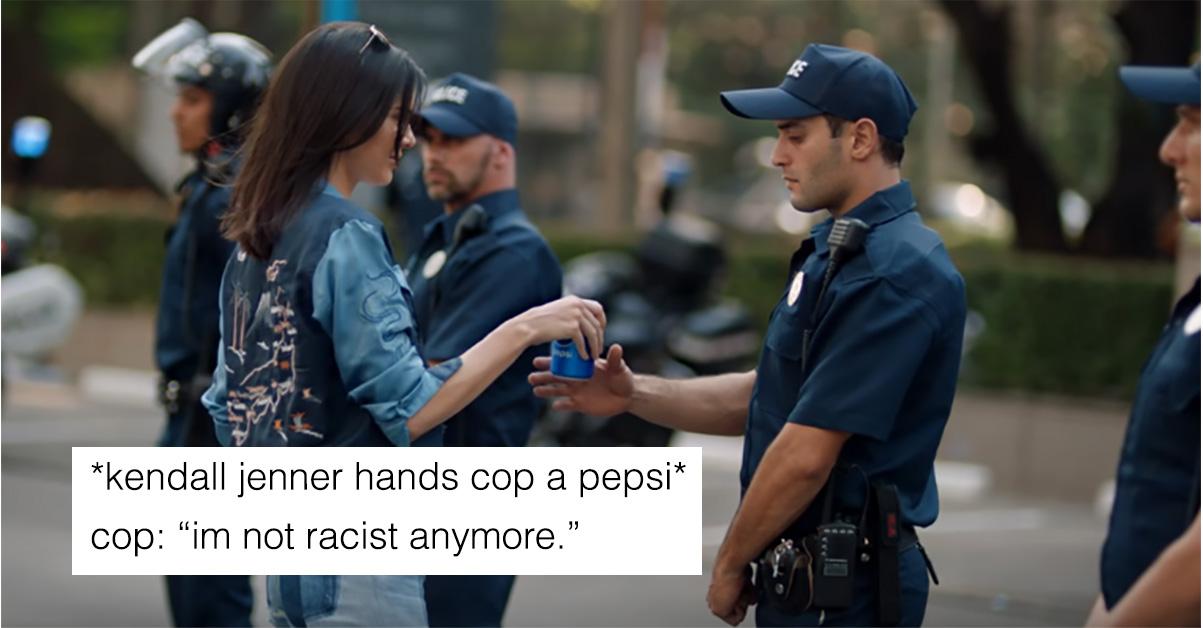 Pepsi And Kendall Jenner Are Getting Roasted Over Their Tone-Deaf 'Protest' Ad
By Mark Pygas
The latest Pepsi commercial, featuring Kendall Jenner, is being met with criticism online because it features the star walking through a protest to give a policeman a can of Pepsi and defuse the entire situation.
The ad is obviously trying to appeal to those protesting against the policies of President Donald Trump, but ended up backfiring spectacularly because it's so out-of-touch with the violence that often erupts between protesters and cops.
Following the outrage, Pepsi released this statement:
"Pepsi was trying to project a global message of unity, peace and understanding. Clearly we missed the mark, and we apologize. We did not intend to make light of any serious issue. We are removing the content and halting any further rollout. We also apologize for putting Kendall Jenner in this position."
Others called on them to do more and donate to good causes.
Pepsi definitely could have handled this one better. Getting a member of one of the richest families in the nation to protest against the establishment was an odd decision, and the ad might have been better received without Jenner in it.
The model first spoke out about the controversy on her family's reality show, "Keeping Up With the Kardashians." "When I first get this offer, I mean, it is a huge company," Jenner explained in a confessional. "The people I was following were so iconic and amazing. Michael Jackson has done it, Britney Spears has done it, Beyoncé, Pink — the list goes on. To get something like that, it was so exciting. I trusted everyone. I trusted the teams. After I saw the reaction, and read what people had to say about it, I most definitely saw what went wrong. I was so stuck and I really didn't know what to do, so I completely shut down."
Here's hoping all parties involved learned a valuable lesson.