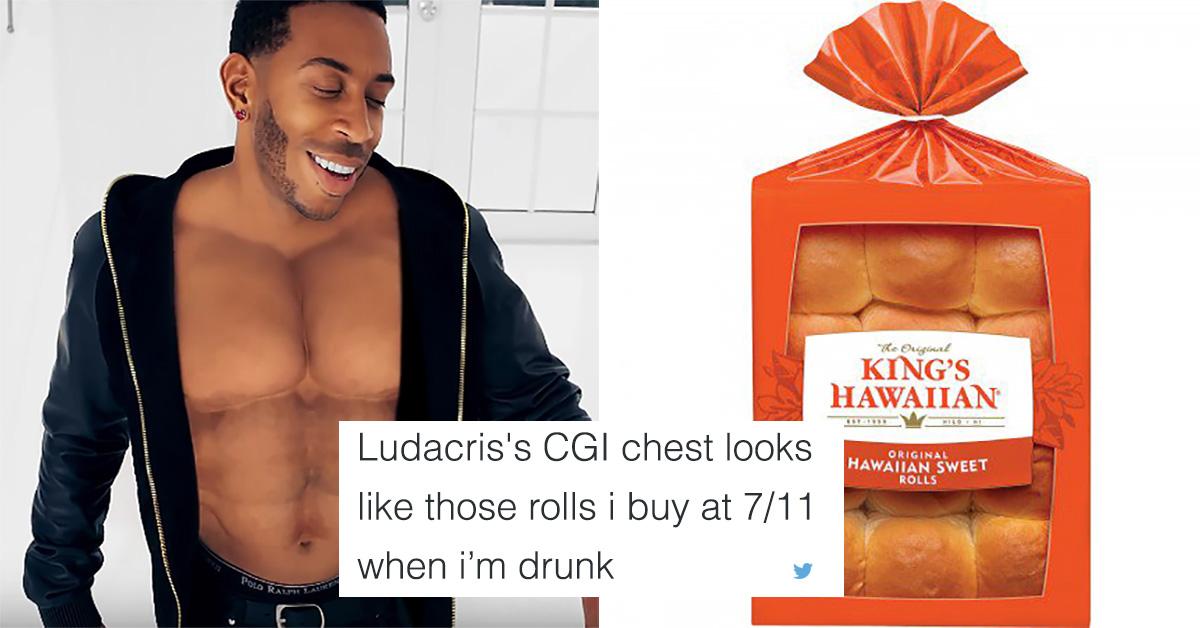 Ludacris Has CGI Abs In His New Music Video And The Internet Is Not Having It
By Mark Pygas

Updated
Ludacris just released the video for his new song titled "Vitamin D," but it's not the name of the song that have people talking. In the first couple of seconds of the video, Ludacris appears to have some incredibly bad CGI abs. 
Twitter was quick to point them out. 
On a scale of real to Ludacris, how is your torso?

— GET OUTO (@OttoFernandez) April 11, 2017
Ludacris eventually responded on Twitter, pointing out that they were supposed to be obviously fake. 
It's ok they slow RT @chris_oneto: he's supposed to have CGI & he looks at them at the end of the video & sees em gone. It's intentional

— Ludacris (@Ludacris) April 11, 2017
But he seems to be taking the criticism well. 
Everyone loves your distinctly average body just the way it is, Ludacris.
In fact, Stereogum pointed out that the rapper has been playing with CGI for over a decade now in his videos, so it appears the goof was intentional. We clearly don't give you enough credit, Luda.
The 39-year-old recently shut down claims that his music career is over. "[It's] definitely not dead, not at all," he said in an interview with The Shade Room. "I'm just taking my time putting out some more music. When you get to the ninth album stage and you've sold over 20 million records, sometime it's a process and you just gotta take your time with the process. It's expected. Any artist that takes a lot of time in-between albums, you always gonna have people that say [they're done]. But music is number one. If it wasn't for music, I wouldn't be where I'm at right now."
The Illinois-native has also had a successful film career, starring in five of the eight "Fast and the Furious" movies alongside Vin Diesel.