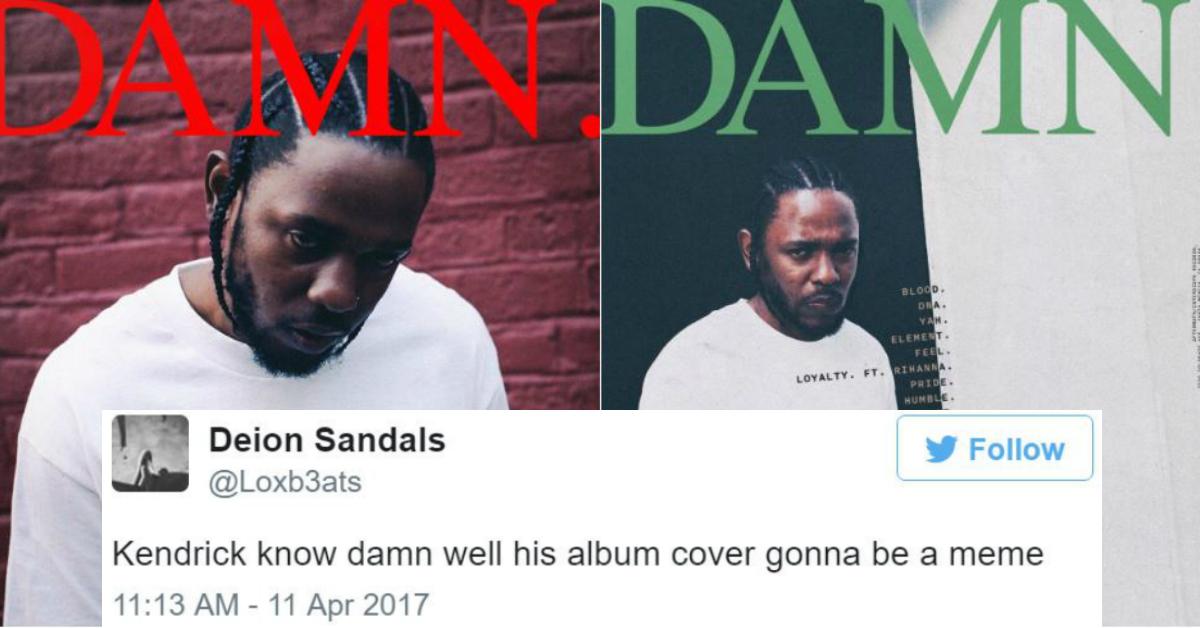 Kendrick Lamar's 'DAMN.' Album Cover Is Already Getting Memed Like Crazy
By Mustafa Gatollari

Updated
If you can get thousands of people meme-ing something you did on Twitter, then you've officially achieved success. Just ask Drake what the Hotline Bling memes did for his career. I have to think that he danced like a buzzed uncle at a barbecue because he just knew that the Internet was going to parody the hell out of it. I mean, how else do you explain that masterfully ridiculous music video? So, so good.
Now, a bad album cover isn't necessarily indicative of how good or bad an artist is. Kendrick Lamar might be one of the better lyricists out there right now, but there are tons of people on Twitter who think that the rapper intentionally created meme-able album art for his latest effort, DAMN.
Lamar debuted the cover art online...
...and it looks like everyone had the same exact idea about his thought process when creating it.
"Kendrick knew what he was doing wit that Damn cover...he understand there is a thing called 'meme culture,'" one Twitter user wrote. Another added, "Kendrick know d--n well his album cover gonna be a meme."
Seriously, everyone was making the same exact joke.
Kendrick Lamar's new album cover is genius. That marketing team knew DAMN WELL it was going to be a 'one size fits all' social media meme.

— David (@_Politico45_) April 11, 2017
I mean, it is pretty obvious.
The album art/name for the new Kendrick Lamar is a big day for the meme-industrial complex.

— Mark (@merepseudmcl) April 11, 2017
It looks like people are already starting to meme it, too.
Damn, this is gonna give us some damn good memes.
The new music, which drops on April 14, marks Lamar's fourth studio album. He won five Grammys in 2016, including Best Rap Album for "To Pimp a Butterfly." He previously won Best Rap Song and Best Rap Performance for his hit single "i".