First Woman To Officially Run The Boston Marathon Races Again, 50 Years Later
First Women to ever run the Boston marathon runs 50 years later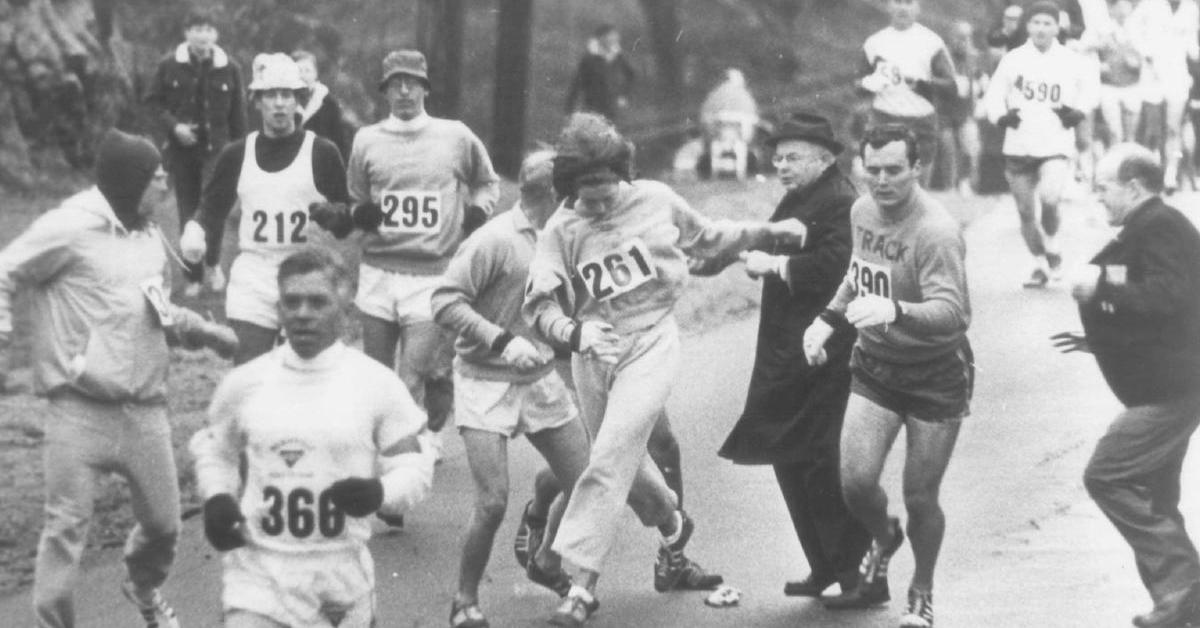 It's hard to imagine, but there was a time in America, not too long ago, where people frowned on women participating in large-scale athletic events. I'm not talking like today, where no one really watched the WNBA. I'm talking straight up discrimination against women who were competing in the most mundane of sports, like long distance running.
Article continues below advertisement
So, running a marathon isn't mundane to the person running it, but it's not like we're talking about a woman doing Greco-Roman wrestling with dudes in the '50s or anything. It's running, for crying out loud.
In spite of the tame nature of the sport, Kathrine Switzer was harassed during her 1967 Boston City Marathon run as she became the first woman in history to complete the race.
Article continues below advertisement
And now the 70-Year-Old Switzer is going to run the Boston Marathon 50 years after her history-making moment.
Article continues below advertisement
Switzer became an icon for women's equality after successfully completing the race.
She was the first female competitor officially recognized by racing officials, but wasn't the first ever to run the race.
Article continues below advertisement
That distinction belongs to Roberta Bingay Gibb, who finished the race in 1967, without a bib. Spitzer signed up with her initials, K.V. Spitzer, an act that was inspired by the fact that she wanted to be a writer, and the name sounded cool like E.E. Cummings or J.D. Salinger. Also, her name, Kathrine, was misspelled on her birth certificate and she wasn't about to put the "wrong" name on her bib.
Article continues below advertisement
The sexism and discrimination Switzer faced in her run was captured in this single, iconic photo.
Article continues below advertisement
A race official tears at Spitzer's bib during the race as her boyfriend tries to separate them while they run. Switzer wrote about him in her memoir - the angry man was Race Director Jack Semple:
"Instinctively I jerked my head around quickly and looked square into the most vicious face I'd ever seen. A big man, a huge man, with bared teeth was set to pounce, and before I could react he grabbed my shoulder and flung me back, screaming, 'Get the hell out of my race and give me those numbers!'"
Article continues below advertisement
Despite training with the men's cross country team at Syracuse University, Switzer's own coach was skeptical of women competing in a professional capacity.
Article continues below advertisement
"No dame ever ran the Boston Marathon!" Switzer recalled her coach, Arnie Briggs, telling her when she said she wanted to take part in the race. Briggs went on to say that the race was too long for "fragile women," but he eventually promised her that she'd be able to partake if she could run the same distance in practice. So she did.
After Briggs saw what she was capable of, he insisted that she officially sign up.
Article continues below advertisement
Switzer didn't downplay her femininity at all during the race - she wore makeup and burgundy shorts, lipstick and earrings, but due to the winter weather was forced to put on baggy clothes. Once, on the starting line in Hopkinton, a teammate urged her to remove her lipstick so as not to draw the attention of race coordinators. She kept it on and started running just as it began snowing.
Article continues below advertisement
For completing the race, Switzer was expelled from the Amateur Athletic Union, but became a celebrity for her determination.
Article continues below advertisement
With her fame, Switzer decided to fight for women's equality in sports. She was able to get all women the eligibility to run in the Boston Marathon by 1972. She ran a total of 39 marathons, winning the NYC one in 1974 and set a personal record in 1975, 2:51:33, when she finished second in the Boston Marathon.
She went on to establish the Avon International Running Circuit, which held women's-only races in 27 countries and helped establish the first women's only marathon in the 1984 Olympics. Switzer also became an author and commentator for the Olympic games, and World and National championship events before hitting the pavement again for long-distance running when she was 64-years-old.
Article continues below advertisement
When Switzer was asked why she didn't drop out of her historic run back in 1967, she gave this response:
Article continues below advertisement
"Because I knew if I did that no one would believe women could run distances and deserved to be in the Boston Marathon; they would just think that I was a clown, and that women were barging into events where they had no ability. I was serious about my running and I could not let fear stop me," she said.
Her bib number, 261, soon became an inspiration cry for female runners, and was even used in naming Switzer's nonprofit: 261 Fearless.