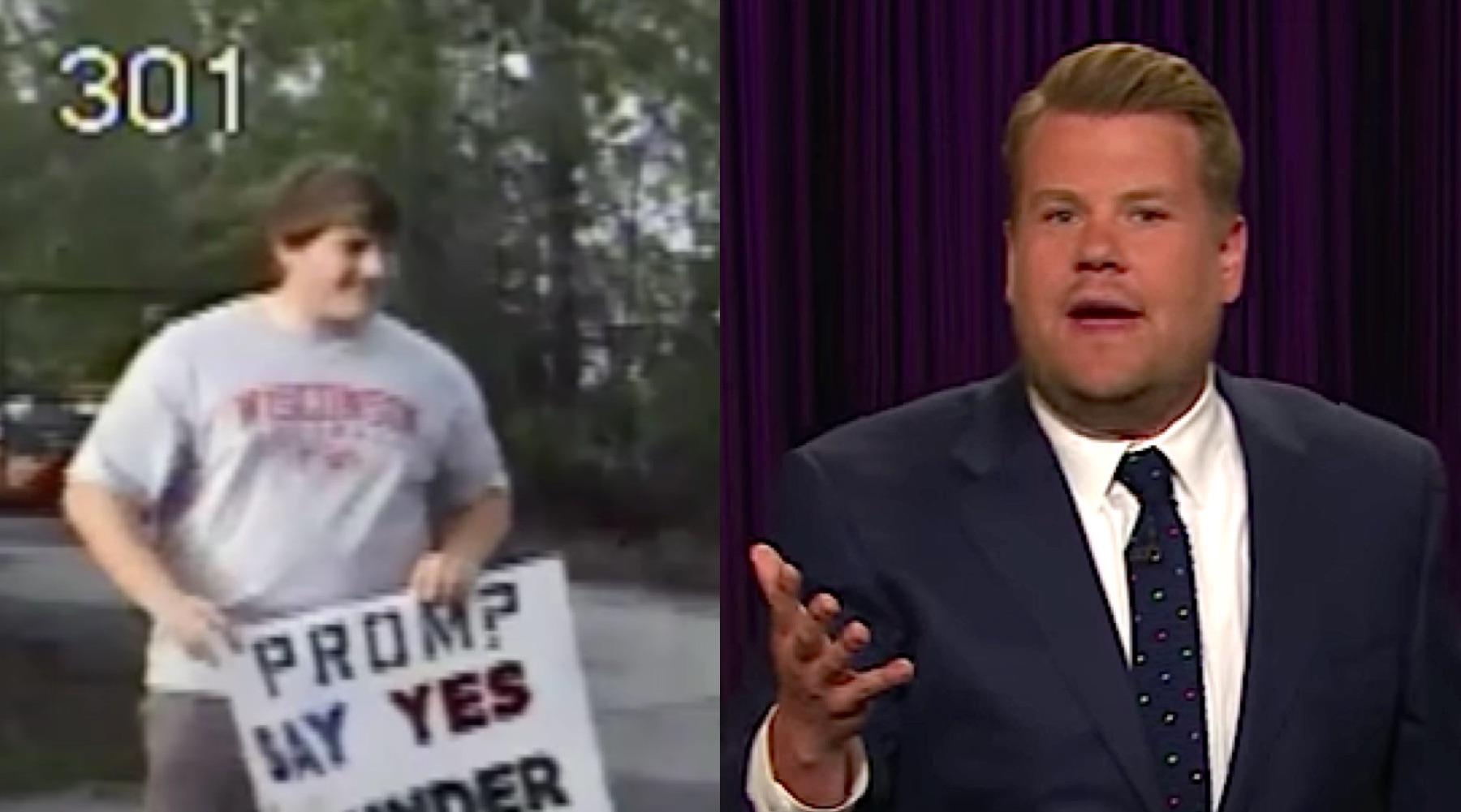 James Corden Roasts What He Calls The Worst 'Promposal' Ever
By Aimee Lutkin
During his monologue about the local news travesties of the day, James Corden took a moment on Tuesday night to shut down what is quickly becoming one of the Internet's most hated categories of viral media: promposals. We do love James Corden and find him hilarious, on occasion.
These weird acts of love have really taken over the internet, and we are not sure why. I mean really people will find anyway to put something what most people will consider meaning less onto social media.
On Friday, police dash cam footage was posted to a Georgia city department's Facebook page in which cops pull over a couple of teens driving around in a white truck. It turns out to be an elaborate way for the boy in the couple to ask out his girlfriend, and after this girl is frightened by an interrogation about marijuana, he surprises her with a sign reading, "Say yes or you're under arrest." She did say yes, by the way.
James Corden HATED it, just hated it.
"Look, this is a family show and I would never usually say this, but f*ck this kid," says Corden, adding, "In my day, school dances were a simple affair. Everyone said no, and I stayed home. It was simple!"
You can skip to about minute two to hear his full rant, and also decide for yourself if a threat of incarceration is adorable or horrible in the video below:
Corden's remarks are reminiscent of Jimmy Kimmel's recent rant about promposals directed at celebrities. Emma Stone was forced to respond to a teen who put together an elaborate La La Land promposal that went wildly viral. Stone eventually said she couldn't attend the dance because, boo hoo, she had to work.
Kimmel is quick to point out that the actual reason Stone wouldn't go to prom is likely because she is a 27-year-old woman and dating children is creepy and illegal, even for good publicity:
Could this signal the death of the promposal trend? I sure hope so. I mean, it's cute for kids to ask each other out in nice and inventive ways, but do we all really need to hear about it?! It's also kind of a red flag when someone is asking you to go on a date just so they can get some Internet fame. Something simpler and more sincere is probably a better bet.