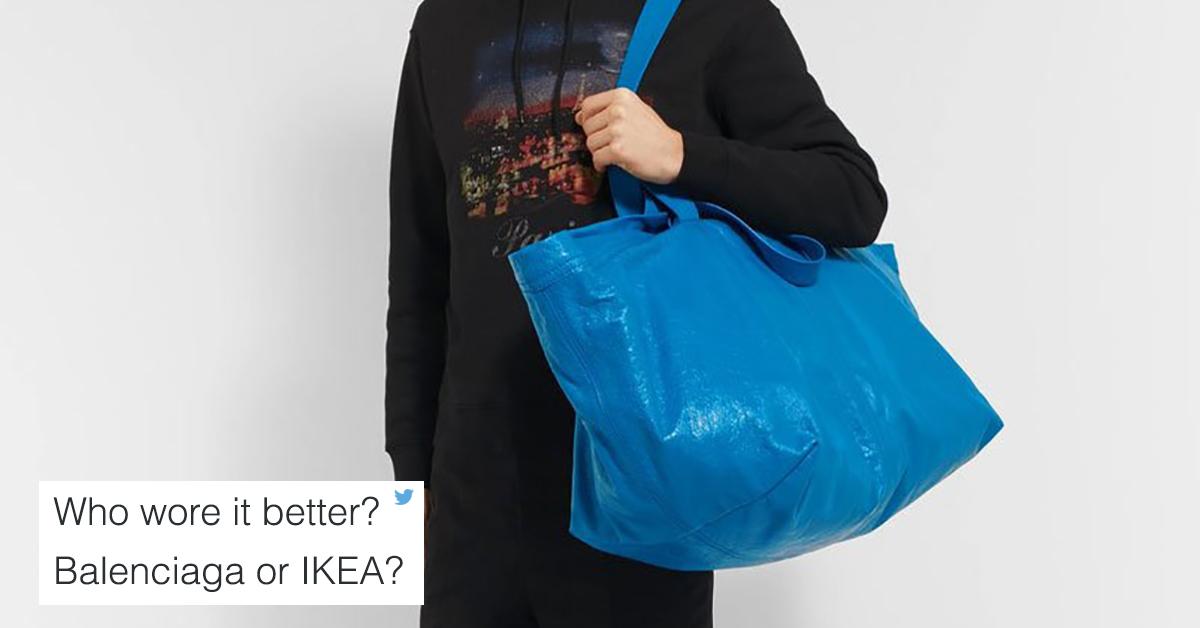 Balenciaga Released A $2,000 Bag That Looks Very Familiar To IKEA Shoppers
By Mark Pygas
We've all been there: the IKEA struggle. You load up your shopping cart with a bunch of low cost furniture, and after scarfing down some curiously low-priced food, you somehow manage to shove all of the underpriced stuff into your car. Then, after you're done lugging everything up the stairs, you're finally ready to start tearing open some cardboard.
It isn't until you're surrounded by a bunch of wooden pegs, scraps of paper, plastic bags, and random pieces of wood that you realize there's no going back, and your dreams of having a quaint, nice, little newly decorated dresser have been dashed.
Every now and then, I go to IKEA and get one of those massive tote bags they sell for 99 cents. Why? They're sturdy enough to last for years, and you can fill them up with those free tiny pencils on the way out to make your money back. Seems like a good deal, right?
If an IKEA bag cost $2,145, then you'd have to steal a lot of pencils to make your money back. Way more than you could fit in the bag. That's why people are finding it a little odd that Balenciaga's latest fashion must-have looks exactly like the Swedish counterpart.
While they both look very much alike, Balenciaga's bag is advertised as glazed leather and gold-stamped, while IKEA's creation is made from recyclable plastic.
IKEA even poked fun at the similarity, with this Instagram post offering followers to help keep up with the fashion world for a lot less money.
An IKEA spokesperson told Today:
"We are deeply flattered that the Balenciaga tote bag resembles the IKEA iconic sustainable blue bag for 99 cents. Nothing beats the versatility of a great big blue bag."
The fashion world is crazy, no?