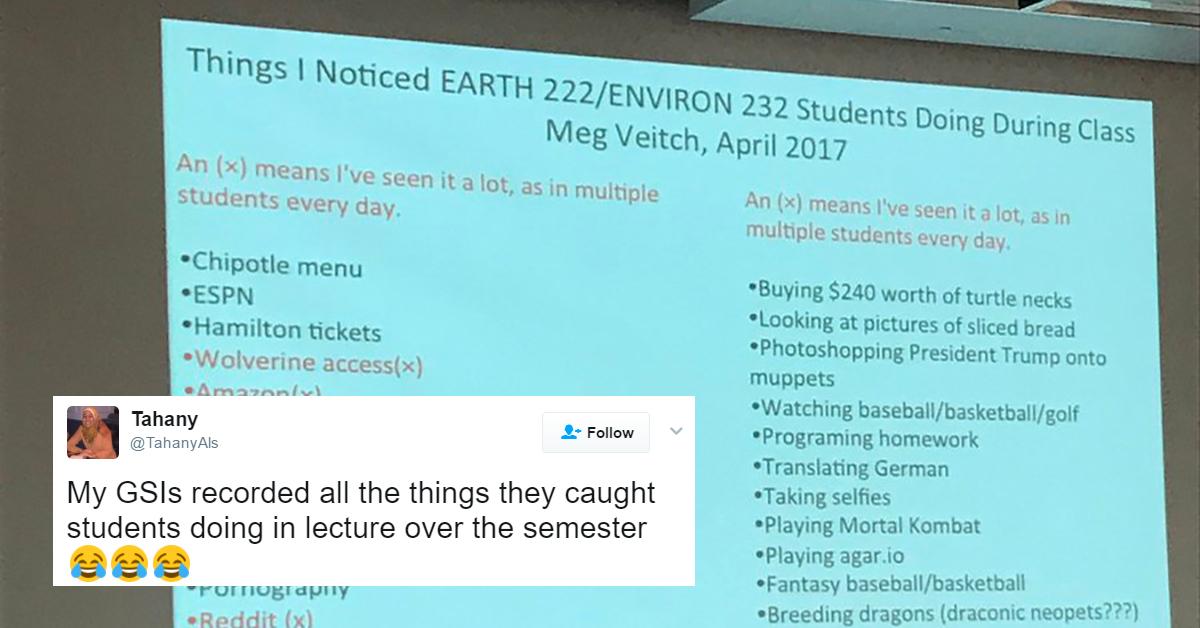 College Instructor Lists Everything She's Seen Students Doing On Their Computers
By Mark Pygas

Updated
One thing that surprised me about college is that some classmates seemingly paid thousands in tuition to sit in a lecture and browse the internet. A graduate student instructor at the University of Michigan noticed the same thing. So she decided to give her students a surprise on their last day by sharing their entire browsing history with the rest of the class...
The instructor who came up with the idea, Meg Veitch, studies paleontology and helps teach some classes. She told The Chronicle that she noticed students were getting digitally distracted in class, but the professor who runs the course, Brian Arbic, didn't want to ban laptops. (He frequently asked students to complete "exercises with the laptop, working with Google Maps, that sort of thing.") So Veitch decided to write down everything she saw and compile it into a PowerPoint to illustrate the issue and the results are both hilarious and somewhat worrisome. Seriously people google some of the strangest things.
Veitch explained that many didn't even realize how distracting they were being for other students. "You definitely really want to know that the graduate-student instructors are looking over your shoulder and seeing you breaking up with your boyfriend," she said. 
Twitter was pretty amused with some of the list contents. 
@TahanyAls I think the real q here is why does anyone need to look up the Chipotle menu? Burrito, bowl, tacos, or salad. That's it. 🌯🌮🥙🥗

— Colleen Benson (@colleentbenson) April 18, 2017
@TahanyAls I know how hypocritical we can be about it but porn should've have like 3x right besides it lol

— A.E.Ch. (@46THChromosome) April 18, 2017
@TahanyAls 1st thought: this school has some cashy students buying $240 of turtlenecks and Hamilton tickets in class
Lololol, of course it's Umich.

— Dana (@OhSoDanagerous) April 18, 2017
@TahanyAls Can you really blame the people filling out job applications? Class is expensive. 😂

— Lillendandie Art (@lillendandie) April 19, 2017
What kind of student can afford Hamilton tickets? And yes, Veitch thinks that the turtlenecks are weird too:
"That one stuck to me just because we see online shopping, but there were only three turtlenecks, but it never occurred to me you could spend so much on three turtlenecks. I was just shocked." 
Next time remember -- your teacher is probably, definitely always watching. So pay attention in class or you're going to end up on her next powerpoint slide.