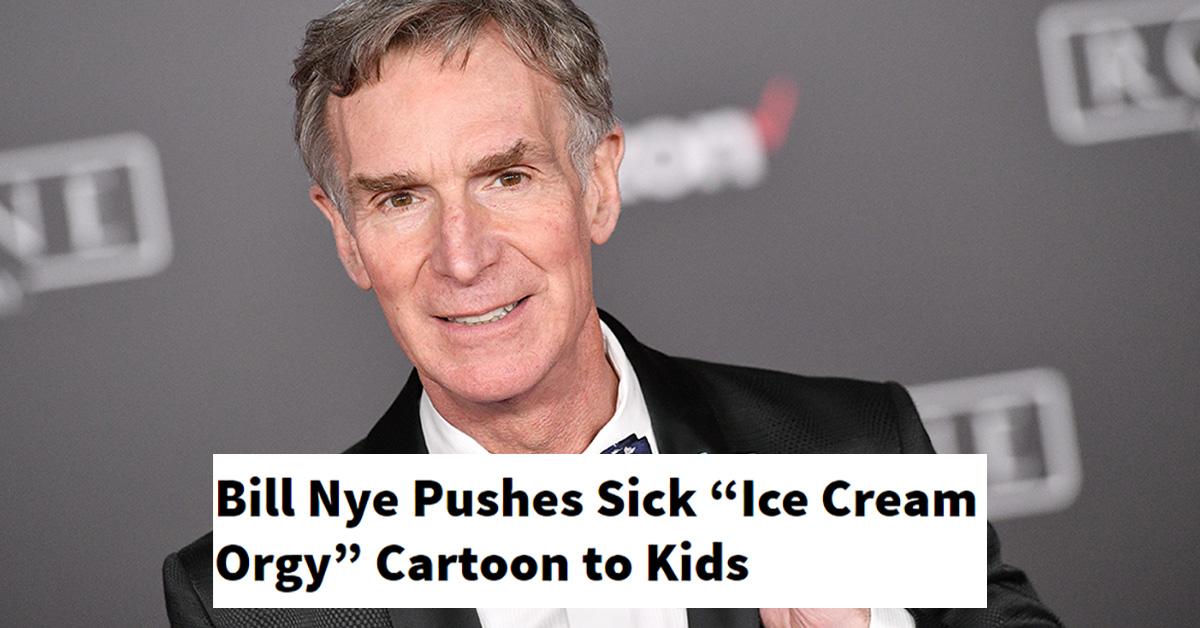 Bill Nye Explains Gay Conversion Therapy With Ice Cream And Homophobes Hate It
Homophobes are shuddering at this logical explanation of conversion Therapy from Bill Nye using ice cream
Everyone's favorite science guy debuted his new show, Bill Nye Saves the World, on Netflix last week. The show has the specific purpose of debunking anti-scientific claims. Whether that be misconceptions about climate change, vaccinations, or sexuality, for example.
Article continues below advertisement
If you look at the scientific evidence, it's pretty clear that homosexuality is natural and observable in almost every animal on the planet. No, it's not a choice. And no, gay conversion therapy won't magically make someone heterosexual. The Human Rights Campaign states that the practice can lead to "depression, anxiety, drug use, homelessness, and suicide."
Bill Nye addressed the issue in an episode of the show, pointing out how ludicrous the argument for conversion therapy is by turning people into different flavors of ice cream.
Article continues below advertisement
Sound like anyone you know?
"I just think if you want to get right with the big ice cream in the sky, change your flavor by wishing to be vanilla. Everyone should pretend to be vanilla, until they no longer have the urge to not be vanilla!"
Article continues below advertisement
Unsurprisingly, the cartoon has caused some controversy. The YouTube video has 2,000 likes compared to 16,000 dislikes and conservative media isn't liking it, either. Here's how the Conservative Tribune labelled the video...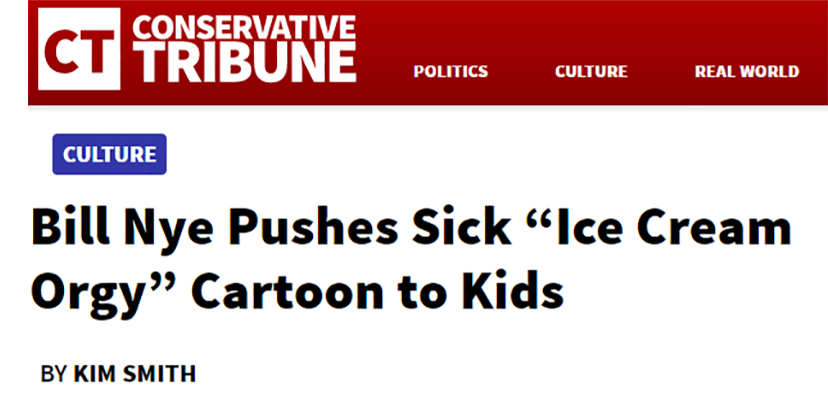 Article continues below advertisement
"Bill Nye, 'the Science Guy,' is quickly gaining a reputation as being the pervy guy after he debuted a new video apparently aimed at children that suggests heterosexuality is just one of the many 'flavors' of sexuality."
"Nye's credibility has suffered over the years with his ideas on climate change and environmentalism, but this ice cream analogy is over-the-top degenerate."
"It is especially offensive that Nye would intentionally use cartoon characters and ice cream, two things children love, to push his anti-Christian message. The so-called scientist is just one of many who are trying to shove their liberal views down our children's throats, and it needs to end."
While Megan Fox of PJ Media claims that the episode "ended up sickening the Twittersphere and giving ISIS more reasons to hate us."
Article continues below advertisement
"If sexuality is what you are, then why is it okay to make the heterosexual change his flavor? I thought that wasn't possible. Is Nye suggesting that peer pressure is a good way to get someone to change his or her sexuality? I thought we are supposedly born this way. If that's true, then no amount of coercion should be able to change one's orientation, unlike what happens to poor Mister Vanilla, who is basically gang raped."
Honestly, I'm fine with giving ISIS more reasons to hate us.