The New AHCA Bill Lists Sexual Assault And Domestic Abuse As 'Pre-Existing Conditions'
A new AHCA bill is forcing survivors to list past sexual and domestic abuse as a Pre-existing condition.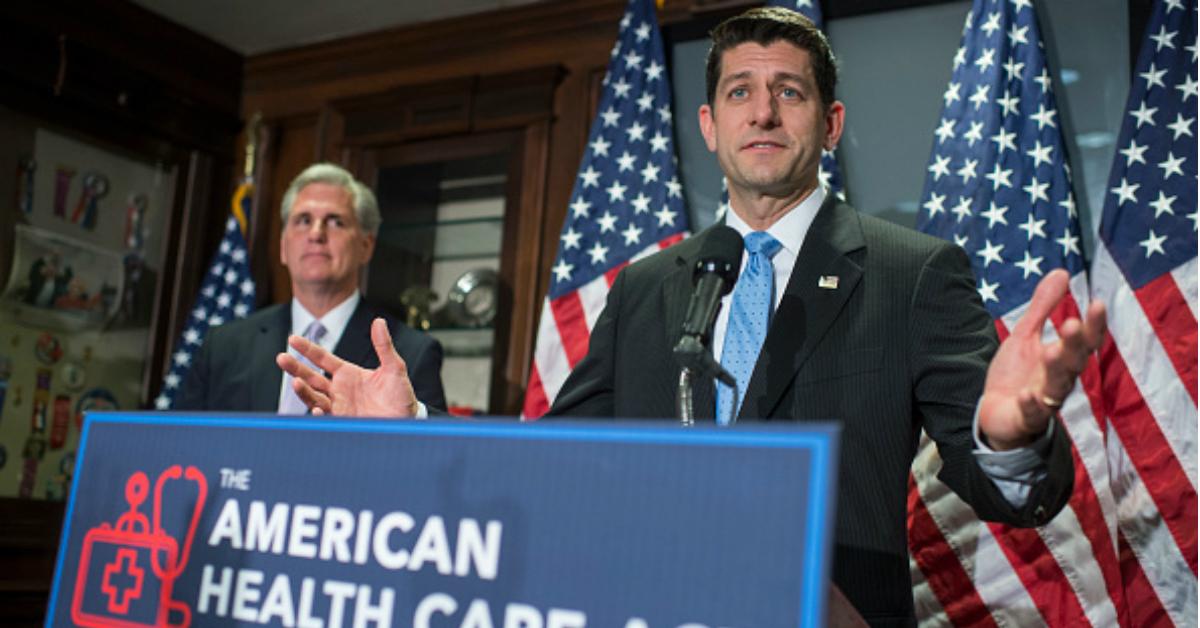 There are many people who would argue that morality is relative. And I think that's true to an extent. I mean, some religious extremists would argue that same-sex marriage is immoral, some would say that charging people interest is illegal, others who want to go OG on the Bible would even say that mixing fabrics is also highly offensive to God.
Article continues below advertisement
But then there are other things that are just black-and-white and not subjective or relative at all. Like, killing children is definitely bad. Stealing money and food from people who are less fortunate and working their butts off to make a living is also objectively bad, as well.
And if you wanted a clearer cut case of something that's so outrageously "evil," for the lack of a better term, it'd be some of the wild stuff that's going on in the new health care bill revision that just passed.
Article continues below advertisement
For starters, Ryan and the GOP's bill, known as the American Health Care Act (AHCA), classifies domestic violence and sexual assault as "pre-existing" conditions.
Article continues below advertisement
So if you're a survivor of sexual violence, such as rape, it could impact your ability to receive insurance coverage. Wife gets beat up by her husband so badly she can't make it to work for a week or two? Guess who's shelling out for that health care? You guessed it: the victim, because insurance will have the right to deny coverage to people with "pre-existing" conditions.
The list of pre-existing conditions could also be extended to a variety of preventative health care services as well, including mammograms.
Article continues below advertisement
And if you take two seconds to think about this, you'd realize that AHCA is probably one of the most heartless initiatives to have ever been proposed when it comes to health care. Women who want to screen themselves for cancer, so as to nip the illness in the bud before it becomes more costly and difficult to treat, are being penalized and forced to pay for the tests out of their own pocket because it's magically a "pre-existing condition" now. But how would they know they'd have cancer in the first place, unless they'd get tested?
Article continues below advertisement
Gynecological exams also fall under the "pre-existing condition" category, an exam that sexual assault survivors rely on following attacks, and women in general use to keep up with their health.
Postpartum depression or having a C-Section are also being called "pre-existing conditions" under the AHCA. So an insurance agency could drag out or deny coverage to women who required a C-section when going through labor.
Article continues below advertisement
There are also other bizarre and downright scummy coverage exemptions in this AHCA bill revision, like organ donation.
Article continues below advertisement
Meaning you'd get penalized for having to donate an organ.
Article continues below advertisement
The House still seems majorly opposed to this version of the AHCA, including many Republican leaders, like Rep. Charlie Dent from Pennsylvania.
Article continues below advertisement
"This is simply a matter of blame-shifting and face-saving for a bill going nowhere..." Yahoo reported.
The AARP, the Catholic Health Association of the United States, and the American Academy of Family Physicians all oppose the bill as well.
Article continues below advertisement
The revised bill also grimily proposed that members of Congress and their staff team would be exempt to some of the bill's proposals if some AHCA laws were passed.
Article continues below advertisement
Meaning that a member of Congress and their staff would enjoy coverage benefits that citizens of their state didn't. Hypocritical, much?
The bill just passed after a very, very close vote, so states that choose to opt out of provisions, can. In all likelihood, states with Democrat representatives won't suffer from AHCA's passing.
Article continues below advertisement
The repeal on Obamacare will allow states to repeal the provisions mandated by the previous administration. So if you live in a state that believes you should have access to actual, affordable healthcare, then you'll more than likely be fine. But if your state Representative voted for AHCA and if you rely on ACA for health insurance, then you're in for some bad news. 24 million people will be without healthcare now that AHCA has been passed.
The citizens who suffer most under AHCA's passing are those who are least likely to afford healthcare - i.e. the people who actually need it.
Article continues below advertisement
States are now allowed to charge more and flat-out deny policy holders from maternity care, mental health coverage, and a wide other variety of conditions. Oh, and it packs additional tax cuts for the rich, so that should comfort you while you and your family members all take on second full-time jobs just to afford health care in the event one of you fall sick. Just try not to fall ill within the same year. All that's left of the bill is for it to pass in the Senate and then be signed by the Donald. If that happens, then millions would lose their healthcare. (h/t mic | yahoo | mother jones)