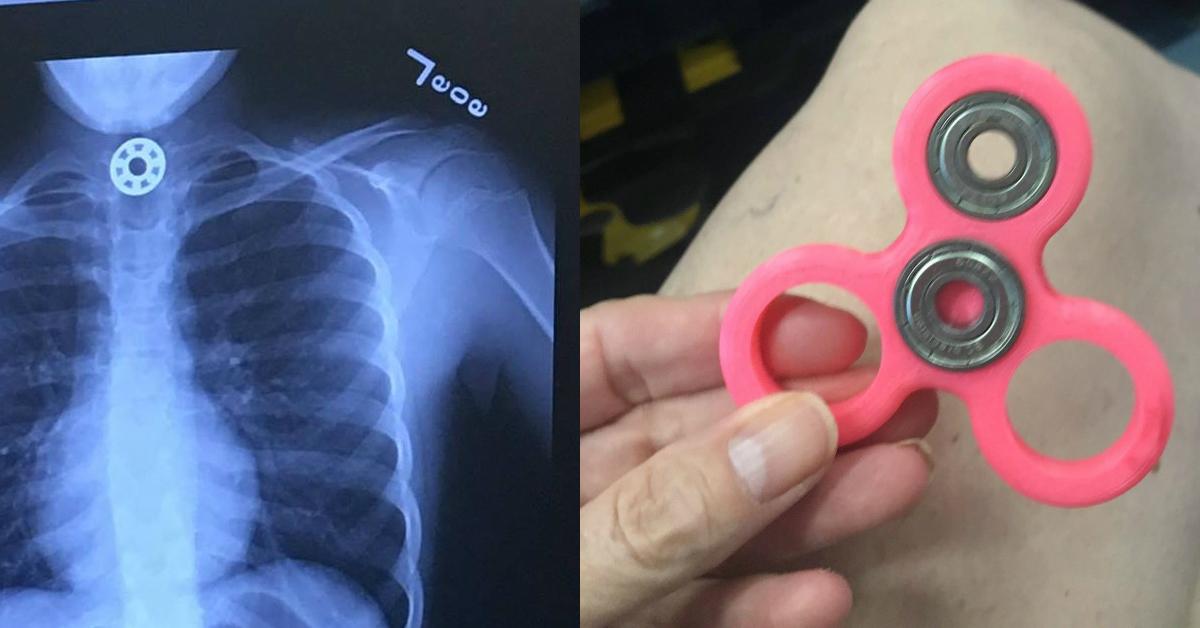 Mom Warns Parents About The Dangers Of Fidget Spinners After Daughter Chokes
By Mustafa Gatollari
If you've talked to any elementary school kid, then you've probably seen them rocking a fidget spinner. Well, probably not rocking it as hard as these guys, but rocking them nonetheless.
The trendy toys are the bane of educators and parents everywhere who have to deal with kids needlessly spinning them around on their fingers to no end.
But it turns out that they're not just annoying and silly-looking, but they can prove fatal to your kids as well.
That is, if your kid accidentally swallows them, like this girl did.
Kelly Rose Joniec was driving her daughter Britton home one day. Britton was playing with her fidget spinner in the back seat and apparently thought it'd be a good idea to put part of the little gadget in her mouth to clean it. Soon though, Joniec heard an "odd retching noise" coming from the backseat. That's when things started to get scary. Joniec wrote about the event on her Facebook:
"Looking back in the mirror, I saw her face turning red and drool pouring from her mouth — she could utter noises but looked panicked so I immediately pulled over. She pointed to her throat saying she'd swallowed something, so I attempted Heimlich but there was no resistance."
Joniec sped her daughter to urgent care, but the specialists couldn't tell whether or not the object was stuck in her esophagus or airway, so they called an ambulance and rushed Britton to the hospital.
"The X-ray showed the spinner bushing lodged in her esophagus. The GI doctor was fascinated . . . he'd only just learned of fidget spinners that morning when he was at the mall with his son, so it was a surprise to be faced with one in a case a few hours later. He's also an advocate for related child safety in toys, so he took a special interest in the case."
Doctors endoscopically removed the object from Britton and even though there was a positive outcome to the scary ordeal, Joniec wants parents to be aware of the dangers of fidget spinners and wishes they would come with age appropriate warnings.
"The bushings pop out easily, so if you have young kids (under 8 years old) keep in mind that these present a potential choking hazard."
Do you think parents should be more wary of their kids playing with fidget spinners?