James Comey Hid In Curtains To Avoid Donald Trump And Twitter Found It Hilarious
People are laughing at the story that James Comey once dressed like the White House curtains to avoid Trump.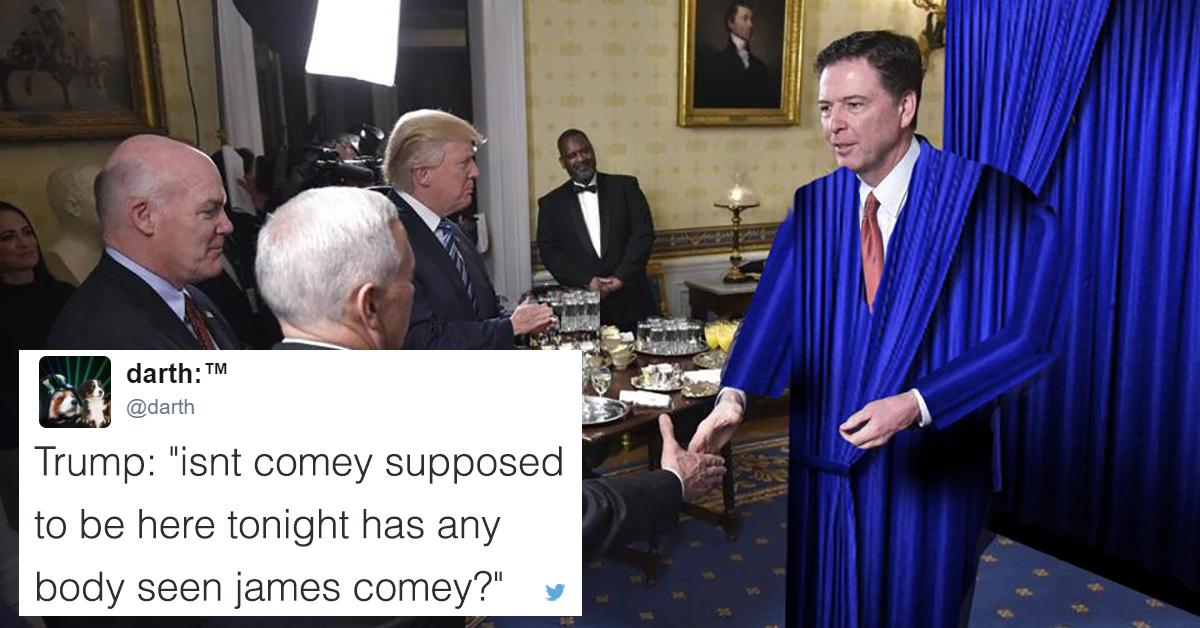 Following President Donald Trump's decision to fire former FBI Director James Comey over his handling of the Clinton email investigation, we've been learning a lot about the working relationship the two had. First, it emerged that Comey had kept records of his meetings with Trump, including one in which Trump allegedly told Comey to drop the investigation into Michael Flynn.
Article continues below advertisement
And last night, it emerged that Comey once dressed in a suit that was the same color as the White House curtains in an attempt to avoid being noticed by the president. Benjamin Wittes, a close friend of Comey, told The New York Times about the ceremony. According to The Times:
"The ceremony occurred in the Blue Room of the White House, where many senior law enforcement officials — including the Secret Service director — had gathered. Mr. Comey — who is 6 feet 8 inches tall and was wearing a dark blue suit that day – told Mr. Wittes that he tried to blend in with the blue curtains in the back of the room, in the hopes that Mr. Trump would not spot him and call him out."
Article continues below advertisement
Unsurprisingly, it didn't work, considering that Comey is 6'8" and all. Wittes added:
"Comey said that as he was walking across the room he was determined that there wasn't going to be a hug. It was bad enough there was going to be a handshake. And Comey has long arms so Comey said he pre-emptively reached out for a handshake and grabbed the president's hand. But Trump pulled him into an embrace and Comey didn't reciprocate. If you look at the video, it's one person shaking hands and another hugging."
Article continues below advertisement
And it sure does look like Comey wasn't happy about the hug.
Article continues below advertisement
As you can probably imagine, Twitter found this little piece of information hilarious...
Article continues below advertisement
Article continues below advertisement
Article continues below advertisement
Article continues below advertisement