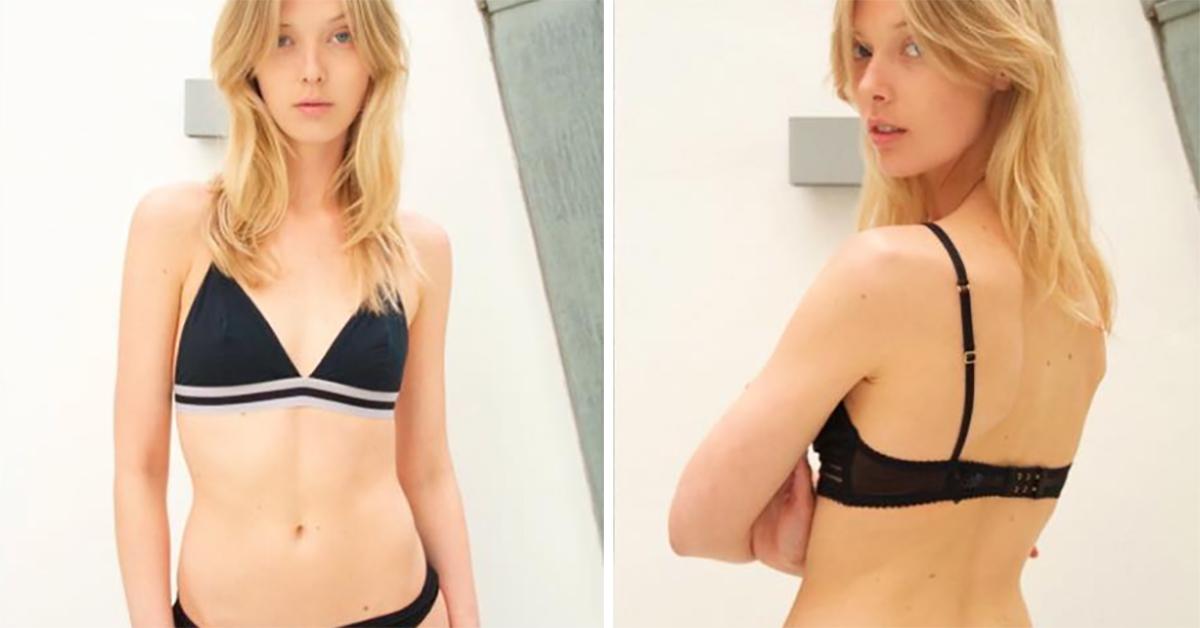 Model Claims Louis Vuitton Cancelled Her Shoot For Being 'Too Fat'
Ulrikke Høyer is a model from Copenhagen in Denmark, who was recently invited to Tokyo, Japan, for a cruise show in Kyoto with Louis Vuitton. But yesterday, she took to social media to claim that Louis Vuitton had cancelled her and sent her home for "being too fat."
Article continues below advertisement
Høyer claims in a statement on Facebook that when she was measured for the show in April, her hips were 92cm. But Høyer was concerned about how small the clothing was, and attempted to cancel by saying she was sick. Høyer goes on to claim that Louis Vuitton insisted on a fitting in Paris and that after that fitting, she was confirmed for the show.
Article continues below advertisement
The day before leaving, she'd actually lost some weight, with a hip size of 91.5cm. But when she arrived in Japan, Høyer went for another fitting and was allegedly told to consume nothing but water for 24 hours. She explains:
"After a 23 hour journey I arrived in Tokyo Wednesday night (10th of April). Thursday at 3:30pm I had my fitting. That day I ate a very small breakfast and had just water and tea before the fitting, because that's how we do it… I tried my dress and the coat which I was confirmed fitted in Paris. I changed shoes and trousers a couple of times, (also very normal procedure as they want to find the best look). Afterwards I tried on a puffy dress with a semi bare back and then I was done. Right after I had a call from my French agent who told me that I had a refitting the day after (Friday) at 12am (my Danish agent tells me afterwards that Alexia had told my French agent that I needed to take this serious.) Later that night my french agent called me and told me that Alexia had said that there had been some problems during the fitting. According to her I had "a very bloated stomach", "bloated face", and urged me to starve myself with this statement "Ulrikke needs to drink only water for the next 24 hours". I was shocked when I heard it. This was exactly what we have wanted to avoid when we tried to cancel because I was 'bigger.'"
Article continues below advertisement
"That same evening Louis Vuitton had arranged a nice dinner and karaoke for all the models. I stayed home hungry in bed, because I didn't want to sit and eat in front of a women who had just expressed that I did not need food."
"I woke up at 2am and was extremely hungry. The breakfast started at 6:30am – I had the absolute minimum. I was afraid to meet Alexia so my luck she didn't arrive until 8am, when my plate was taken off the table. She said good morning to me and the other girls and then looked at me, then down on my non-existent plate and up at me again. She was checking if I had been eating food."
"Just before 12am my fitting got rescheduled to an unknown time later that day. It didn't happen because at 7pm my mother agent from Denmark called my to tell the sad news that Louis Vuitton had chosen to cancel me from the show without the refitting and that I was going to be sent back home. Not only did I have a belly, my face was puffy now also my back was a problem, they now thought that I fitted the dress on my back differently than in Paris… (also saw this on an email at my agency when I came back) I didn't know whether I should cry or laugh."
"I went to dinner with the others models and consciously put my back to the room as I would not be confronted with the people who had just humiliated me on the most ridiculous and unfair basis – I had only done what I've been told. 3 hours later I was on a plane going back home."
"What should have been a truly amazing and unique experience ended up being a very humiliating experience."
Article continues below advertisement
Høyer goes on to explain that her agency measured her hips when they arrived back home, and that she was still 91.5cm. She then goes on to explain her reasoning for posting her story online:
"This is not about me being canceled from a show, I've tried that before (all girls on my level have) you win some and you loose some that's the game. But I cannot accept the 'normality' in the behavior of people like this. They find pleasure in power over young girls and will go to the extreme to force an eating disorder on you. If this comes from them or some of the fashion houses I don't know as I've only been dealing with the casters (Alexia and Ashley on cc). Nicholas is super nice and treats everybody with respect and even remembers all the girls names etc. but these sizes of the show pieces are made for women to have eating disorders. Go watch the show and see for yourself, even the smallest tightest pants are loose on the models they book."
"I am aware that I'm a product, I can separate that but I have seen way too many girls who are sooo skinny that I don't even understand how they even walk or talk. It's so obvious that these girls are in desperate need of help. It's funny how you can be 0,5 or 1 cm 'too big' but never 1-6 cm 'too small'."
"I am glad I am a 20 and not a 15 years old girl, who is new to this and unsure about herself, because I have no doubt that I would then have ended up very sick and scarred long into my adult life."
"I have worked/and work with so many wonderful people as well and have great experiences, so a big up to all of you amazing clients with human hearts."
Article continues below advertisement
Commenters expressed their concern, with one writing:
"And it is not only one case like this! Thousands of young girls mostly teenagers, very young women struggling everyday because they thinking they are "too fat". Having a lot of insecurities starving themselves!! This business is sick and it should be banned to lead girls to anorexia!"
"Congratulations for speaking up, you seem like a very balanced, mature and intelligent woman ! I hope more voices will rise after this."