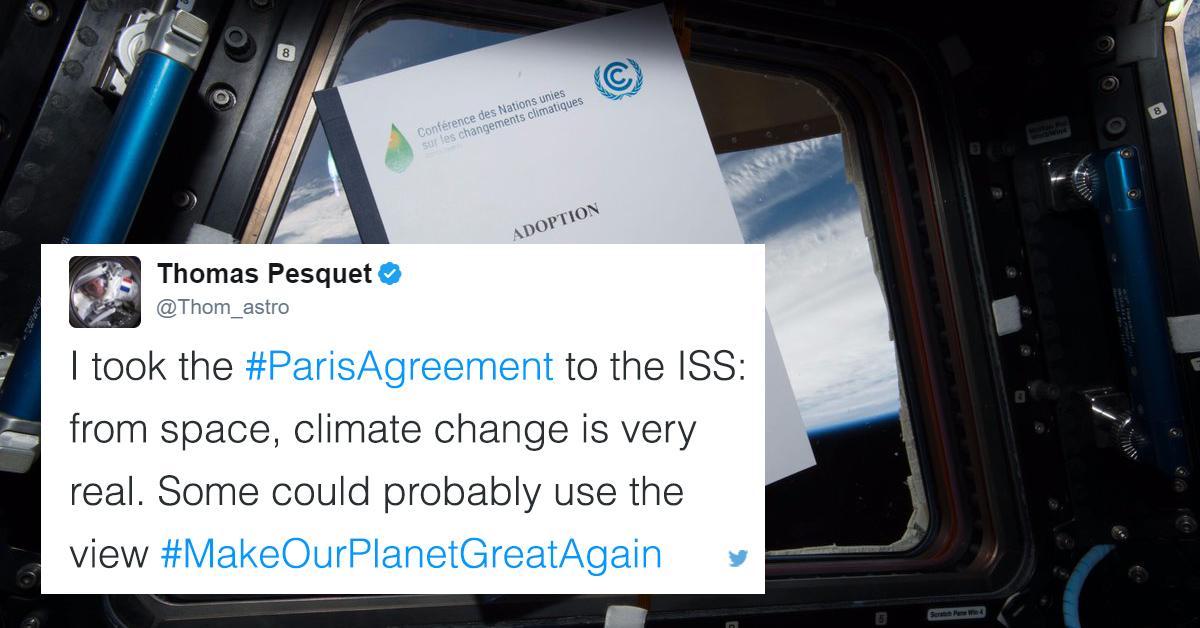 Astronaut Trolls Trump By Taking The Paris Climate Accord To Space
By Mark Pygas

Updated
President Donald Trump's decision to pull out of the Paris Climate Accord won't justParis Climate Accord impact the United States, it could add 0.3C to global temperatures by the end of the century. The decision has been met with condemnation throughout the world, and even from North Korea.
Article continues below advertisement
To put everything into perspective, French astronaut Thomas Pesquet decided to take a copy of the Paris Climate Accord with him on a 196-day stay on the International Space Station. He shared a photo on Twitter, along with a caption that took a jab at President Trump: "I took the #ParisAgreement to the ISS: from space, climate change is very real. Some could probably use the view #MakeOurPlanetGreatAgain." 
Article continues below advertisement
Pesquet's copy of the Paris Accord includes an inscription by former French president François Hollande, who was one of the driving forces behind the agreement. 
President Trump said that he hopes to renegotiate the accord, but many world leaders have said that won't happen. And while head of the Environmental Protection Agency Scott Pruitt has said that human activity contributes to global warming, Donald Trump famously suggested in the past that global warming may be a myth invented by the Chinese to undermine the United States. 
Article continues below advertisement
Unsurprisingly, people loved Pesquet's burn. 
Article continues below advertisement
Article continues below advertisement
Make our planet great again. 
Donald John Trump is the 45th and current President of the United States. Before taking office on January 20, 2017, having beat opponent Hillary Clinton in the electoral college but not the popular vote, Trump was a real estate mogul, and a former reality TV star. 
Born in Queens, New York, in 1971 Trump became involved in large, profitable building projects in Manhattan, under the guidance of his father, real estate developer Fred Trump. 
In 1980, Donald Trump opened the Grand Hyatt New York, making him the city's best-known developer. 
In 2004, Trump began starring in The Apprentice, a hit NBC reality series, and later in a spin-off series, The Celebrity Apprentice.  
In 2015, Trump announced his candidacy for president of the United States running as a Republican. Trump win a majority of the primaries and caucuses, becoming the official Republican candidate for president on July 19, 2016. That same November, Trump was elected the 45th President of the United States, after defeating Democratic candidate Hillary Clinton.