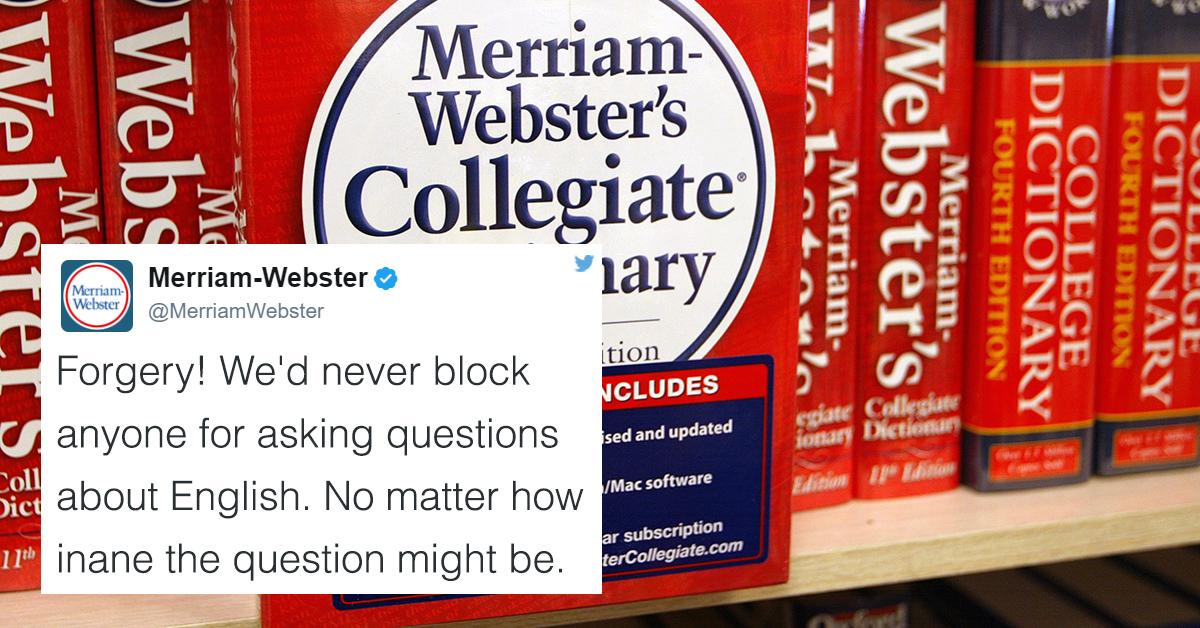 Guy Fakes Twitter Exchange And Gets Called Out By Merriam-Webster
By Mark Pygas

Updated
 Merriam-Webster Twitter account is always ready to exact linguistic injustice. Donald Trump was recently an unwitting pupil and has made many appearances on their account due to his poor spelling on many of his initial tweets. Clearly he doesn't think about his tweets cause he's constantly making huge mistakes that are easy to call out. We all remember covefe, who doesn't? There was also the time  the dictionary's social media account broke down the difference between 'council' and 'counsel' for Trump. The goal was for him to realize that Sally Yates talking to a single person in an appointed legal position would make more sense within the context of his snarky tweet. They seem to have a point, though. 
Twitter user Stephen Molloy recently had some concerns about the English language, and who better to consult than Merriam-Webster? The dictionary's social media team is well known for burning President Donald Trump whenever he makes a spelling mistake. Molloy's concern? It's all about the word "toothpaste."
Article continues below advertisement
No, it shouldn't be "teethpaste," Stephen. That's stupid and you deserve to be blocked. I mean come on, how dumb does he think they are?
Article continues below advertisement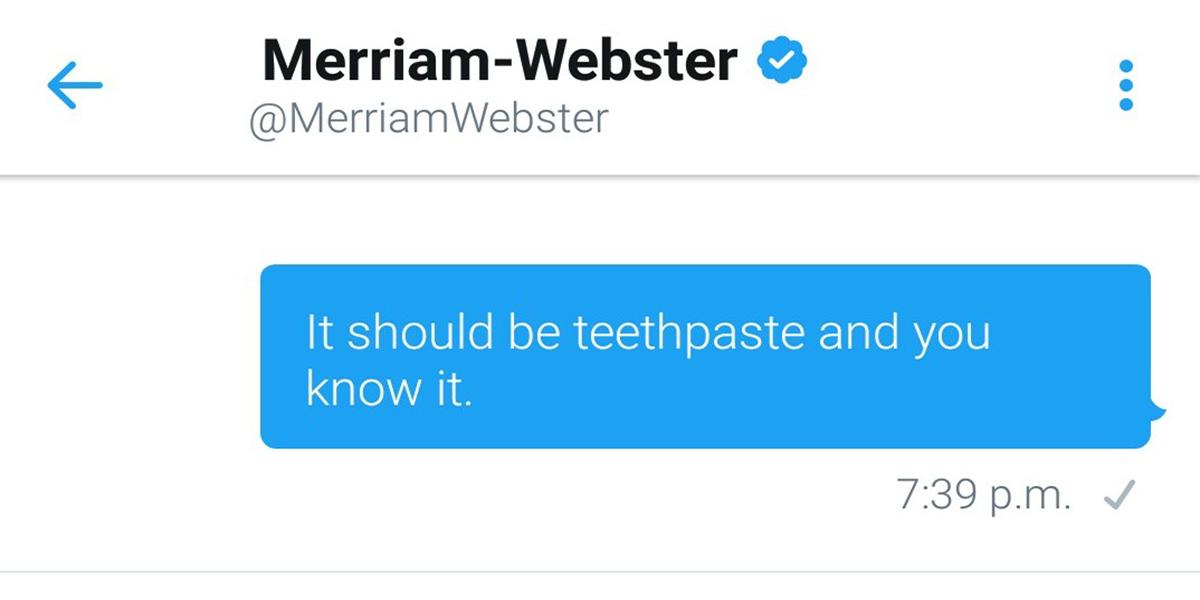 The problem? Merriam-Webster didn't block Molloy for his question. And after seeing his tweet go viral, they decided to call him out on it. Yikes -- looks like someone just got caught in a big fat fib. Hows he going to explain this one to everyone that had his back?
Article continues below advertisement
Forgery! We'd never block anyone for asking questions about English. No matter how inane the question might be.

— Merriam-Webster (@MerriamWebster) June 6, 2017
Article continues below advertisement
Notice the tabs that they had open on that screenshot? Because these users did. Seems we've got some real internet detectives on the scene to sniff it out. We're surprised he hasn't just deleted his account yet.
Article continues below advertisement
That's got to sting. Might want to just stop while he's on top.
Article continues below advertisement
In a very subtle way, they have the definitions of "haha" and "owned" on the bookmarks bar.. Touche! 😂😂

— Naam M Kya Rakha Hai (@HaoBePakaMat) June 6, 2017
Whoever runs this twitter account, I need lessons from you.

— Jennifer (@executrixie) June 7, 2017
Article continues below advertisement
Merriam-Webster's social media team saw the Wendy's team and raised them $500 with this subtlety

— Kyle Maycock (@ochodabomyo) June 7, 2017
I love Merriam-Webster!!!

— 🗽Y'all Means All (@Marmoekelly) June 6, 2017
We love you, Merriam-Webster.