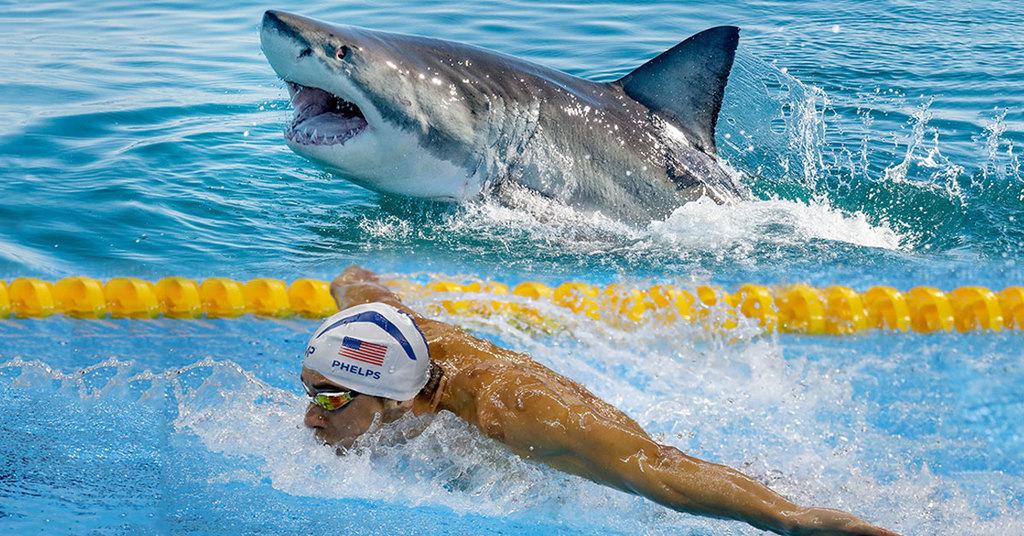 Michael Phelps Is Going To Race A Literal Shark For This Year's 'Shark Week'
Michael Phelps is one of the fastest human beings in water, and he's got a record-holding 28 Olympic medals to prove it. He's pretty much dominated in the water every time he's stepped up to the gate. He's arguably one of the greatest athletes of our time -- maybe even of ALL time.
Article continues below advertisement
So when it comes to proving himself against other human beings, it's understandable if Phelps has a "been-there-done-that" attitude. Even in his most recent Olympics many thought he would have lost a bit with age but Phelps proved again that if waters involved, he's going to reign supreme.
Which is probably why he's decided to race a shark. Yes, an actual shark.
Article continues below advertisement
That's right. In honor of Discovery Channel's much loved block of television, Shark Week, Michael Phelps will attempt to out-swim a shark.
Article continues below advertisement
It's not the first time Phelps has been in the water with sharks, however.
Article continues below advertisement
Discovery Channel hasn't released too much information on the race as of yet, just that it's definitely going down. Here's the official press release:
"They are one of the fastest and most efficient predators on the planet: Sharks. He is our greatest champion to ever get in the water: Michael Phelps. 39 world records. 23 Olympic golds. But he has one competition left to win. An event so monumental no one has ever attempted it before. The world's most decorated athlete takes on the ocean's most efficient predator: Phelps V Shark – the race is on! Produced by Peacock Productions."
Article continues below advertisement
Humans have raced animals before in a variety of events. We don't have that great of a track record, though.
Article continues below advertisement
Do you think Phelps has what it takes to beat millions of years of evolution? Probably not, but I'm definitely tuning in. (h/t sports illustrated)