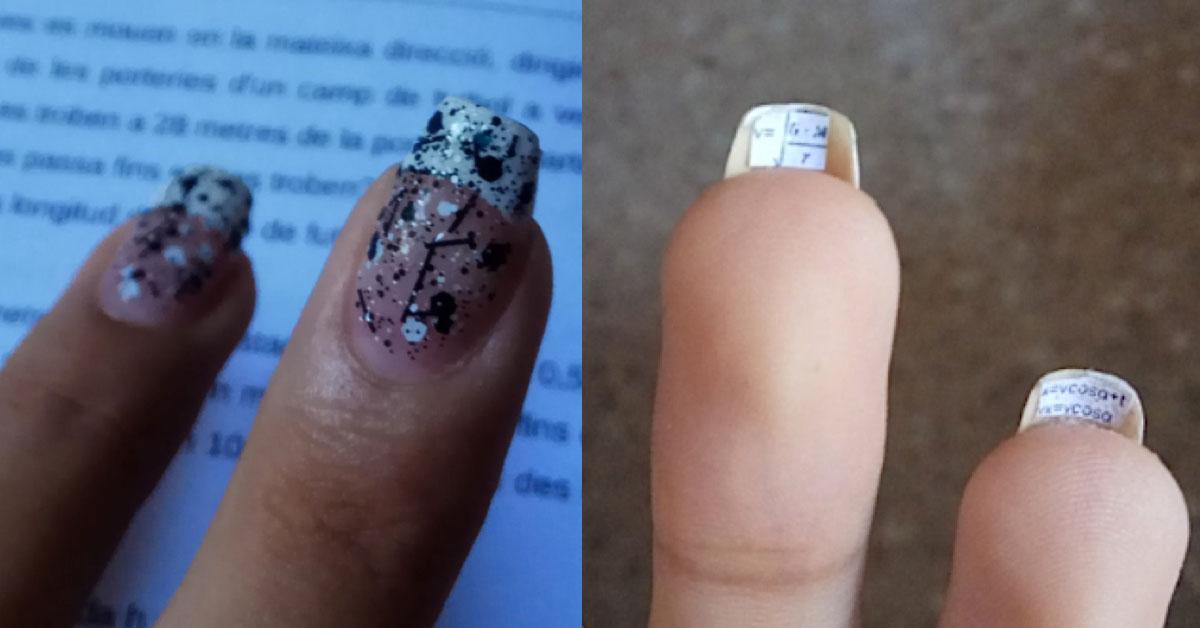 This Kid Hid Test Answers Behind His Nails And The Internet Is Screaming
By Aimee Lutkin

Updated
Kids are always looking for new ways to cheat on tests. Ever since the beginning of tests in school, kids have gone to great lengths to avoid study yet still get As on those pesky exams. Whether it be scribbling the answers on a piece of paper on the floor or hiding them in a sleeve on your calculator -- kids will go to amazing lengths to cheat.
Twitter user @glxzwdwyws, who lists his name as Andrw, had to pass a physics test. He may not have been prepared to study for it, but he was definitely ready to spends what looks like hours on a manicure for it. He put all the formulas he needed to pass the test behind each nail, then splashed some sort of Jackson Pollock inspired art on top. This. Is. Genius:
The internet is blown away by Andrw's skills. His tweet has completely blown up, and he was so overwhelmed by attention that he was sure he'd be getting a note from the principal's office any second. Instead, he passed his test! But you know what—even if you failed, Andrw, it would have been WORTH IT.
my notifications wont stop growing and my phone cant handle it so i had to silence them rip
im sure my physhics teacher alredy saw this lmao

— andrw (@glxzwdwyws) June 18, 2017
BITCH HE DIDNT SEE SHIT AND THE SHITTY ASS FORMULAS HELPED LIKE I HAVE PASSED FOR SURE OMG

— andrw (@glxzwdwyws) June 19, 2017
Everyone is so inspired by Andrw's ingenuity, they're rushing to improve on perfection and throw in their own ideas for cheating. It shows you the great lengths some of us will go to in order to pass a test. So may even argue, just, you know...study for the actual test. But hey there's no fun in that, right?
Unfortunately, for some...it's too late. They'd already fallen victim to their final exams for the year. If only they had the foresight of our cheater hero they'd had passed.
If only this was seen a couple hours earlier 😭😭😂

— lahraib (@lahraibkhan) June 18, 2017
What do you think of this crazy attempt to get an A? Definitely one of the most extreme attempts we've ever seen to cheat on the test. These kids are dedicated these days.