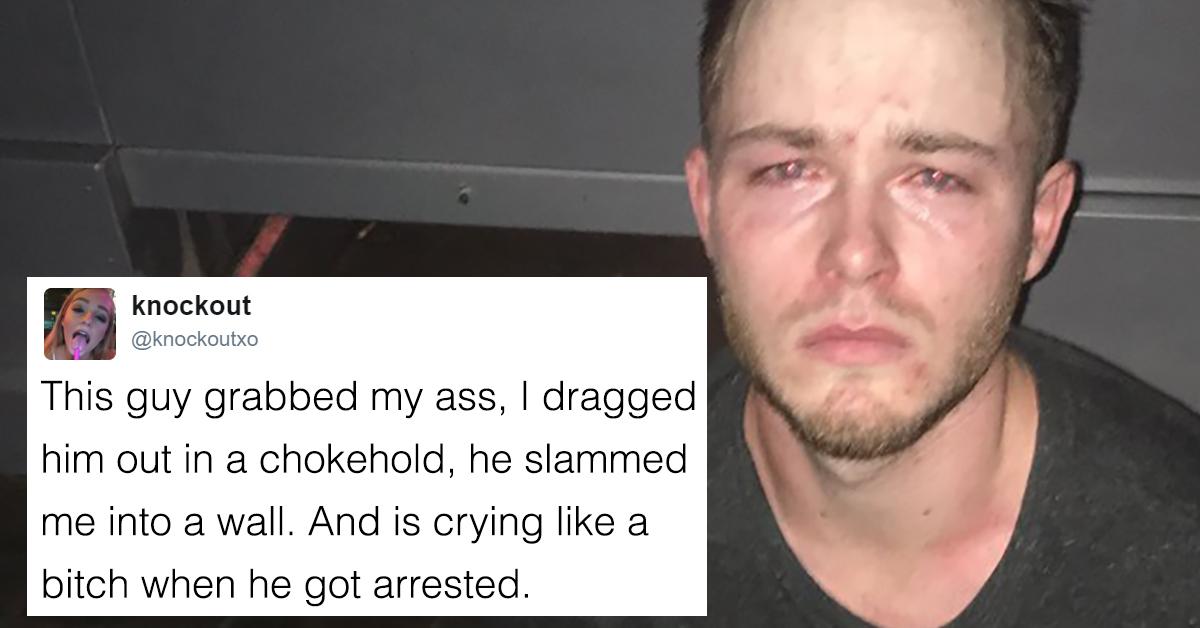 Woman Shames Man Who Allegedly Assaulted Her And Twitter Has A New Hero
By Mark Pygas
It may seem obvious, but grabbing random women at bars without their permission isn't OK. It's assault. But what seems obvious to us isn't all that obvious to everyone. So when one Twitter user shared a photo of the guy who allegedly harassed her during a night out on Twitter after she was done with him, people kinda loved it.
Krystal Olsen from Long Island, New York, shared the photo of the teary eyed man who she alleges grabbed her inappropriately. In response, she reportedly took him out of the bar in a choke hold, where he pushed her against a wall. Olsen said the man was arrested and shared a photo of him "crying like a bitch" while in handcuffs.
Olsen captioned the shot: "This guy grabbed my ass, I dragged him out in a chokehold, he slammed me into a wall. And is crying like a b*tch when he got arrested."
In further tweets, the New York native explained that she's a bartender and that the man was a customer. The photo was sent to her by the bar's security guard after the man was detained.
Obviously, Olsen's tweet quickly went viral with over 300,000 likes and thousands of comments.
And the women of Twitter seem to have a new hero, though not everyone seemed to agree with Olsen's methods.
Olsen went on to say she was "scrappy" in further tweets.
Many men also voiced their support for Olsen.
When does she get her national holiday?
But then the critics came, arguing that Olsen was "overreacting" and suggested the customer's actions shouldn't have been deemed as an assault.
Though Olsen seemed to have plenty of supporters to put her hates in their place.
This guy didn't seem to understand the response, either.