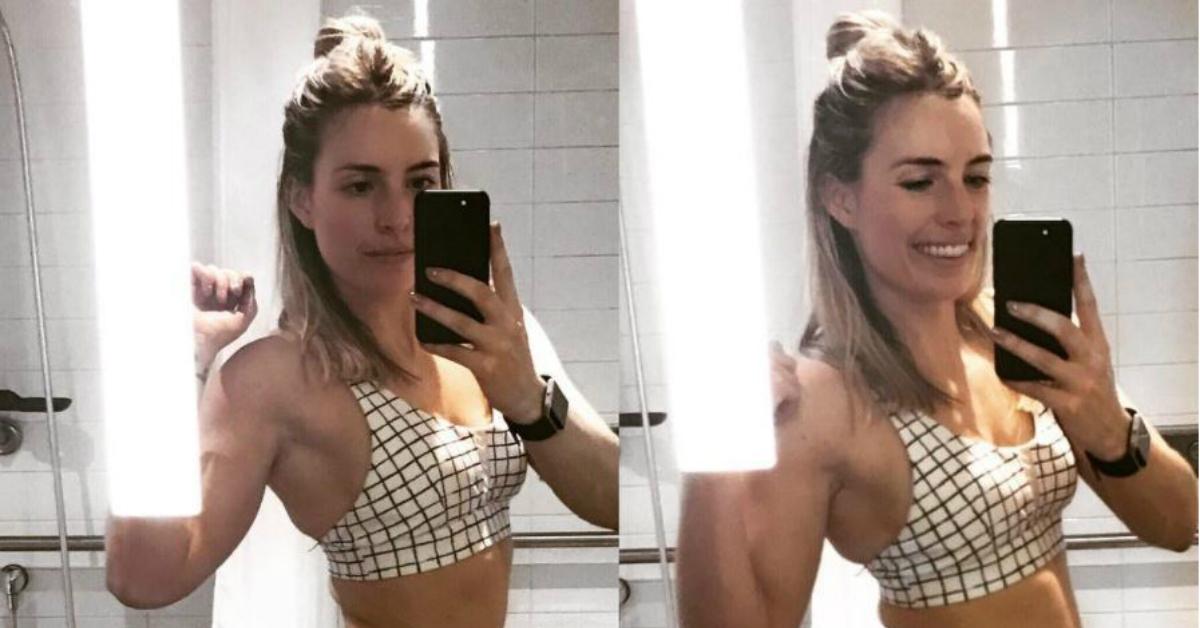 Personal Trainer's Before And After Lunch Photos Will Boost Your Self-Esteem
If you've ever dieted for an amount of time and finally got some definition in your tummy, then you're all too familiar with how fickle of a beast abs can be.
Article continues below advertisement
It seems like no matter what you do, you can't have Zac Efron level Baywatch abs 24/7. You stare longingly at Instagram posts of people with perfect bodies in perfect poses, which makes you feel incompetent. Or maybe a human version of heavy breathing cat.
Article continues below advertisement
But even the most "perfect" of people don't have perfect bodies around the clock. And Instagram fitness model Sophie Allen wants you to know that.
Article continues below advertisement
She's made some amazing progress over the years, not only with her abs, but also with the colorful assortment of workout gear she's now rocking. I mean, just look at that pattern.
Article continues below advertisement
To drive her point home about just how finicky flat stomachs can be, Allen posted this side-by-side picture of her tummy before and after lunch. The difference is pretty astounding.
Article continues below advertisement
She posted the pics with this encouraging message:
So many of you have been reaching out with the most beautiful messages since sharing more of these 'real' type photos😘😘. If these help break the perception that most people have flat stomachs around the clock, then I'll continue to post them 💕💕... even though they attract a lot of hate + strange comments (stay tuned for my stories on that later 😂 book to come!!).
-
So, what is normal? I believe normal is defined differently by everyone, but if the vast majority of people experience what's going on in these photos (which they do), then it's pretty normal! Whilst bloating + water retention, expanding of the stomach and that full feeling may be common, ☝🏻 it can be related to a number of other things too - poor digestion, sensitivity to certain foods, water retention, your cycle, drinking water too closely to meal time, leaky gut etc... when we think of health, gut health is KING 👑👑. Bad gut = bad digestion, not absorbing nutrients from all that good food you're consuming "you aren't what you eat, you are what you digest" YES 🌟🌟🌟.
-
Shoutout if you experience this too? Let's me normal, or abnormal together.. however you perceive it! 😂🔥🔥⚡️⚡️
Article continues below advertisement
In an interview with Metro, Sophie said that she was inspired to post the side-by-side photos for her followers after seeing similar pictures by other people online.
Article continues below advertisement
"I know so many people who experience this and it can be quite a lonely, disheartening feeling, thinking you're doing everything right, but have this protruding belly for a lot of the day.
I post a lot of posed, flexed photos because I'm proud of my hard work, but I would hate for someone to think that I look like this all day every day, so bursting the bubble that is the Instagram highlight reel is really important to me."
Sophie also talked a bit about her own fitness journey, saying that she used to measure her self worth in how tiny she was. After focusing on fitness and being strong versus just trying to be skinny, she started feeling better about her overall health.
Article continues below advertisement
"They're standards that most of us can't live up to 24/7, and we ultimately end up feeling not good enough because we don't look like the fitness instagrammer who took the photo first thing in the morning before eating or drinking."