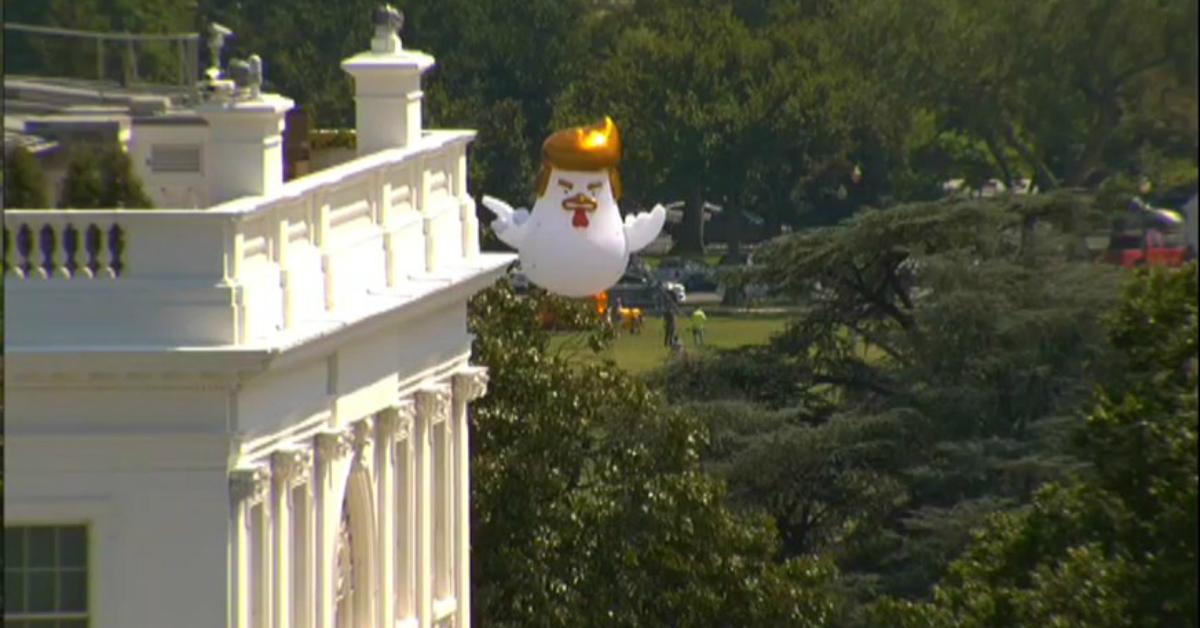 Twitter Can't Get Enough Of This Inflatable 'Trump Chicken' Near The White House
By Mustafa Gatollari

Updated
Right now, there's a giant inflatable chicken that looks suspiciously like Donald Trump angrily staring at the White House. This is the political reality that we live in. No other President in recent history, not even George W. Bush, had this level of trolling acted against them. And there are many who clearly believe that Trump deserves it.
Because of its prominent position, it's popping into a ton of presidential coverage. And why wouldn't it? The chicken looks exactly like Trump, down to the snarl and pompadour-esque golden hairstyle it's rocking.
There is a golden Trump chicken facing the White House rn and it's magnificent

— María Helena Carey (@TheMadameMeow) August 9, 2017
The bizarre inflatable went up without explanation, but seeing as it shares an enormous likeness with of our nation's current president, albeit in chicken form, people wanted to know what was up with it. I mean wouldn't you want to know what's up with a giant chicken outside of the house that the leader of the free world lives in? Come on.
Turns out this glorious, golden-haired bird is a protest of the president. I don't know anyone who would be surprised by that, unless Donald Trump thinks being likened to a chicken a good thing. I know the guy eats a lot of KFC, but, come on, we all know it's an insult.
It was seen as a confusing choice to some: Why a chicken?
But once Taran Singh Brar, the man who organized the protest explained the significance of his $1,300, giant Trump-Bird, it was a pretty obvious protest symbol.
Taran Singh Brar says he bought it for $1300. It's a visual protest. "Trump is too chicken to release his tax returns, to stand up to Putin" pic.twitter.com/JLohv0yl82

— Philip Lewis (@Phil_Lewis_) August 9, 2017
Brar is a filmmaker, who foot the bill for the chicken protest who wants the president to fulfill his posturing as a real-life tough guy.
You mean, filmmaker and giant chicken inflator...

— Pete Kasperowicz (@PeteKDCNews) August 9, 2017
Supposedly, this isn't the first time Trump Chicken's left his coop.
That inflatable Trump chicken was also at the April protest demanding Trump release his tax returns.

— Kim Nead (@kim_nead) August 9, 2017
Trump's approval rating may be suffering...
...but his chicken-counterpart is pulling in some impressive numbers.