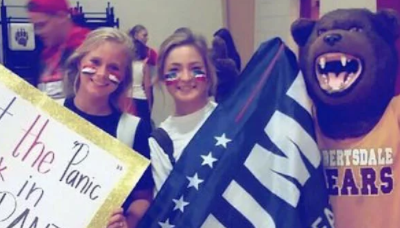 Student Snaps A Viral Photo Of Her Classmate With A Racist Pep Rally Sign
By Jaime Lutz

Nov. 18 2019, Updated 2:15 p.m. ET
In a Facebook post that was shared over 3,000 times, a Hispanic teen shared an image of several of her classmates at a pep rally, one holding up a sign that read, "Put the panic back in Hispanic." Another held a Trump campaign flag. Pep rallies are sure different than they were when I was a teen, huh?
Article continues below advertisement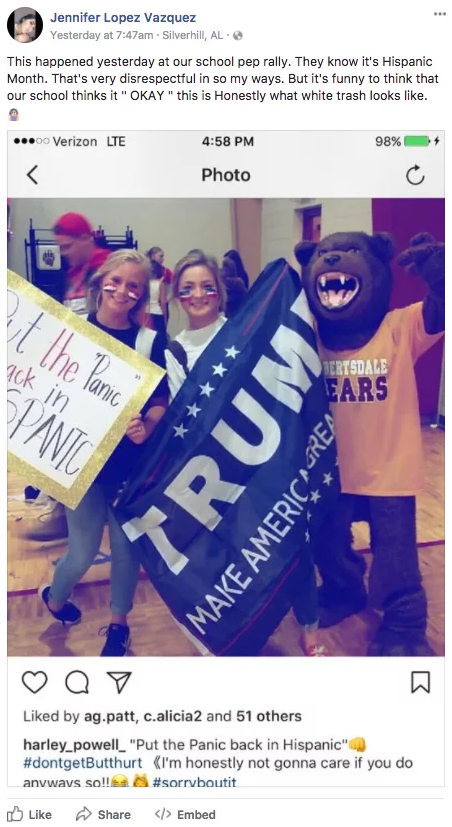 "This happened yesterday at our school pep rally," wrote the teen, Jennifer Lopez Vazquez. "They know it's Hispanic Month. That's very disrespectful in so my ways. But it's funny to think that our school thinks it 'OKAY' this is Honestly what white trash looks like."
Article continues below advertisement
Way to go Robertsdale. Make us all look bad..............

— Katherine (@beckiluk) September 16, 2017
The original caption on image, which was posted on Instagram by one of the teens in the photo, read, "Put the Panic back in Hispanic. #dontgetButthurt I'm honestly not gonna care if you do anyways so!! #sorryboutit."
Article continues below advertisement
How totally basic. Two racist white girls. Hope they don't want to go to college.

— Cindi (@Cgw459Cindi) September 17, 2017
"We are aware of a photo that appears to be taken at a Robertsdale High School football pep rally Friday Sept. 15 that is circulating on social media containing political banners and unacceptable language," said the school's superintendent in a statement. "School administrators, as well as my office, are following up on the matter."
Article continues below advertisement
Who's the principal? Who are the parents? Do they have any? This is embarrassing. Do WE Alabamians find appalling or acceptable? #APPALLING

— nemotoad (@nemotoad) September 17, 2017
Basically: yikes. Also, high school students, you're too young and under-developed to start experimenting with edgy "comedy." (Like, what is the joke here, exactly?) Save it for the professionals.
Article continues below advertisement
When parents fail to instill any sense of empathy in their kids.

— Trent Thomas (@rottenmaths) September 17, 2017
 Powell later deleted her social media accounts, releasing this apology note: 
"It wasn't my intention and was not meant for it to be taken that way. I apologize for the publicity and misunderstandings that it has brought to our school."
What do you make of this situation?