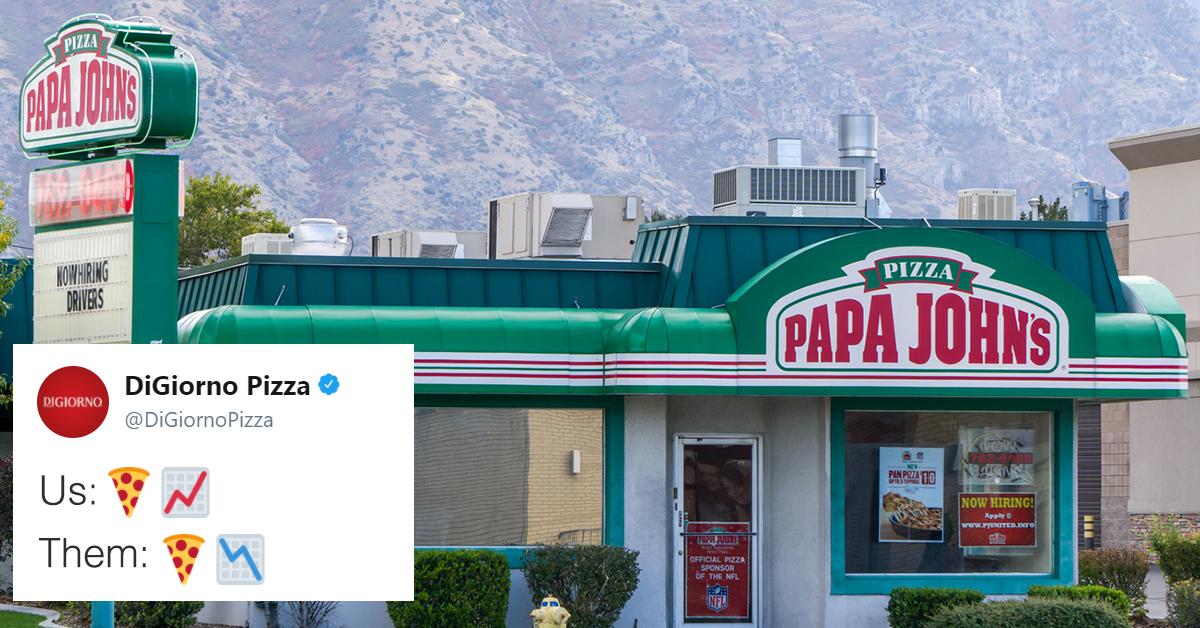 Pizza Hut And DiGiorno Roast Papa John's For Blaming Low Sales On NFL
By Mark Pygas
Shares in Papa John's have fallen 13% after an earnings report showed the company was losing customers. And less than 24 hours after the report was made public, CEO John Schnatter has already lost $70 million from his personal net worth, according to Bloomberg. Pretty brutal run for the once dominant chain.
Schnatter thinks he knows where the blame lies — the NFL. In a call with investors on Wednesday, the NFL came up 44 times compared to 12 times in the last call. Needless to say most people found it somewhat comical and have begun absolutely roasting the chain's founder for the unfounded comments on the NFL.
"We are totally disappointed that the NFL and its leadership did not resolve the ongoing situation to the satisfaction of all parties long ago," Schnatter told investors. "This should have been nipped in the bud a year and a half ago."
There has recently been a resurgence of the 'Take A Knee' protests, with players across a number of major NFL teams taking a knee during the national anthem to protest police brutality. President Donald Trump has heavily criticized the NFL and has called for any players who don't stand during the national anthem to be fired. Players haven't taken kindly to the comments and have been staunch critics of the President for becoming involved in the protests.
The CEO of Pizza Hut parent company Yum! Brands, Greg Creed, doesn't seem to agree with Schnatter, though. He told Business Insider that the chain is "not seeing impact on any of that on our business."
And DiGiorno? They were just brutal...
Papa John's responded in a now deleted tweet...
The pizza wars of 2017 have started, and people are ready.