Robert Marshall Blasted By Sister After Losing To Trans Woman In VA Election
Virginia politician Robert Marshall was called out by his sister after he lost to a Trans Woman in the recent election.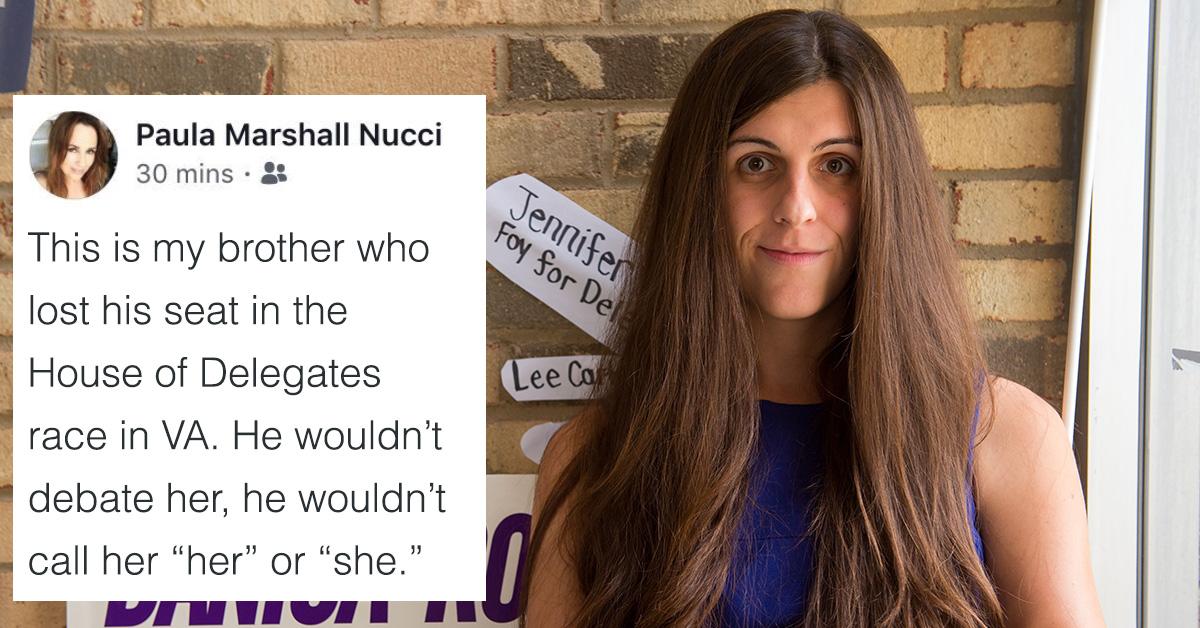 For many, the highlight of Election Day 2017 was the news that Danica Roem would became Virginia's first openly transgender elected official, and the first openly transgender person to have a seat in a U.S. statehouse. It's a pretty big moment for trans-rights and voting in general. It also delighted many people because it showed the usually conservative state is showing signs of becoming more progressive.
Article continues below advertisement
What made many even happier is that she unseated 13-term incumbent Republican Del. Robert G. Marshall. Marshall called himself Virginia's "chief homophobe" and earlier this year, tried to introduce a "bathroom bill" that would have forced people to use the public restroom that matched the sex on their birth certificate. The bill was shot down in committee. Marshall has constantly been a big enemy of progressive stances on gender rights, constantly making headlines for his hard line stance against same-sex bathrooms. It seems the pretty really spoke out in response to this with their votes.
And to make things even better, a screenshot supposedly captured from the Facebook page of Marshall's sister, actress Paula Marshall, has been making the rounds on social media. And let's just say that if this real, Thanksgiving is going to be awkward...
Article continues below advertisement
Robert Marshall reportedly refused to use Roem's correct pronouns in the campaign, and refused to debate Roem because her campaign had referred to him as "Bigot Bob."
Article continues below advertisement
Distractify was unable to access the post on Paula Marshall's Facebook page, and it's possible that the post has since been deleted or the privacy settings changed. But judging by tweets on Paula Marshall's Twitter account, she's no fan of her brother's political beliefs.
Article continues below advertisement
Article continues below advertisement
You can probably guess how the people of Twitter felt about the comments...
Article continues below advertisement
Article continues below advertisement