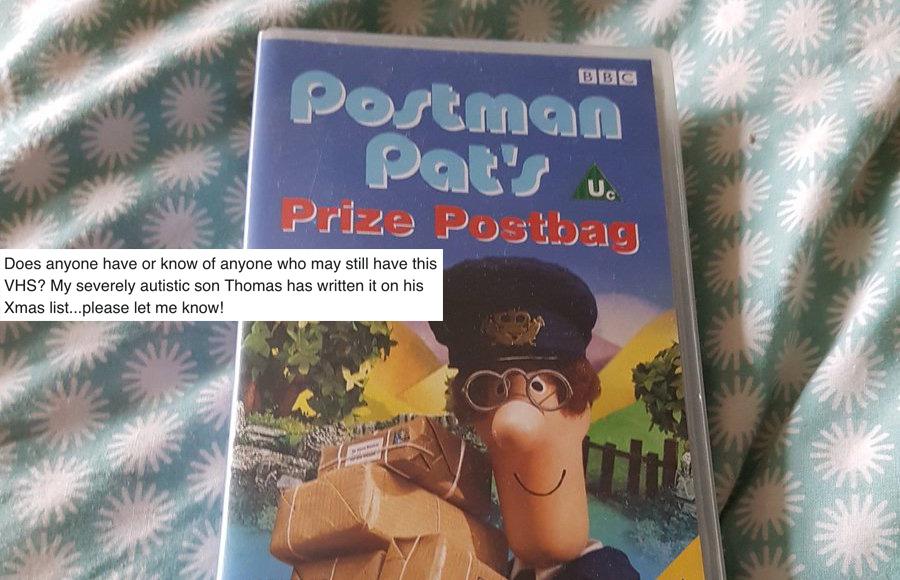 Twitter Helps Dad Find Rare VHS Tape For Son With Autism
By Zachary Brenner

Updated
The internet is really good at coming together and rallying behind one simple cause. Sometimes it's for something really stupid like naming a boat "Boaty McBoatface" and other times it's to help a father in need. We've seen it happen before when a mom couldn't find the right bottle types for their son, but after going to the internet, the company who used to produce it was able to ship the family hundreds of them, basically a lifetime supply, and prove the internet can do a lot of good when it wants to. So when this father needed a specific old VHS tape, the Internet jumped in again to help the father out.
James Dutton is the father of a 19-year-old son with autism. One his son's favorite things to do is watch old episodes of Postman Pat, a show on the BBC that premiered in 1981 and is still running today. Dutton recently went to Twitter to ask for a VHS tape of Postman Pat's Prize Postbag. He wasn't really sure much would come from it. The specific tape is super hard to find and the dad wasn't sure he could actually nab it, but wanted to try anyway as his son was very insistent on that particular VHS tape and didn't want to disappoint him.
To add...he watches the episodes on YouTube but wants the box to add to his collection (he's 19 now and loved watching them as a child)

— James Dutton (@jdutton69) November 13, 2017
The internet was happy to help the father on his quest to find the VHS tape.
I might have this on VHS, I'll ask my parents to have a look in my collection and if so I'll happily donate it for your son's Christmas present ☺️

— - (@rachybabessss) November 13, 2017
I did have it at my grandmas I will ask the to look into the attic for you! If I can find it it's yours!

— Jamie / 47 (@JDOCTORWHO17) November 13, 2017
Hi James. If you get stuck looking for this I'm pretty sure we could make up a VHS box and VHS with the material on, get in touch if you can't find actual copy.

— Tom David Large (@tomdavidlarge) November 13, 2017
Even after countless people offered their help, Dutton still did not have a copy of the VHS but he wasn't going to give up hope.
I know it's wonderful isn't it! Lots of lovely suggestion and advice but nothing concrete yet...fingers crossed!x

— James Dutton (@jdutton69) November 13, 2017
Eventually a woman named Jill said she had a copy but she saw Dutton's tweet in the knick of time. 
@jdutton69 I have a copy!! Replied on your other tweet but not sure if it'll get lost amongst so many replies. Our box of old videos was in the hall on the way to the charity shop after a clear out of the loft at the weekend! Dm me your address & I can post it to you 😀 pic.twitter.com/5LkKUXg6a3

— Jill (@jilly284) November 14, 2017
YES!!!!! Thank you SO much!!! How wonderful!x

— James Dutton (@jdutton69) November 14, 2017
STOP PRESS!! Thanks to wonderful @jilly284 seeing a retweet from @BrendanCole a copy's been found! The response has been absolutely overwhelming and I'm so grateful to everyone for taking the time to give advice, or search in attics! The heartwarming side of human nature ❤️

— James Dutton (@jdutton69) November 14, 2017
Thankfully this story has a happy ending but now Dutton has a new problem. Sharing. 
Ah man- that's my childhood Pat. Goofy and calamitous. Can I borrow the tape afterward?!

— Hugh Jazz (@ThurstanStHouse) November 14, 2017