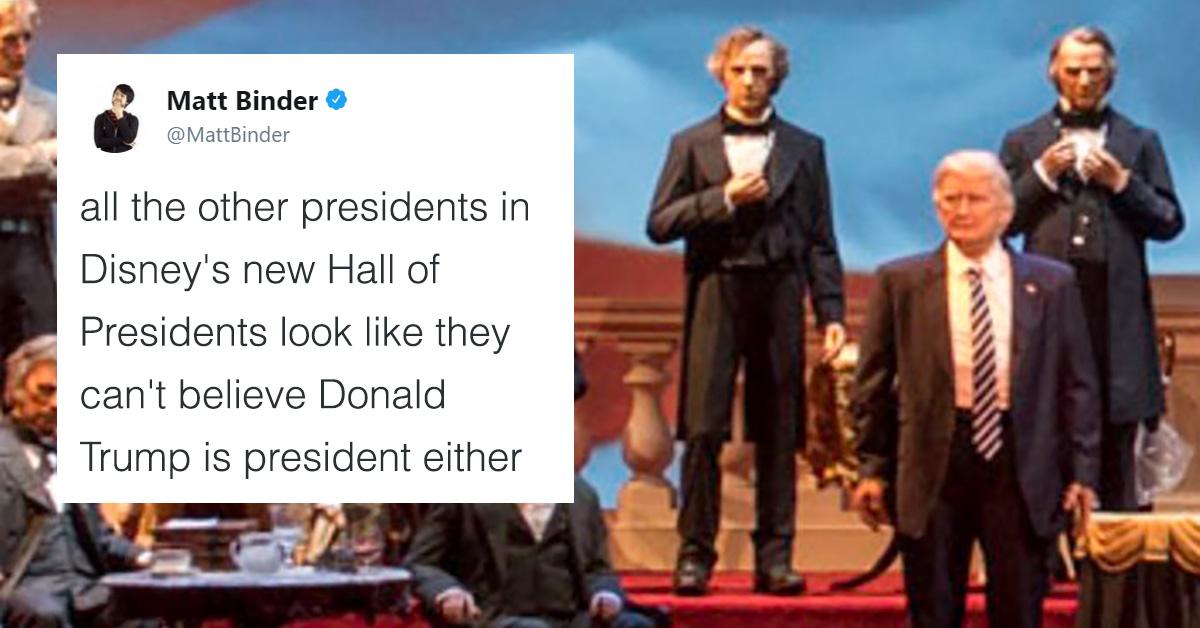 People Are Reacting To Disney's Donald Trump Robot — And The Reactions Aren't Good
By Mark Pygas
After a few months of delay, Walt Disney World's Hall of Presidents is set to reopen on Tuesday with the latest animatronic addition to the lineup — President Donald Trump. Scott Gustin, a Disney employee, took to Twitter on Monday to share some sneak peaks at President Trump's robot.
Being that these little robots all have soundbytes that they repeat back to guests, there's been some speculation as to what President Trump's robot will say, given some of the things he's said in the past. By the looks of a clip posted by WDW Magic, Trump will be introduced by George Washington and then recite the oath of office.
"From the beginning, America has been a nation defined by its people. At our founding, it was the American people who rose up to defend our freedoms and win our independence. It was why our founders began our great constitution with three very simple words: we the people. Since that moment, each generation of Americans has taken its place in the defense of our freedom, our flag, and our nation under God."
"These are the achievements of the American spirit—the spirit of a people who fought and died to bring the blessings of liberty to all our people. Above all, to be an American is to be an optimist, to believe that we can always do better and that the best days of our great nation are still ahead of us. It's a privilege to serve as the president of the United States, to stand here among so many great leaders of our past, and to work on behalf of the American people."
Social media didn't seem to be so kind to the latest addition, though.