Mom bloggers and Instagram influencers are very popular on social media, but part of the job is receiving a lot of scrutiny for how you're doing as a parent. One woman just got put through the gauntlet after posting an innocent picture of her kid enjoying a beach day.
This is her daughter Winter (thus, life with Winter):
Winter is more camera shy than her mom. Then there's the wee babe, Wilde, who has not yet developed the motor functions to crawl away from branding opportunities:
As a mom Instagram model, Jones shares a lot of pic of the kids enjoying surf and sun, but one picture of Winter recently kicked up a controversy. It showed Winter walking along the beach, appearing very tan: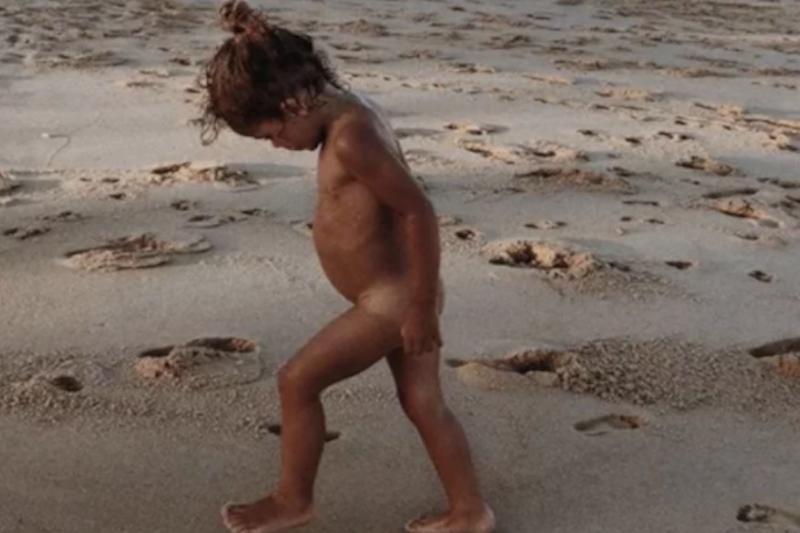 According to Metro.uk, Jones woke up to discover the post had been flagged and removed.
Apparently, the image had been littered with comments about Winter's skin tone, like, "It's disgusting to see how dark your daughter's skin in," and "Have you heard of suncream? How about you start using it before your kid looks 40 at four. Horrible mother."

Jones believes the image was flagged because people were disparaging her daughter's skin. She posted a follow up on Instagram telling the haters to step off:
In the caption she wrote:
"Woke up this morning to see my post had been removed from Instagram because more then a few people had reported it. I am disgusted at the thought that people who follow me Condone that ladies bullying and racist remarks. My child's skin is beautiful, I take all necessary measures to ensure her skin is protected and I wake up every dam day striving to be the best mother possible. If you don't like my posts or our skin colour offends you please just unfollow. I won't post about last nights events again because I don't want to be putting negative energy into the world but please realise I am a real person behind this account, I'm not a robot. I have feelings and emotions and even though I have thick skin when it comes to trolls, degrading comments made about my children are not on
Happy Tuesday all."
The comments were full of supportive people who tan easily: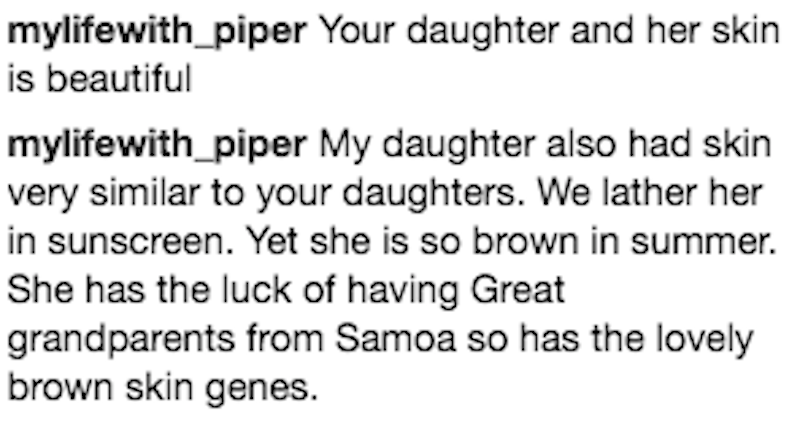 The feedback was so positive that Jones followed with another pic of Winter having a blast on the beach:
In the caption, Jones says that she's incredibly grateful for the response, and states that her family is of Aboriginal descent, which is partly of why Winter's skin tends to tan quickly rather than burn:
"So the past 48 hours has been pretty crazy for me. I didn't expect to get the response I have from my post. I want to say a huge thankyou for everyone writing to me, I appreciate your support and kind words. It's lovely to see that majority of people writing to me are against online bullying. In regards to the photo I posted I can totally see both sides of the ballpark now. I saw no problem with the photo I chose to post because there was no inappropriate parts showing, just Winters side profile. I just want to say though that I do respect even the people who have wrote into me disagreeing with my post but I thank you for going about it in a tasteful way and not shaming my child for her skin colour. We are of Aboriginal decent and we are proud of our heritage. I have learnt a lot from this experience and I won't change the way I post but I will be more mindful of what I choose to share online. Thankyou once again for connecting with me and sharing your own stories. I'm making my way through my messages and will get back to every one of you."
Look, nothing is keeping this family off the beach:
They got an umbrella, they got sunscreen—now everyone else should get a life!