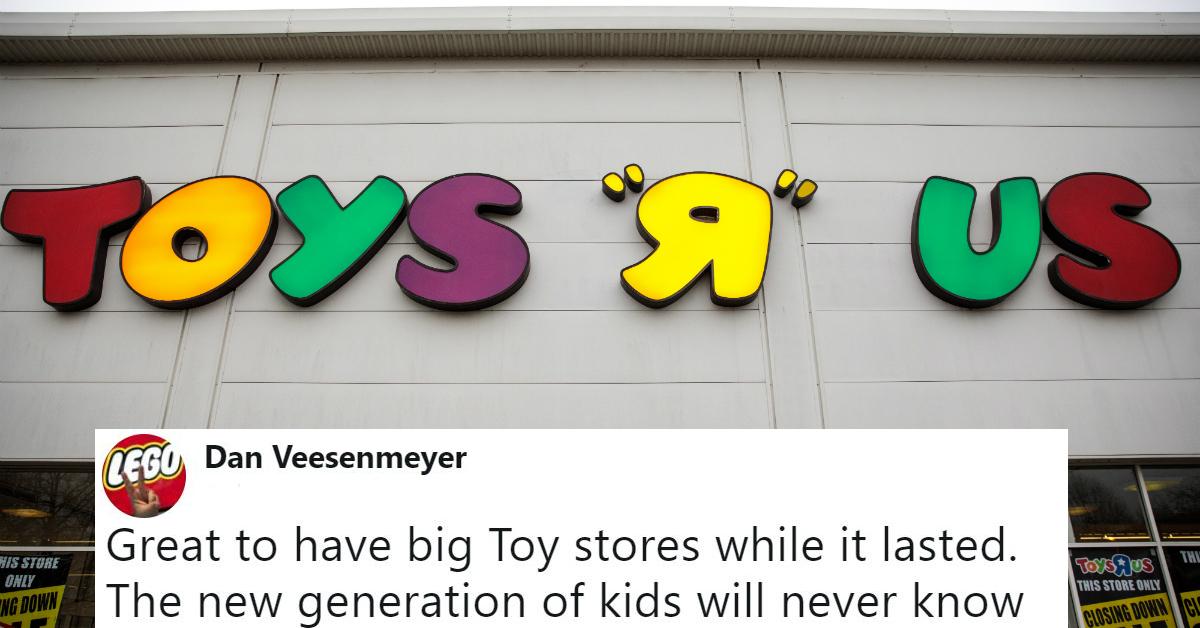 Toys 'R' Us Is Closing Up Shop And The Internet Is Not Taking The News Well
By Mustafa Gatollari
As a kid, I don't think there was a store I loved visiting more than Toys 'R' Us.
Now before I start waxing on poetically about visiting a retail institution whose sole purpose was to perpetuate the notion that I needed things to be happy and separate my parents from their money as a result, I want to say that I get all that. I understand it. But what I also understand is that I loved being there. I didn't even expect to go home with any toys most of the time.
In fact, some of my best memories of the place have nothing to do with bringing home toys themselves, but refusing to go in the car when my mom said it's time to leave, playing hide-and-seek in the aisles. Even when I wasn't in the store, but waiting at home patiently for my older brother to return from a Toys 'R' Us with my dad. I thought he was getting a Super Nintendo, but no, he opted for a Sega Genesis instead. I lived the lie of enjoying that console, pretending to prefer it over SNES for years, but deep down inside, I knew the truth. I didn't blame Toys 'R' Us for his failing as an older brother, I blamed him, because Toys 'R' Us could do no wrong.
Turns out I'm not the only one getting all nostalgic about old Toys 'R' Us experiences. After the retailer announced it's closing up shop for good, people are flocking to social media to share their best times at the Geoffrey the Giraffe's stomping grounds.
Whether it was less-than-stellar "celebrity" appearances...
...or just wandering the aisles in wonderment, people were getting misty-eyed.
God these ones hit me hard.
If you've been to one recently, you might have had a similar, desolate experience as this one Twitter user.
People are making new memories while they still can, too.
While others are just thankful for the ones they have.
Some are looking at the bright side.
Some people are blaming the rise of tablet and smartphone obsession for the next generation's inability to play with toys.
Even celebrities are tweeting about the store closing, sad that their kids won't be able to happily run through the aisles.
Remember the old Toys 'R' Us magazines you'd get in the mail?
But, as people pointed out, shopping at Toys 'R' Us wasn't exactly cheap.
That doesn't mean that people still don't remember it fondly.
And want to lament the retailer properly:
This one sums up the feeling perfectly.