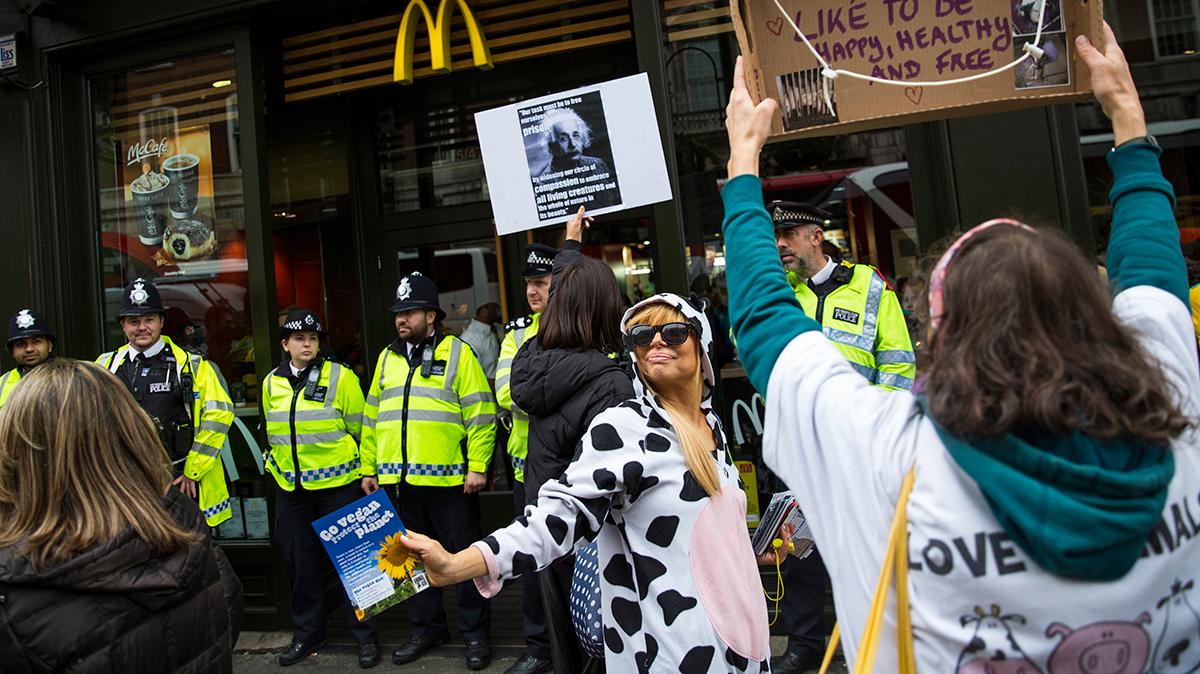 Chef Responds To Vegan Protestors By Cutting Up Meat In His Restaurant Window
By Aimee Lutkin
The vegans are at it again. Blog TO reports that a group of vegan protestors were recently caught on tape in a stand off with a chef, and everyone on the Internet has an opinion about it.
A Toronto restaurant called Antler is known for serving local meats, like bison, boar, rabbit, duck, and deer. These are all animals that people everywhere do eat, but perhaps it feels more immediate and cruel than a common steamed chicken breast. They also serve foie gras, which is produced pretty horrendously—sorry, meat lovers, I'm with the vegans on this one!
On Friday, the local vegan group had their fourth protest in front of the restaurant, and it was a doozy:
They might have expected some success, because the restaurant did seem to respond to early protests by offering a vegan option on their menu board (though some say they have always had vegan options):
But things didn't go as planned.
After about an hour, Antler's co-owner and chef, Michael Hunter, set up a deer leg on a table by the window, one that is normally reserved for diners. He then began carving it, to the horror of the people outside:
The vegans did not disperse, but stood there grimly holding their murder sign, making it into something of a performance art piece.
The police eventually showed up, and Hunter packed up his display, but they were supposedly smiling as they left.
One customer who was there the night of the protest took questions from the curious Internet. From his perspective, the restaurant is pretty normal, the chef may have gone too far, but the protestors mostly seemed concerned about the deer, which is a bit absurd if you consider what people have been hunting forever.
There were people who sympathized with the protestors point of view, but most seem to understand the chef's frustration:
Even other vegans seem frustrated by the situation:
Even if they're not exactly stanning for the chef:
In a statement to Blog TO, Antler responded in an email that their "identity as a restaurant is well known throughout the city as is our ethical farming and foraging initiatives."
Hunter added, "While we would much rather not be the focus of these protests, we are not at all surprised. We simply want to carry on running a restaurant and have a peaceful environment where our guests can enjoy their food."
Shutting down one small business will not do much damage to the meat industry at large, and protests like this certainly give people a very specific view of veganism. A bad one.