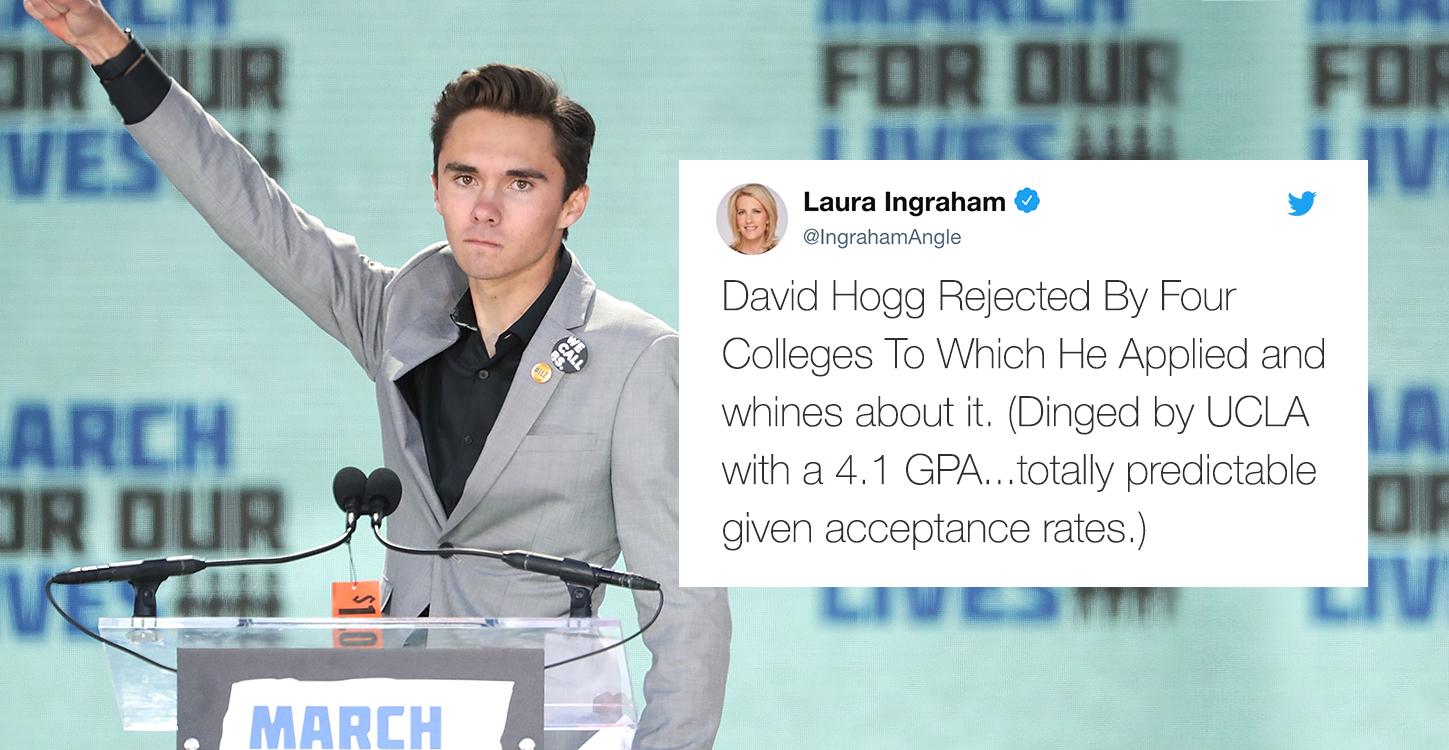 Moms Are Coming for Laura Ingraham After She Attacked A Parkland Teen
By Aimee Lutkin
Conservative pundits are a bit stymied at the moment. On the one hand, they love the NRA and the 2nd Amendment; on the other hand, they're not supposed to openly criticize rich, white children. While not all Parkland teens speaking out about gun violence are necessarily wealthy, they're from an affluent neighborhood in Florida, which is usually the target zone of Fox News. This means some delicate tight-rope walking, and recently their host Laura Ingraham felt right off.
Ingraham tweeted a story about Parkland activist David Hogg, saying he "whined" about being rejected from college:
It seems she forgot that the teens are reading the tweets, and they're better at social media than her.
Hogg's sister, Lauren, who lost friends at the shooting at Marjory Stoneman Douglas as well, told Ingraham to "grow up." And she's only 14:
His fellow activist, Jaclyn Corin, also joined in:
Even Mike Cernovich, who is a big ole right-wing fella, was critical of the move:
And he smugly applauded himself when it was announced that Ingraham had been dropped by TripAdvisor, who announced they would no longer be advertising on her show, according to The Hill.
Why would they do that? Because even before getting into college, Hogg is powerful. He suggested a boycott on twitter, and the people listened. And made calls:
Other companies have suggested they're working to remove advertising from Ingraham as well:
You know who else is coming for Laura Ingraham? The moms. And they're trying to remind Ingraham that she also has children, and has complained in the past about people attacking children, specifically the children of Donald Trump:
Ingraham offered an apology, kind of, and invited Hogg on her show:
Somehow we don't think he'll take her up on it—even if she stays on air.