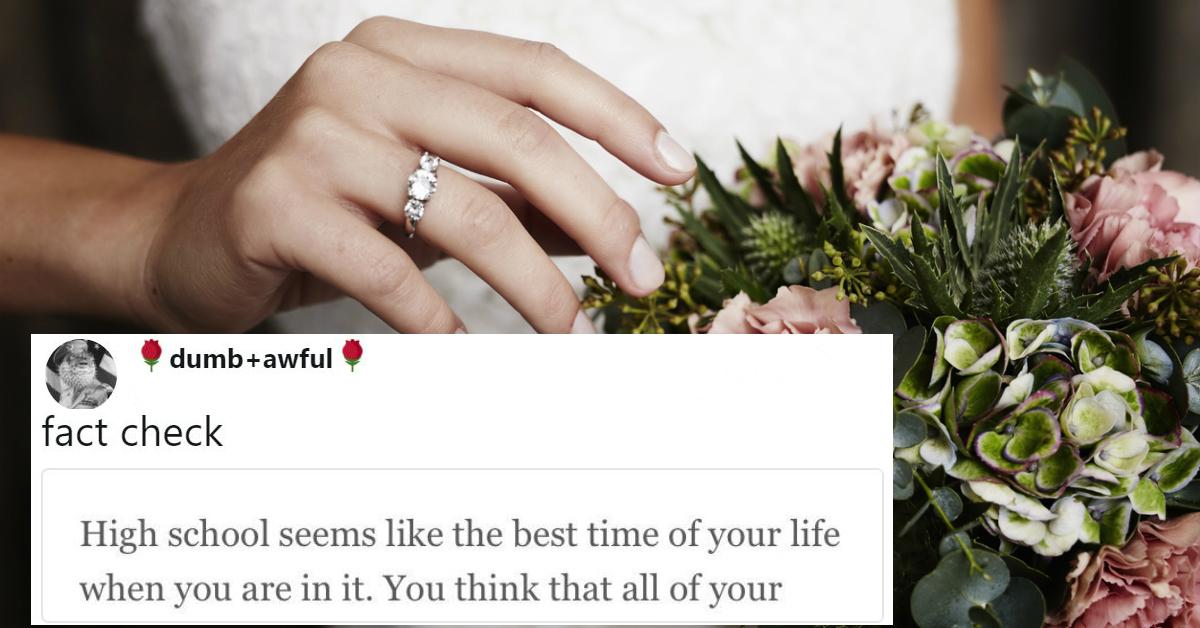 People Are Roasting This Woman's Essay About Her Partner's Prom Date
By Mustafa Gatollari
There are tons of movies and books about the horribly stressful, awkward, and crushing experience that is high school.
Now where do you think all of these authors would come up with that idea? Is there a decades-long conspiracy of writers and artists who have decided to perpetuate this notion? Is there a secret pact a bunch of people have had who've decided to portray high school in an awful light on purpose as part of a grand scheme to give your formative years a bad rap for no reason whatsoever? That could be one theory.
Or the more logical and obvious and relatable one is that yes, high school is absolutely terrible for most people.
High school seems like the best time of your life when you are in it.
Most people who read the essay apparently couldn't get past the opening line, because they couldn't get over the author's audacity to make such a bold claim and that it's generally accepted high school was amazing for everybody.
People were not shy in their roasts of this opening line.
Like, there were a lot of people who just couldn't bear to read any more in the piece out of fear it would get much worse, which, it apparently does.
In the rest of the post that the Daily Dot calls "patronizing," the author, Victoria Higgins, writes to an anonymous woman who got to date the man she now married in high school, saying how jealous she was that she was able to date him as a teenager. Just check out her language here and you be the judge:
""I wish I could say that I am sorry it didn't work out for you, but I can't. I can't because he is mine now, and I get to cherish him forever."
"I hate that you got all of the high school stuff with him. You got to go to games and support him. It kills me that I couldn't be there for him because I know I would have actually been there wholeheartedly."
Those who stuck out the rest of the article were blown away by the writing, and not in a good way.
People just couldn't believe she was so jealous of someone she never met that she penned an entire piece about it and published it on the internet for everyone to see.
Others don't know how she's going to react when her future husband talks to other women.
And then there were some Twitter followers who went all-out and labeled the writer a "psycho."
Some bros are calling the author's behavior and language a "red flag" and are warning the guy to stay far away.
Of course, there were some quality jokes about the essay's subject matter.
Interest in the author's other writing was quickly generated, and then social media roasted some more: