Teacher Posts Photo Of Chairs In Her Classroom And Gets $44,000 In Donations
Laurissa Kovacs took to Facebook to share the state of her classroom's chairs.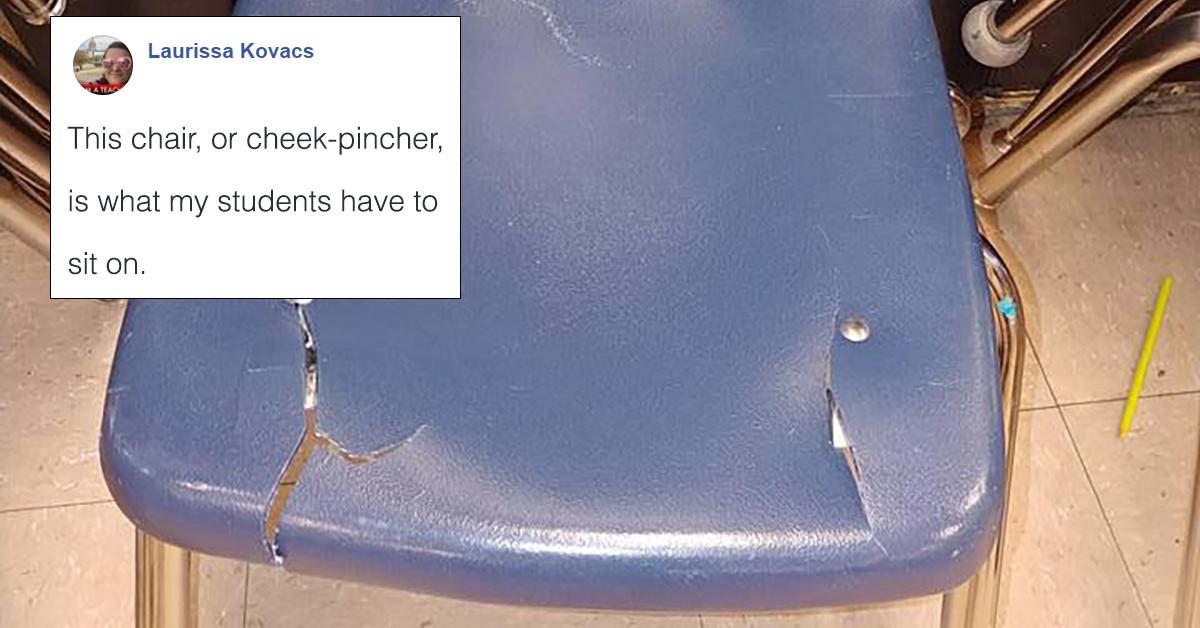 Teachers across Oklahoma are expected to walk out of the classroom for a second week to protest declines in state funding for schools and one the lowest salaries for teachers in the United States. A walkout last week prompted the state Senate to consider raising gambling taxes and institute taxes on certain internet purchases to raise an additional $40 million annually.
Article continues below advertisement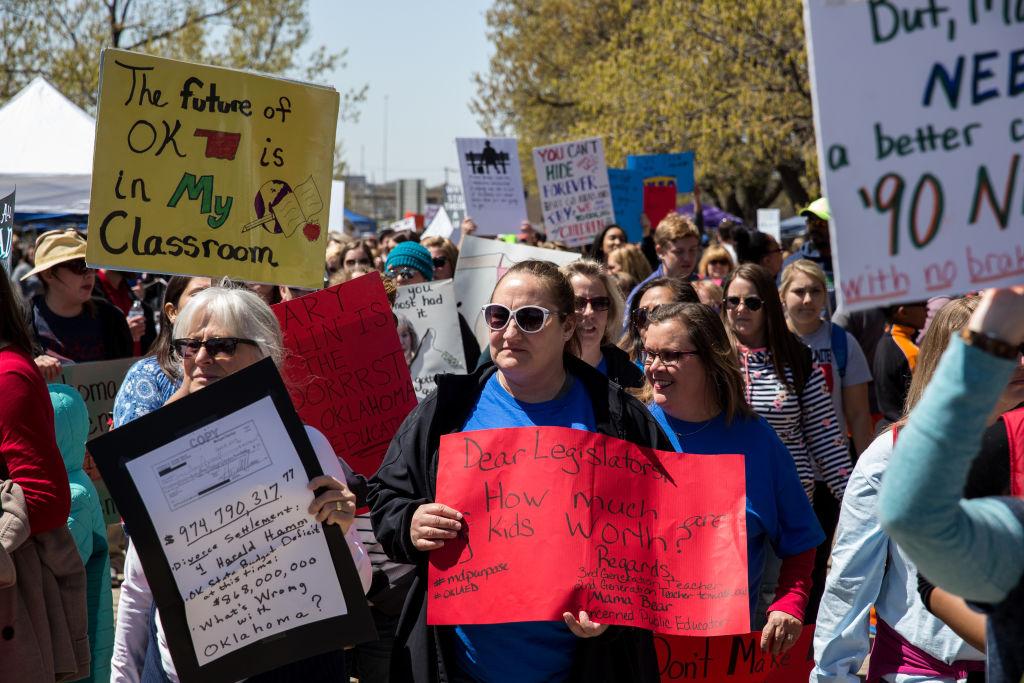 Oklahoma Education Association Executive Director David Duvall doesn't think that money will be enough to prevent teachers from walking out again.
Article continues below advertisement
"Our members know their needs, and they're going to tell us when it's enough," Duvall said. "I anticipate that we'll be back up here on Monday."
In 210 Oklahoma schools, located in 91 of the state's 512 school districts, funding is so short that they operate on a four-day schedule.
Article continues below advertisement
Laurissa Kovacs is a Oklahoma art teacher at Puterbaugh Middle School in McAlester, who makes $27,732 a year after taxes and insurance. On March 28, Kovacs took to Facebook in support of the strikes by sharing a photo of the chairs in her classroom and claiming that many are so broken she has to bring folding chairs from home.
Article continues below advertisement
In her Facebook post, Kovacs wrote:
"Ok here's my story and why I'm walking out. This is my fourth year teaching in Oklahoma and after taxes and insurance I take home $2,311 a month, $27,732 a year."
Article continues below advertisement
"I could make about 20 grand more by moving to Texas or Arkansas, and many teachers are doing just that. Oklahoma is losing qualified teachers every day. These kids deserve the opportunity of a great education but we cannot give them that if all our teachers are emergency certified or completely over worked."
"I teach six classes each day. As of today this is how many students I have in art class:
2nd Hour- 30 students
3rd Hour- 27 students
4th Hour- 32 students
5th Hour- 19 students
6th Hour- 23 students
7th Hour- 30 students"
Article continues below advertisement
"This is way too many students for one class. Especially art class. I've had to cut back on the fun, ambitious, and exciting projects literally because there isn't enough room on the table for 32 kids. I literally do not have enough chairs for 32 students. This photo is something every one of my students is familiar with."
"This chair, or cheek-pincher, is what my students have to sit on. Most of the chairs in my room look like this. Once they get to this point it's only a matter of time before the bottom goes completely out. Today a student actually carried his chair with him to sharpen his pencil because he got in early enough to get a good chair. I've gotten a few new students and had to throw a bottom-less chair away so tomorrow I'm having to bring in a couple of folding chairs I have here at home. That's why I'm walking out."
Article continues below advertisement
"These kids deserve so much better than this.
They deserve teachers who are qualified to teach.
They deserve classes that are small enough that the teachers can actually spend some time with each student.
They deserve a quality education just as much as kids in surrounding states.
This is about so much more than a raise. It's about the future of Oklahoma. That's why I'm walking out."
"And this bill that just passed is no where near enough to make an actual difference. I'm still ready to walk out and stand my ground."
Article continues below advertisement
The bill that Kovacs is referring to is a $6,100 pay raise for teachers passed before the strikes in an attempt to stop the walkout. The state's biggest teachers union is demanding a rise of $10,000 over the next three years for teachers, and $5,000 for other staff, which would still put average annual wages in Oklahoma below the national average.
"This package doesn't overcome shortfall caused by four-day weeks, overcrowded classrooms that deprive kids of the one-on-one attention they need. It's not enough," Oklahoma Education Association preisent Alicia Priest said at the time. "We must continue to push for more annual funding for our schools to reduce class size and restore more of the 28% of funds they cut from education over the last decade."
Article continues below advertisement
When her post started going viral, Kovacs added an Amazon registry link where people could purchase supplies such as markers, pencil sharpeners and chairs, of course.
And now, the teacher says she's received over $44,000 worth of donations, including six refurbished laptops.
Article continues below advertisement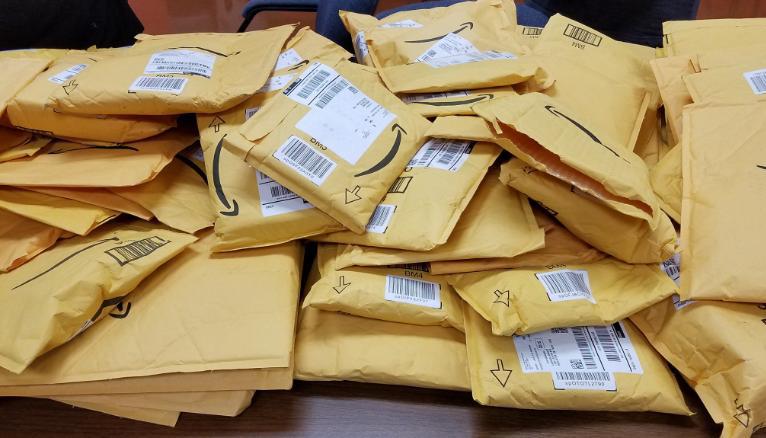 Article continues below advertisement
"The past five days has been totally surreal and I don't think the full effect will hit me until I'm back in my classroom with my students. I think they will be amused to see me cry when I'm explaining everything."
Kovacs plans on sharing the 600 packages to help out her colleagues:
Article continues below advertisement
"My plans are to share, share, share! I'm not the only one in my district who needs things, so I'll be sharing it all."
What do you think of the walkout?