Tajea-Jasmine Walton is a model on Instagram who also runs a publication for women of color called GRLY Magazine. She has a fair-sized following, but relatively small for Instagram.
But she's obviously gorgeous, and shares amazing pics:
So, people like her.
On Twitter, Walton shared a screenshot of direct message she received from a stranger on Instagram with a pretty shocking request:
The message was from a woman who says her boyfriend keeps saving pics of Walton and using them as screen savers. He also apparently talks about Walton a lot. The messenger asks that Walton block her boyfriend on social media so he can't see her anymore. She signs off with some interesting words: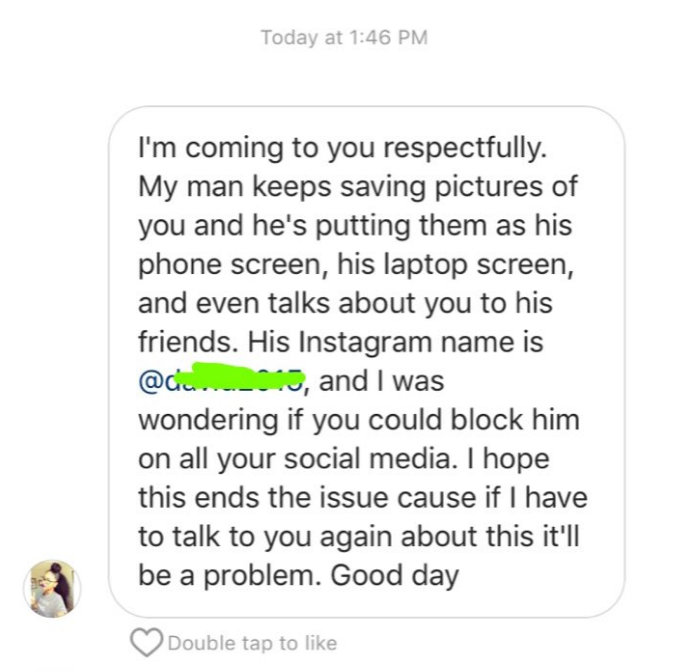 Walton could not believe that this woman was only blaming her for her relationship problems:
Walton told Buzzfeed that though she gets the occasional message, this was by far the weirdest.
"I didn't respond," she said. "I honestly just read it and blocked them both. There wasn't any reason to go back and forth. I have my own boyfriend, and at the end of the day, there's nothing I could do about him being oddly obsessed with me."
That's a mature response, but everyone on Twitter reacted with the shock this message deserved:
Everyone has suggestions for how Walton should have responded:
But most were wondering if it's really worth it to hang onto a guy who is doing this so blatantly in front of you anyway?
Walton has moved on to do her usual thing of looking great:
I guess everyone got what they wanted, but I almost feel bad for the lady who got to keep her boyfriend.