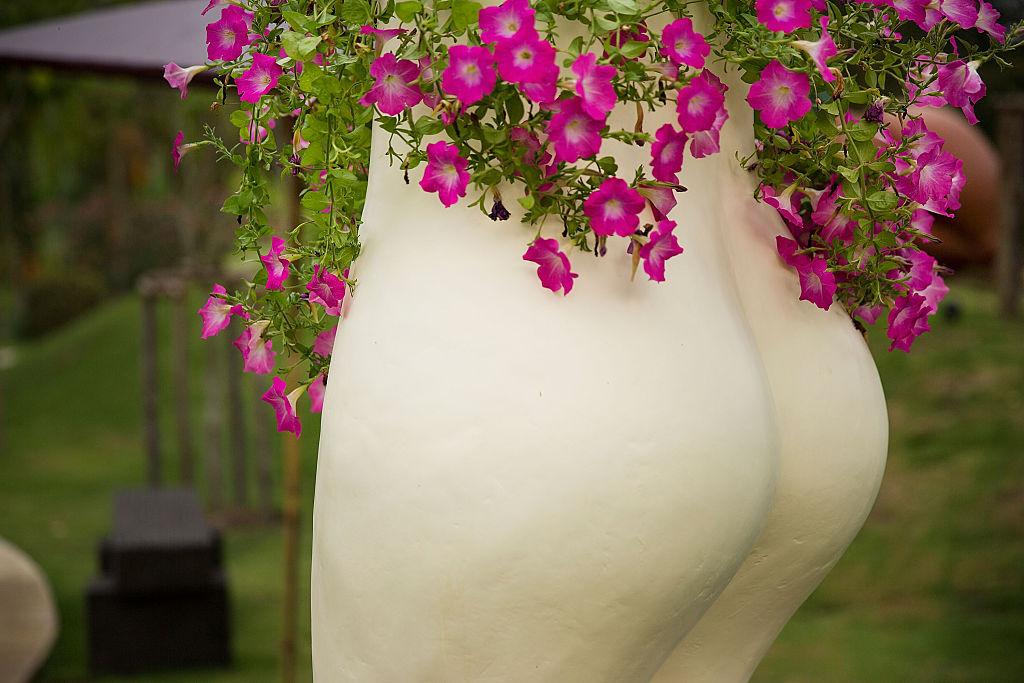 Beauty for Your Booty: The Roundup
By Pippa Raga

Updated
Butts are the new boobs. So of course there's a whole industry of products out there to keep your booty at its best—from exercise classes focused on squats to shapewear that smooths and lifts. Now, the latest are beauty products to keep your rear end baby soft and Kardashian plump. There are hydrating masks, exfoliating scrubs, butt acne (buttne) fighters, and creams that promise to make your ass fatter. 
Here's the skinny on all the magical potions being marketed to your thiccest self. 
Butt Masks
Instagram loves face masks and butt pics so it was only a matter of time before someone invented butt masks!
1. Anese, Down with the Thickness, Collagen Booty Mask
A clay mask engineered to plumpen and detoxify. Kaolin clay cleanses and removes excess oils. Pro-Vitamin B5 and B3 nourishes skin. Collagen improves elasticity to make your butt look and feel more supple. 
2. Palmer's, Booty Firming Sheet Masque
With coconut oil and vitamin E, this mask is designed to hydrate and firm. Brazilian Guaraná and Cupuacu extract promote microcirculation. An added benefit is that it's made with fair-trade coconut oil.

3. Nannette de Gaspé, The Uplift Revealed: Tush
Nanette de Gaspé is known for their specially formulated dry sheet masks. Read: not wet or goop. The Montreal-based skincare line has masks for nearly every part of the body including the derriere.

4. Lipo Patch, Buttocks Up
It's called a patch but seems pretty much the same as a mask. Designed to firm your behind, it's recommended you use these cheeky gel-infused applicators once every two days for four to eight hours. Ingredients include eucalyptus, globulus leaf oil, and wild yam root extract.

Butt Scrubs
These exfoliators are designed to lessen the appearance of stretch marks, cellulite, scars, and discoloration.

5. Anese, That Booty Tho, the Original Booty Scrub
The main ingredient in this super fine scrub is walnut shell powder. With antioxidants and essential fatty acids in the recipe too, it promises to stimulate blood flow and assist in regenerating new skin cells.

Frank Body has a coffee scrub that's supposed to promote collagen and exfoliate away dry skin. But you can find lots of recipes online for simple DIY coffee scrubs made with ingredients you can find in your kitchen pantry like coffee grinds, cinnamon, sugar, and coconut oil.
Buttne Treatments
Leave butt acne behind with these remedies.
7. Paula's Choice CLEAR Acne Body Spray
With 2% Salicylic acid, this spray targets blemishes and calms redness. The bottle is designed to make it easy to use on hard-to-reach areas.

8. Green Heart Labs, Butt Acne Clearing Lotion

This lotion promises to clear up your pimples and make your butt baby soft! They recommend to use a generous amount before bed for deep treatment.
Lemon juice, yogurt, apple cider vinegar, and honey are all popular DIY treatments for stubborn acne on your butt or back. 
CREAMS
There's a bunch of creams out there. Some promise to just tighten and moisturize. Others are marketed along with supplements and actually claim to make your butt bigger. Are these creams and pills Instagram snakeoil?
10. Sol de Janeiro, Brazilian Bum Bum Cream
This fast-absorbing cream claims to visibly tighten the appearance of skin with a cocktail of Guaraná extract, Cupuacu butter, acai oil, and coconut oil. Plus it smells yummy with a blend of pistachio and salted caramel scents. 
11. PureLeef, Butt Plumping Cream

The Kylie Jenner-endorsed cream promises to boost the volume and shape of hips and buttocks using natural ingredients to stimulate the body's own fat generation. Ingredients include anemarrhena root, a plant used in traditional Chinese medicine to nurture yin, and macelignan, a nutmeg extract. Some are skeptical of the product's claims.
12. Biomose, Butt Perfect Lift

This is another cream that says it will increase the fat volume of your derriere through what the brand calls "lipofilling technology." Like many other butt enhancement creams, the ingredients include anemarrhena root and macelignan nutmeg extract. 
13. IsoSensuals CURVE Butt Enhancement Cream

IsoSensuals recommends to take a dime size amount of this cream and rub it into your buttocks for 20 to 30 seconds. The ingredients include a cocktail of oils: grapeseed, sweet almond, and coconut. And if you think butt creams are bizarre, IsoSensuals also makes a vaginal tightening gel.

14. Major Curves Butt Enhancement Cream

For best result, Major Curves recommends using this cream twice daily for six months. Their trademarked LipidMaxx blend of natural ingredients promises to stimulate fat cells and make your booty bigger. One of the main ingredients is commipheroline, derived from the Indian Commiphora Mukul tree.
15. Booty Magic Butt Enhancement Cream

Another cream that claims to give you more junk in the trunk. Some of the ingredients include maca root extract, pueraria mirifica root extract, and wild yam root extract.
16. GluteBoost Butt Enhancer Cream
Yet another cream marketed to enhance your butt by stimulating fat cells. And yet another cream that includes the anemarrhena plant (also known as zhi mu) and a nutmeg extract, but GluteBoost calls these popular natural ingredients by the names, Volufiline and Voluplus.

17.  Bum Boutique Booty Firm Cream
Moisturizes, smooths, firms, and adds volume: these are the promises of the Bum Boutique's cream. The Bum Boutique also has a derma roller which is supposed to help reduce the appearance of scarring, dimpling, stretch marks, and blemishes.

18. Booty Perfect Enhancing Buttocks Cream
This collagen-boosting cream promises to plump, firm, and increase the size of your butt. The ingredients include natural soy protein, raspberry ketone, jojba seed, and green tea extract.

19. Eveline Cosmetics, Slim Extreme 3D Super Serum Shaping Buttocks
This is another product that advertises one of the ingredients as Volufiline, a trademarked compound created by a company called Sederma derived from the anemarrhena root extract. Eveline Cosmetics also has a thermo-activated version of this cream that you can rub on your "problem areas" before you work out for targeted weight loss and fat burning.

20. Bootiful, Butt Enlargement Enhancement Cream

Another cream for a big butt. This one has some different ingredients, like damiana extract, an aphrodisiac; octyl palmitate, an organic silicone replacement; and honey, which is full of antioxidants.