Gun control is a hotly debated issue in America and one that is sure to make the comments section on any video or article go absolutely insane.
In fact, people feel so passionately about the issue that some have gone so far to concoct conspiracy theories stating the victims of school shootings are "crisis actors" or they make up the "true origins" of shooters.
One point that a lot of gun control proponents bring up is the fact that the number of toddlers who kill and are killed by guns in American every year is ridiculously high: higher in 2015-2017, for example, than the number of people who were killed by acts of terrorism in the US.
So you can only imagine the online fury that was created after this video of 4-year-old Maverick cocking and pulling the trigger of a rifle at an NRA convention went viral.
The child was approached by huntress and outdoorswoman Kendall Jones who asked the young boy to show her what he can do with the gun. He then demonstrates his understanding and ability to engage the gun's bolt and trigger mechanism, then unloads and loads the rifle's magazine.
"That is adorable," Jones says at the end of the video clip she posted on her Twitter account.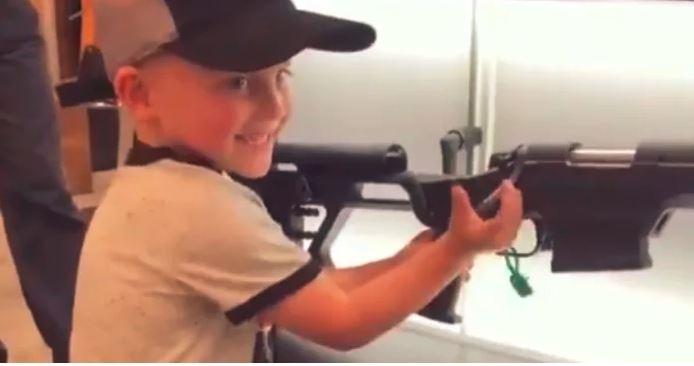 Kendall's video of Maverick was posted with the caption, "This video is INCREDIBLE! Parenting done RIGHT."
And there were a bunch of people who agreed with her and praised the 4-year-old's parent's decision to bring him to an NRA convention.
But there was an overwhelmingly negative response to Jones' tweet - many of them from self-proclaimed gun enthusiasts and firearm owners themselves.
Many said that the child was treating the gun as a toy and wasn't taught the proper way to handle or respect a firearm by his parents at all.
Others felt that there was a clear double-standard when it came to the young boy handling this gun, and that it was disturbing that he viewed handling the firearm like it's a game.
Some thought that video was sending a dangerous message to children and couldn't believe that the tenets of the NRA shifted away from gun safety.
It's rare that a "pro-gun" video receives criticism from those who are pro gun ownership, but both "Libs" and "Cons" seemed to be on the same page with a 4-year-old demonstrating a lack of respect for guns and encouragement by adults for doing so.