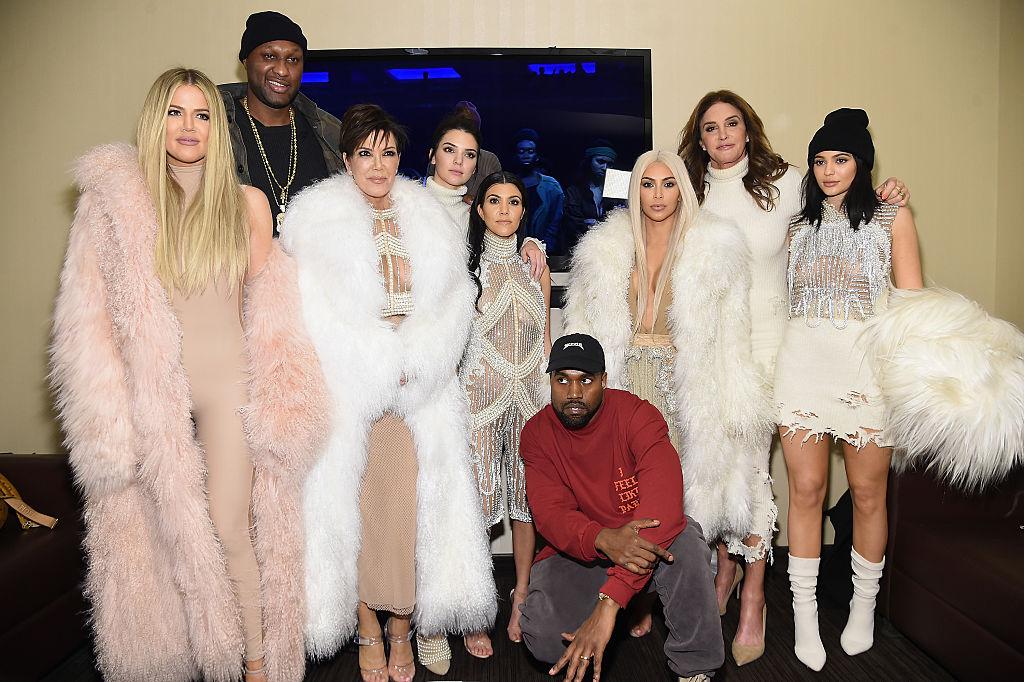 Keeping Up With The Infidelities: Every Kardashian Cheating Scandal In Recent Memory
By Pippa Raga
Days before Khloe Kardashian went into labor in April, her boo Tristan Thompson, Cleveland Cavaliers power forward, was spotted with another woman leaving his hotel room during an away game in New York City.
And while his girlfriend Khloe was back in Cleveland nine months pregnant with their baby—born April 12 and named True—he was also caught on camera making out with the same babe at PhD club. (Was Tristan studying for his doctorate in douchebaggery?)
It's the latest alleged affair to rock the Kardashian clan, but it's certainly not the first explosive account of cheating for America's Royal Family. If anything, these rumors keep them in the headlines and seem to only bolster their A-list status. You know what they say, with great power come great tales of infidelity.
1. Tristan Thompson and Khloe Kardashian
(April 2018)
In early April, footage surfaced of Thompson in New York with another woman in New York. There's pics and video of Thompson and a woman hooking up at the club and what seems to be the same woman arriving with him at the Four Seasons Hotel. Tabloids also report they came back to the hotel around 5am and the woman didn't leave until 8pm the next night toting with her what looked like an overnight bag. The woman is rumored to be instagram model and strip club waitress Lani Blair.
A few days after TMZ and other tabloids made these reports, Khloe, back in Cleveland, gave birth to her and Thompson's baby. Some tabloids are now saying Khloe's forgiven him. Others are alleging Thompson has given box seat playoff tickets to sidepiece Blair.
Supportive sis Kim Kardashian publicly addressed the allegations on The Ellen Show and unfollowed Tristan Thompson on Instagram.
2. Scott Disick and Kourtney Kardashian
(January 2017)
Scott Disick being a dick was a big part of season 13 of Keeping up with the Kardashians. Although the episodes, which followed the plot of Disick and Kourtney Kardashian's rocky relationship, didn't air until May 2017, the visit to Dubai where the drama began actually happened back in January.
On the Dubai trip episode of the reality TV show, Kim finds Disick trying to hide a woman in his hotel room bathroom after hooking up with her. Kim flips out and calls the woman a "whore." The next episode finds the family on a vacation in Costa Rica where Disick is staying down the road from the villa with a sidechick. The episode includes members of the matriarchy throwing drinks in his face.
Disick and Kourtney Kardashian together co-parent their three children, though they are sort of on-and-off again romantically as a couple. Later in May 2017, Disick was seen as thirsty for attention publicly canoodling with actress Bella Thorne at Cannes. These days he's making out on the street all the time with model Sofia Richie (daughter of Lionel and sister of Nicole).
3. Kendall Jenner and A$AP Rocky
May 2017
There was lots of speculation that A$AP Rocky was cheating on Kendall Jenner with Love and Hip Hop star Tahiry Jose in May 2017.
But although Kendall Jenner and Rocky publicly went to the MET Gala together earlier that month, it doesn't seem like they were official or exclusive. So if there was really something going on with Jose, it might be more of a love triangle than a cheating scandal.
Make that a love square actually. By September, tabloids were reporting Kendall Jenner was dating both A$AP Rocky and NBA star Blake Griffin at the same time.
4. Rob Kardashian and Blac Chyna
July 2017
Rob Kardashian had a social media meltdown and posted naked photos of his ex-fiancée and mother of his child claiming she had cheated on him. What Rob did is called revenge porn and it's illegal.
Before Blac Chyna went the legal route and filed a temporary restraining order against Rob (which a judge granted), she used to social media to bash back at him posting a now infamous video of her in Versace sheets to the sounds of Cardi B's "Bodak Yellow." This was before the banger made its way to the top of the charts, and some credit that Blac Chyna boosted its popularity as millions were exposed to the song while tuning in at home to her and Rob's real-life soap opera. What Rob did to Blac Chyna is the epitome of an "invasion of privacy" which also happens to be the title of Cardi B's debut album released in 2018.
5. Kylie Jenner and Tyga
January 2016
Then 18-year-old Kylie's boyfriend Tyga was accused of sliding into a 14-year-old's DMs. Screenshots were leaked. The tabloid press stirred up cheating allegations. But both Tyga and the young teen named Molly O'Malia denied allegations. (O'Malia tearfully with a public statement prepared with celeb lawyer Gloria Allred).
In March 2017, Blac Chyna (who has children with both Tyga and Kylie's half-brother Rob) also accused Tyga of cheating on Kylie bringing up other girls' names on Snapchat. Around this time, there was was lots of speculation that Kylie and Tyga had broken up or were breaking up. By April 2017, Kylie was out publicly with new boo Travis Scott. Kylie and Scott's baby Stormi was born February 1, 2018.
6. Kim Kardashian and Kanye West
May 2013
Around the time Kim Kardashian was pregnant with her and Kanye's West's first child, Canadian model Leyla Ghobadi claimed to have been hooking up with West beginning in 2012 and continuing until after Kim Kardashian was pregnant.
Ghobadi said her confession came from thinking if she were Kim and about to have a baby, she would want to know. The allegations seem pretty unfounded and many outlets decided the woman was just trying to drum up some publicity for herself. Later Ghobadi backpedaled on her allegations and said her tryst with West was pre-Kimye.
7. Khloe Kardashian and Lamar Odom
January 2012
Khloe Kardashian and NBA basketball player Lamar Odom's marriage fell apart due to extramarital affairs and a drug relapse. The couple wed in 2009. By January 2012, there were rumors flying about Odom cheating on his wife with a woman he met at a strip club in D.C. Allegations of crack-cocaine drug spirals and unfaithful behavior continued into 2013. Khloe first filed for divorce in 2013 but after Odom almost overdosed and ended up in a coma, she withdrew the petition. Everyone joked Odom was the first guy in history to have drugs and hookers save his marriage. But it didn't last. The couple finally divorced for real in December 2016.
8. Kris Jenner and Robert Kardashian
1983–1991
From around the time Khloe Kardashian was conceived in 1983 to when the couple finally divorced in 1991, there are lots of allegations of extra-marital affairs. Firstly, multiple sources say both Kris Jenner and Robert Kardashian revealed that Khloe couldn't have been Robert's biological child. (Some even speculate if maybe OJ Simpson is her daddy.) After Rob Jr's birth in 1987, Kris Jenner allegedly started seeing soccer player Todd Waterman while she was still married to Robert Kardashian. Supposedly Robert caught them a few times together including once in Waterman's car. He flipped out and swung a golf club at the vehicle.