These Popular Viral Stories Have One Thing In Common — They're 100% Fake
They might've been hugely popular, but these viral stories and memes were all fake.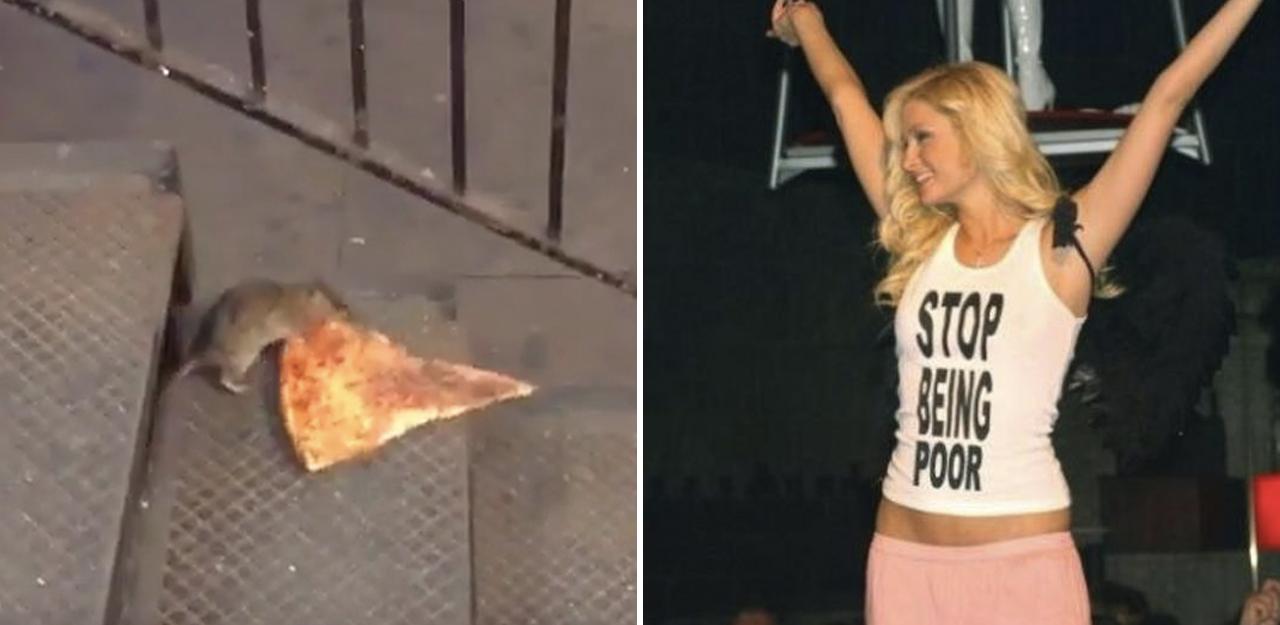 You can't trust everything in your Facebook feed. Thanks to, ahem, certain events from the past two years, people are finally becoming more aware of how easy it is to make fake memes, create Internet hoaxes, and spread mistruths. But hey, it's 2018 now. You'd think we'd be a lot savvier by now when it comes to not falling for videos that were obviously produced by some marketing company.
Article continues below advertisement
But you'll be surprised how many of the biggest viral stories from the past few years were completely fabricated or even outright hoaxes — and yes, we fell for all of them. Below, a few viral stories you had no idea were fake.
Alan Rickman never said this.
Article continues below advertisement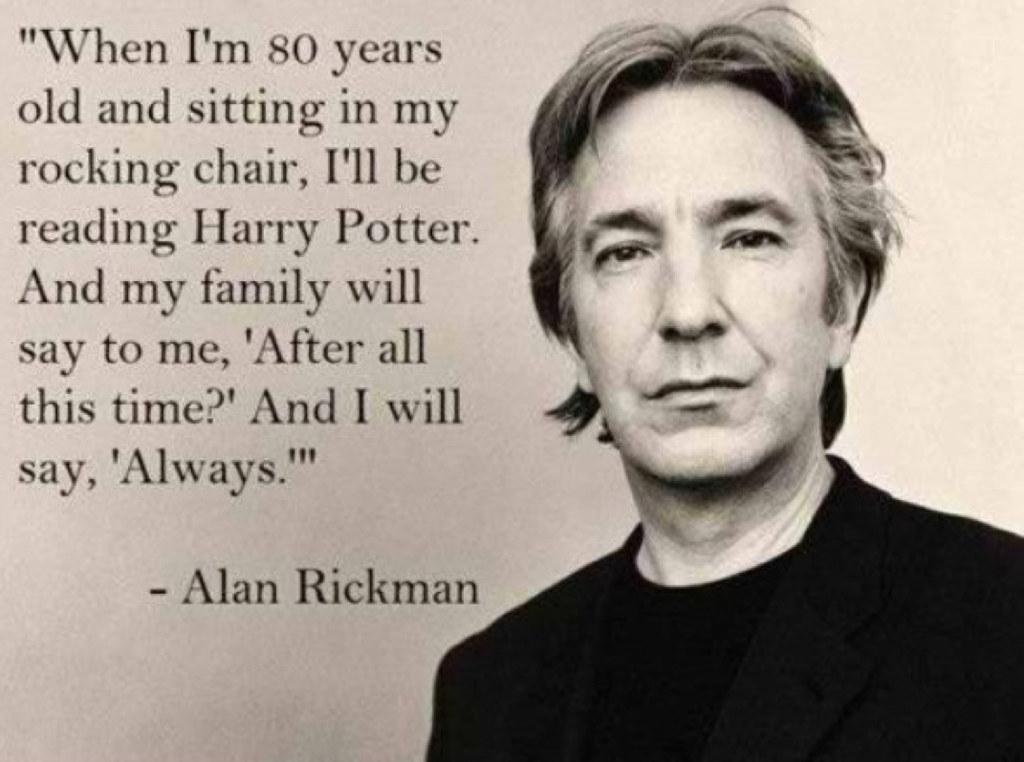 When Alan Rickman passed away in 2016, the Internet was flooded with photos and quotes to commemorate the late Harry Potter star. However, one of the most shared quotes wasn't even real. It was a fake quote created by a fan on Tumblr. And another little fact to put a dagger in your Snape-loving heart? Alan never read the Harry Potter books.
Article continues below advertisement
KFC's fried rat was chicken all along.
Article continues below advertisement
Back in 2015, Devorise Dixon shared this nightmarish picture of a fried rat he found in a box of chicken tenders purchased from KFC. As the entire Internet dry heaved, KFC decided to test the "rat" at an independent lab. The results came back that the fried rodent was in fact chicken. Whew.
Unfortunately, that fried rat head found at a Popeye's was 100 percent real.
That Olive Garden commercial was not written by a bot.
Article continues below advertisement
Earlier this month, everyone couldn't stop sharing a script from a fake Olive Garden commercial. Created by writer Keaton Patti, he tweeted that he made a robot watch hours of Olive Garden commercials and then had the bot generate a script. Although most of the Internet (ourselves included) thought the script was written by a real robot, it actually wasn't. Artificial Intelligence is advanced, but it's not that advanced.
"I wish people wouldn't present these fakes as bot-written. Actual AI-written text just isn't that coherent," scientist Janelle Shane explained on Twitter. "Neural nets learn by example. If you show it 1,000 hours of video (assuming 120,000 unique 30-sec Olive Garden commercials exist), you'll get video out, not a script with stage directions."
Article continues below advertisement
Meryl Streep didn't write that Facebook post.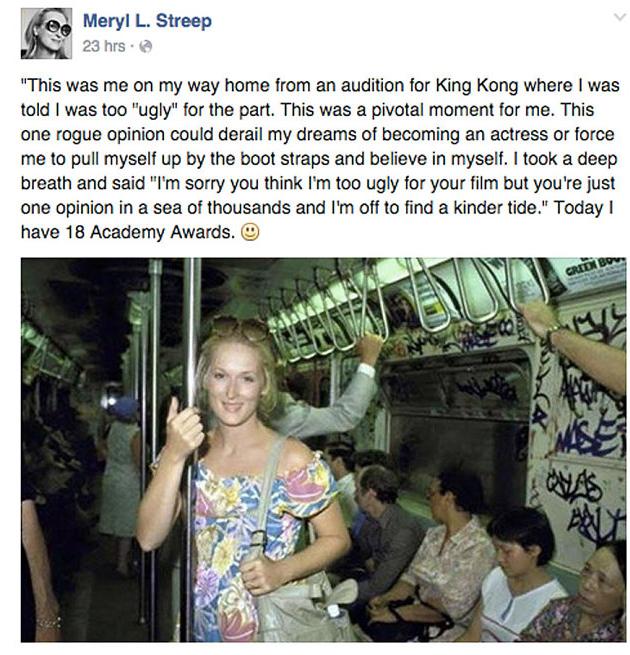 Article continues below advertisement
This Facebook post from actress Meryl Streep's Facebook made the rounds back in 2015. It was an uplifting post about an experience where an Italian director told her she was "too ugly" for a role. "Today I have 18 Academy Awards," the post concluded. How inspiring! Too bad it wasn't real, nor did it even come from Meryl's real Facebook page (because she doesn't have one).
Instead, the post was written by a fan. The incident, however, was a real one. Meryl told the story on The Graham Norton Show in 2015. According to her, while auditioning for a part in King Kong, Italian producer Dino De Laurentiis remarked in Italian, "Why do you bring me this ugly thing?" Meryl then replied, also in Italian, "I'm sorry I'm not beautiful enough to be in King Kong."
Although the story was a real one, the actual Facebook post and the accompanied picture (which was not taken at the same time as her audition) were fake, and the account was later suspended for violation.
Paris Hilton never wore a shirt that said, "Stop Being Poor."
Article continues below advertisement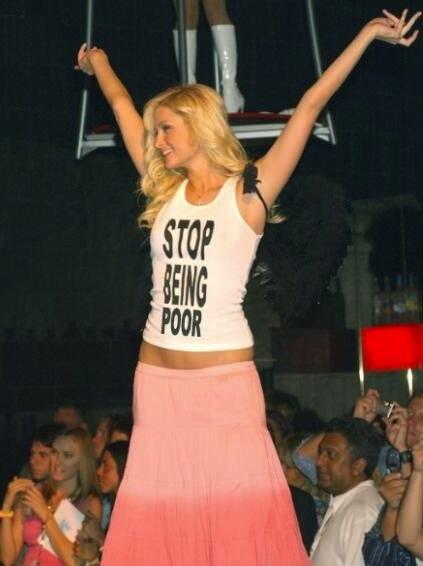 Who remembers the time Paris Hilton pissed off the whole Internet with her tone-deaf shirt that mockingly blared, "Stop being poor"? Although the photo provided fuel for her haters, the picture was actually Photoshopped. The real picture showed her wearing a shirt that said, "Stop being desperate." Yikes — we owe Paris an apology.
Article continues below advertisement
A man never sued his wife for giving birth to "ugly" children.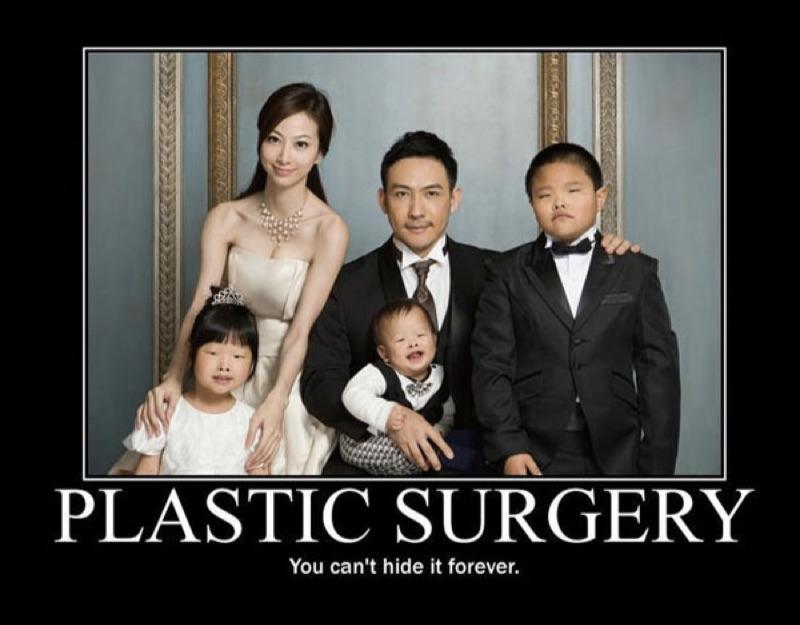 Article continues below advertisement
This story was everywhere back in 2013, and the picture still makes the rounds on Facebook, but it's #fakenews.
According to a report in The Irish Times, a Chinese man sued his wife after she gave birth to a ridiculously ugly baby. After initially thinking his wife cheated on him, the wife confessed to having $100,000 worth of plastic surgery before they met, hence why the baby looked so different.
As hilarious as the story was, the report was completely fabricated by some Chinese newspaper, which was then picked up by other outlets. The picture that accompanied the story was a completely unrelated ad for a Taiwanese plastic surgery center. Taiwanese model Heidi Yeh posed for the family shot with three children whose faces were digitally altered. The text on the ad said, "The only thing you'll ever have to worry about is how to explain it to the kids."
However, the Internet has been circulating the picture for years thinking it's real, much to Heidi's dismay. She confessed in 2015 that the viral story has ruined her life and her career. "I realized the whole world was spreading it and in different languages," she told the BBC. "People actually thought it was real. Even my then-boyfriend's friends would ask about it."
Despite reports debunking the story, the picture still gets shared on social media even today.
The "f--K her right in the p---y" guy was just an Internet hoaxer. 
Article continues below advertisement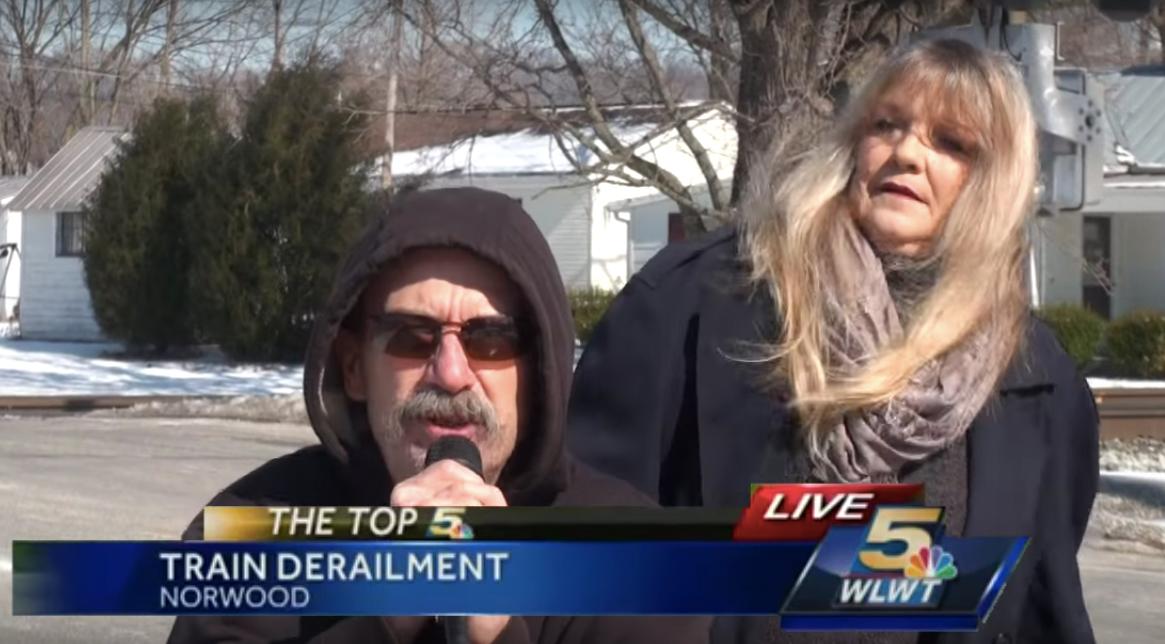 Back in 2014, one of the most vulgar memes involved drunken men loudly shouting "F--k her right in the p---y!" during live news broadcasts. It was incredibly tasteless, annoying, and drove newscasters crazy. And to make matters worse, the meme was ignited by a hoax.
Internet jokester John Cain created a fake video of a man, dressed in a hoodie and sunglasses, grabbing a microphone from a reporter and screaming the offensive phrase during a live broadcast. Even Gawker at the time reported that the video was a hoax. "These videos are terrible 'viral' hoaxes, and you should ignore them until they go away," Jay Hathaway wrote.
But they didn't go away. For the rest of that year, drunken sports fans, 12-year-old boys, and college hooligans delighted themselves in shouting the phrase every time they saw a camera. So, in a way, even though the meme started off as a hoax, through its popularity it morphed into a bonafide real meme. But still — ew.
Article continues below advertisement
Japan never had a "cube-shaped-dog" craze.
Article continues below advertisement
Aww, although this was the most adorable viral story from 2015, this Japanese trend of owners trimming their dogs' hair so that they look like cubes was largely false. First of all, the pictures came from a Taiwanese grooming store, not from Japan. Secondly, all the pictures (all three of them) only came from that one shop, which hardly counts as some newfangled "craze" or "trend." Of course, that didn't stop sites like Boing Boing and MTV from running the story anyway. Unfortunately, it's just not true.
"Pizza Rat" was created by a performance artist.
Article continues below advertisement
Pizza rat, in case you forgot, was a little rat, captured on camera by comedian Mike Little, dragging a slice of pizza down the subway steps. It was probably the most New York meme ever created and spurred dozens of Halloween costumes and Internet jokes. However, as much as it pains us to write this, Pizza Rat was fake.
"In my art, I use highly trained rats to symbolize the shadow archetype and the subway as a symbol of our unconscious minds," Zardulu revealed to Gothamist in a bizarre video. "I trained a rat to drag a piece of pizza down the subway stairs. Why has this become one of the most prolific videos of our generation? I believe because it symbolically completes us by incorporating our shadow into our conscious minds."
Article continues below advertisement
Viral photo of a teacher spying on her student was fake — duh.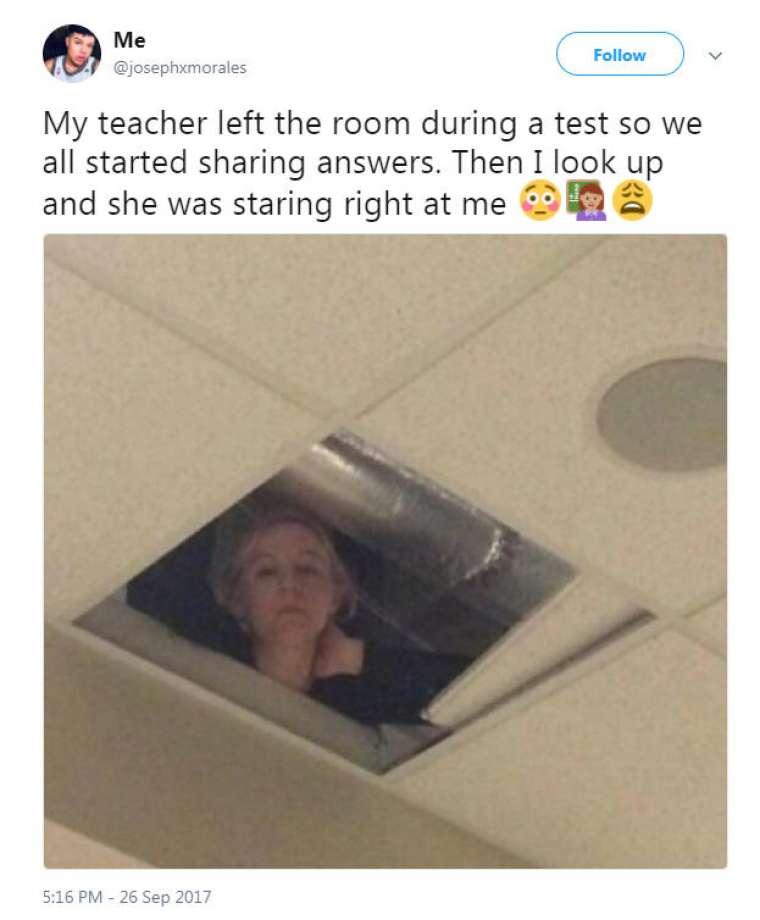 Last year, Texas student Joseph Longoria tweeted this bizarre photo of his teacher spying on the class by hiding in the ceiling during an exam. "My teacher left the room during a test so we all started sharing answers," he tweeted. "Then I look up and she was staring right at me." The photo instantly went viral, but Joseph later told Buzzfeed News that he made the whole thing up.
"I just had it along with the rest of my pictures," he said. "I was deleting them because ya know, storage almost full, iPhone probs. So I decided to make it into a meme."
As for the woman in the ceiling, no one knows who she is or where the picture originated from. Weird.