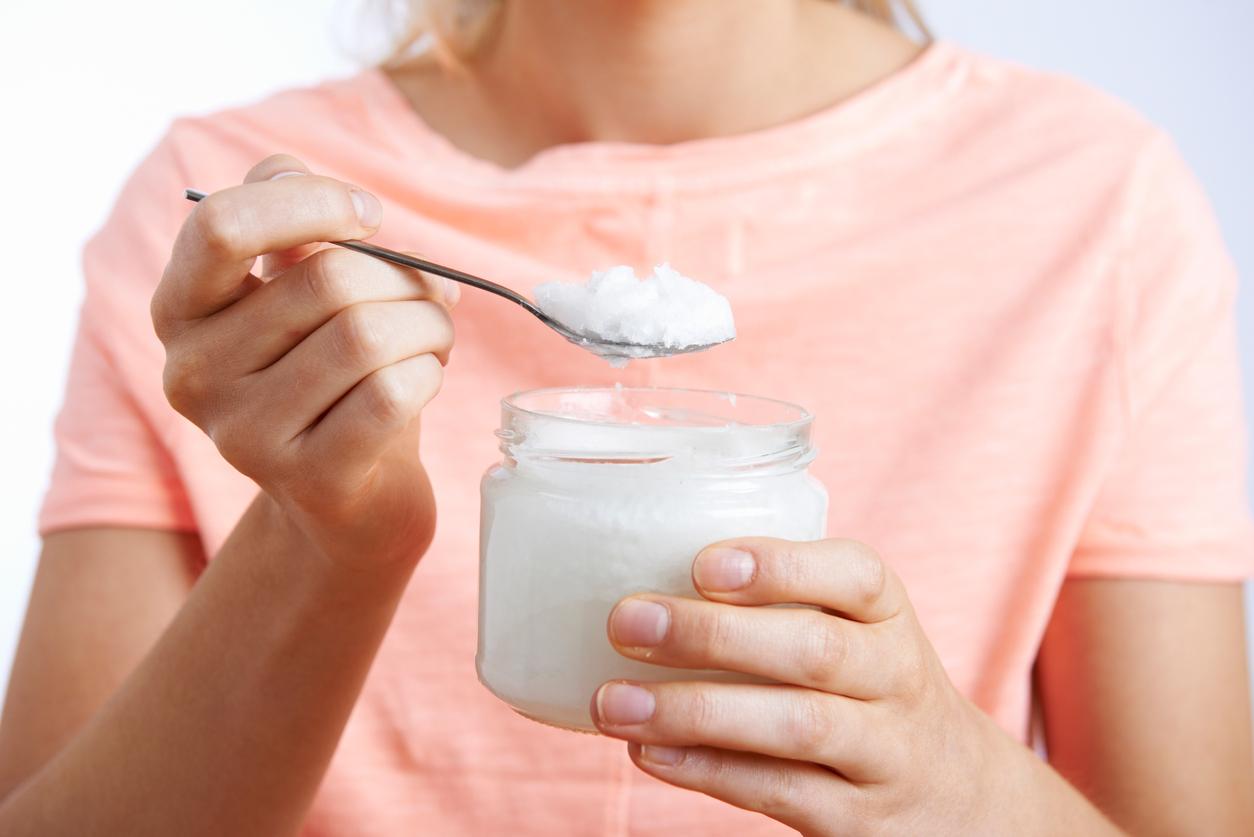 The Internet Learned That Coconut Oil Is "Poison" — And No One Is Having It
Well, I basically discovered Santa Claus didn't exist today. Except Santa is coconut oil and it's apparently terrible for you?! The super-ointment I've been using for as long as I can remember on my hair, skin, food (because it has such an awesomely high frying temperature and makes for the perfectly crunchy fried rice) has been deemed "pure poison" by a new Harvard study.
Article continues below advertisement
Other than for cooking, the oil is used for neonatal massages, oil-pulling, eczema and dandruff, among countless other conditions I can't even pretend to know about. But according to Karin Michels, professor of the department of epidemiology at Harvard T.H. Chan School of Public Health, coconut oil's dangers outweigh its benefits, and it can ultimately do more harm to you than good.
A recent Newsweek article reported that consuming coconut oil carries innumerable health risks. According to the Harvard professor who delivered the groundbreaking lecture on our favorite fat, coconut oil is terrible for your heart because it's made up entirely of fatty acids, which are responsible for blocking arteries.
Article continues below advertisement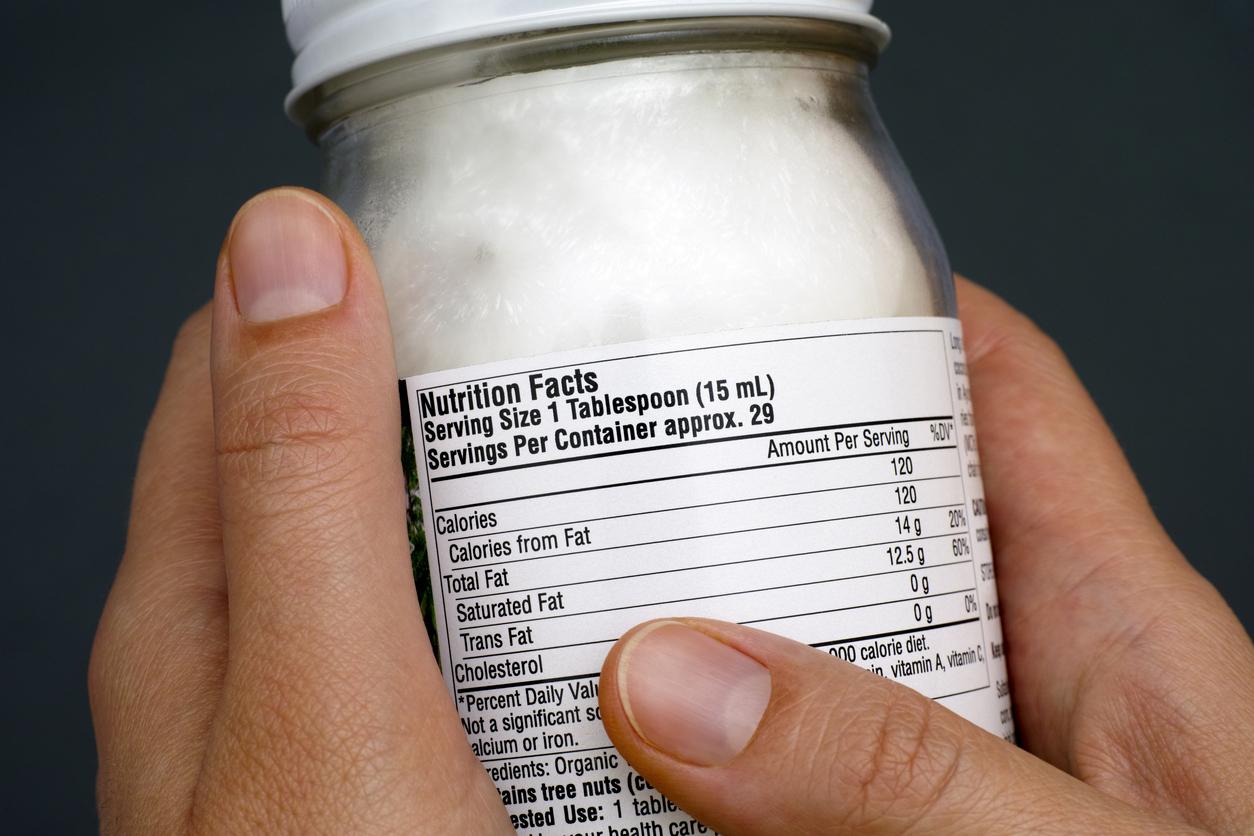 Another study conducted last year concluded that the saturated fats found in coconut oil raise bad cholesterol, and the American Heart Association urged people to avoid eating coconut oil as a consequence.
Article continues below advertisement
But the general population (hello!) is mega confused. While these scary facts are surfacing about the dangers of coconut oil, who can question all of South Indian and East Asian cuisine, which constantly cook with the stuff, or crunchy new-age hippies who use the oil for everything? In 2016, a New York Times study reported 72 percent of people thought coconut oil was "healthy."
And with this coconut-oil-demeaning Newsweek article making the rounds, Twitter is (rightfully!) upset as ever at the new scientific "findings."
Article continues below advertisement
As the daughter of immigrants, I have to say I agree here. We Americans just adore the drama of "debunking" timeless cures and foods, then pawning off some new and shiny "solution" that costs a lot of money and is ultimately much worse for us and the environment.
Article continues below advertisement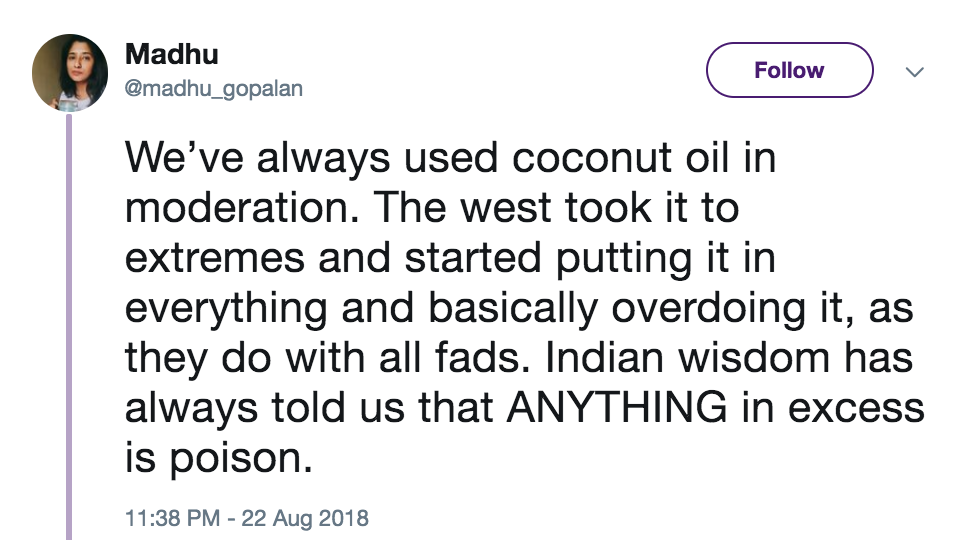 Not to be all "it worked in the old country," but generations of people have been using and eating coconut oil for as long as coconuts have been around, and most of them have lived to tell the tale.
Article continues below advertisement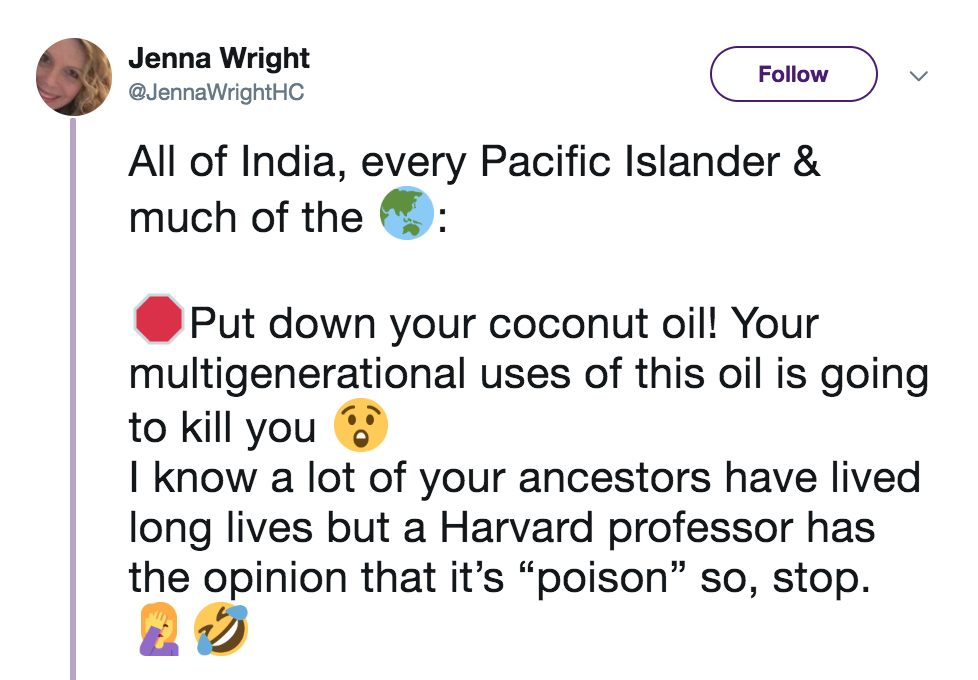 And while I'm devastated a little sad about these recent scientific findings, which will definitely have me thinking twice before I pour some on a frying pan, I do think coconut oil helps a great deal!
Ok, maybe not as effectively as manuka honey, which will literally heal a burn, sore throat, eczema, acne, tooth decay, and can help with digestive issues — but in my opinion, coconut oil is a pretty awesome cure.
Article continues below advertisement
Which I have to disclaim as my opinion, because a thread on reddit had people sharing their "snake oil" equivalents of today. The responses varied from "healing crystals for new age hippies," to "Those detox teas that get pushed on Instagram. Literally just a laxative, super unhealthy both physically and mentally (hello, eating disorder tools), 0/10 not a fan."
Another user shared, "Yeah essential oils as 'alternative medicine' are bulls--t. Essential oils as 'something that smells nice' is perfectly fine with me." Others found this thread to be the perfect opportunity to bring up a trend I'd long forgotten about, magnetic bracelets that supposedly cured everything from vertigo to arthritis.
Article continues below advertisement

Everything considered, I take all of this to mean that if you truly believe in something enough, it will work in your favor. I mean, look at all the generations of Asians who are thriving off a coconut oil diet — and don't forget the guy whose magnetic bracelet proved to be a huge aid in his struggle with arthritis.