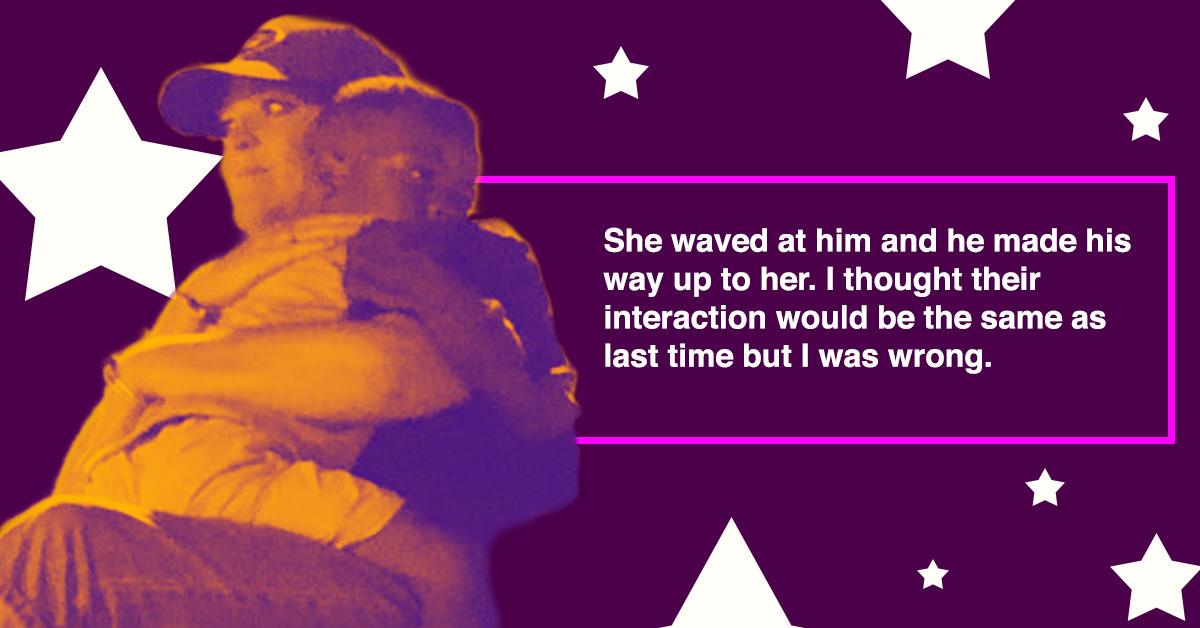 Woman Goes Viral After Embracing a Young Boy at a Football Game
It can be hard to find a heartwarming news story these days, but you've come to the right place. Nothing scary or sad to see here, just a truly beautiful story of two strangers coming into each other's lives to make their days, and those of the people around them, better.
Article continues below advertisement
Star Balloon-Bradley shared a story of her nephew Isaiah, which has since gone viral. The post received over 300,000 shares and close to a million likes in the few days it has been up. It begins, "I don't know who this lady is but if you know her, tell her she's awesome."
Have your tissues ready, this story gets emotional! The scene is early fall in Valdosta, Georgia, and people are assembled on bleachers to watch their favorite high school team, the Lowndes High School Vikings, play.
Article continues below advertisement
The story actually begins two weeks prior, when Star's young nephew Isaiah "walked up" to a stranger at a home game, and the two acted like they'd been friends for life. In her Facebook post, Star writes, "He sat on her lap and they were talking like they knew each other. It lasted no more than 20 minutes. However, she left right after halftime to meet up with her little girl."
Article continues below advertisement
This could have been a tender one-time encounter with a stranger, set beside a high school football stadium. But two weeks later, Isaiah and the lady ended up back where they'd initially met.
Star continues, "Fast forward to tonight... not long after we sat down at the game Isaiah spotted her. She waved at him and he made his way up to her. I thought their interaction would be the same as last time but I was wrong. Isaiah walked right up to her smiling, crawled in her lap and laid his head down on her shoulder."
Article continues below advertisement
"She welcomed him with open arms. This lady patted and rocked Isaiah to sleep like she had given birth to him," Star writes, "It was the sweetest!!"
I would personally need to be rocked to sleep as well if I were attending a high school football game! But all jokes aside, the encounter between her nephew and this lady left a lasting impression on Star.
Article continues below advertisement
"We asked her if she wanted us to get him but she kept telling us she (and he) was fine!! Isaiah and this lady has NEVER met before other than those 20 minutes at a game two weeks ago," she added. "I told her tonight that I am so sorry and I don't know why he keeps bothering her. She replied he's no bother and to not say that again. She said he was her new friend. She then went on to say she only has one child who is 15 and moments like this are priceless!!!"
I don't know what it's like to have a kid, but from what I've gathered from popular culture and coming of age myself, it does seem that the tender moments you share with children are quite fleeting. Before you know it, sweet kids are replaced with their surly teenage counterparts and you can kiss all the hugs and random embraces goodbye.
Article continues below advertisement
But the stranger's tenderness isn't all that moved Auntie Star in this high school football moment. She went on to write, "With all of the racial tension that's going on I'm glad to see the pictures like these because it goes to show color don't matter to a lot of people. It really don't!! Arguing over stuff as such makes us miss the simple pleasures in life." Star really speaks the truth.
Article continues below advertisement
Although she managed to capture these beautiful images and pen her heartfelt Facebook story (which garnered incredible amounts of support), Star wasn't able to get the mystery-lady's name. And that leads us to the most poetic moment of the post, where she writes, "I hate I didn't get her name but I will next game because I'm sure Isaiah will make his way back to her. I love her and don't know her!"
After a few hours on social media, the post received a huge outpouring of love. People from all over the world chimed in to comment "That is so sweet! It almost made my eyes sweat," "Awesome. The world would be a better place if we all have love in our hearts," and "Isaiah is such a sweet boy! Who wouldn't want to hold him? Love it!!!!"
Article continues below advertisement
And Star was even able to pinpoint her nephew's new friend. "Update: We found out who she is," she added to the bottom of her story. "Her name is Mrs. Angela. She's such a sweet lady y'all! It's awesome how God connects people together for whatever reason!!❤️"
Mrs. Angela apparently caught sight of Star's story while it was circulating through social media, and took to her own Facebook page to respond. Angela wrote, "I have been overwhelmed with emotions today as I have read the post Star Balloon-Bradley shared. I am humbled by the kind words everyone has spoken. Isaiah is absolutely adorable! I pray people will Jesus in all this & know His love is beyond measure & that is how I want to love and life my life. I'm not worthy but He sure is!"
Well, now I just want to go to a random sports game and see if there are any kids who look like they could use a hug.