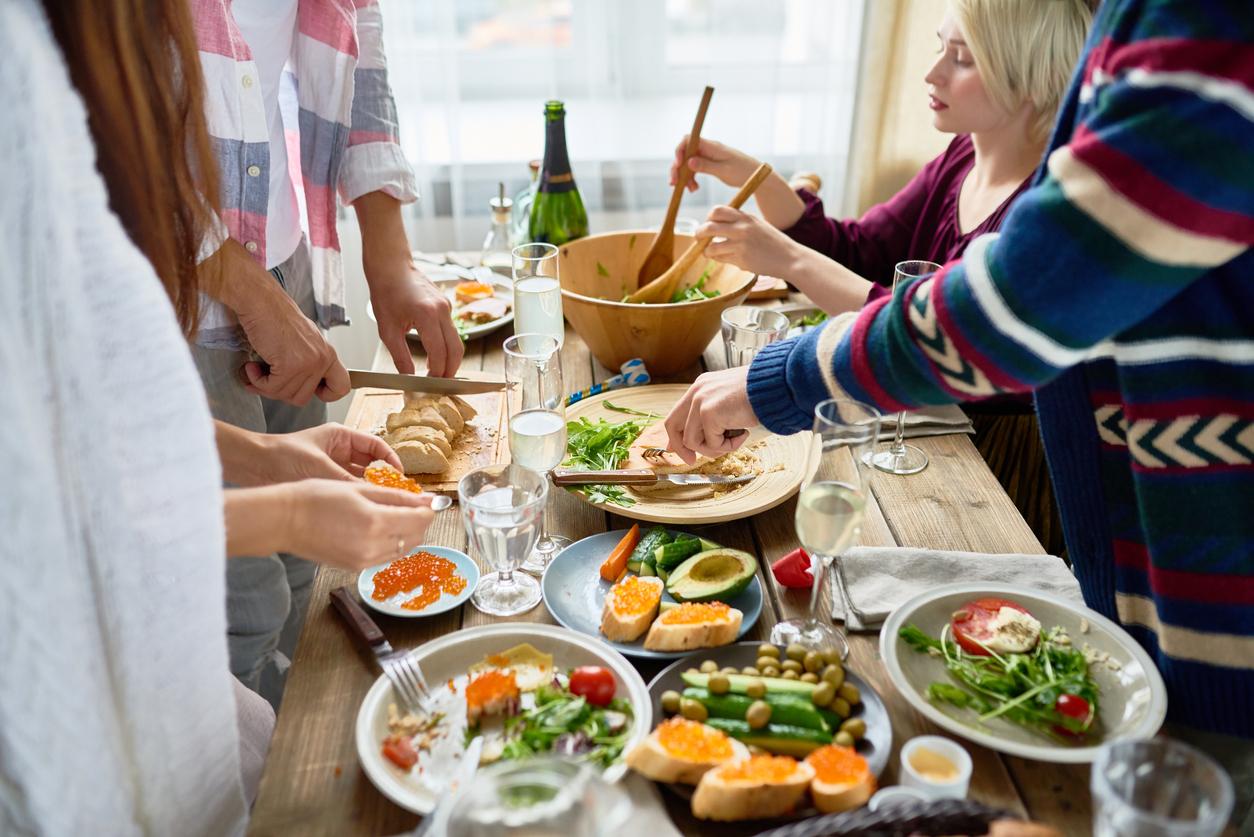 7 Vegetarian Thanksgiving Dishes for People Who Are Sick of Tofurkey
If you're a vegetarian, you shouldn't have to silently suffer this Thanksgiving while everyone stuffs their face with turkey and you're stuck spooning side salads and cranberry sauce onto your plate.
And don't even get us started on tofurkey. Seriously, don't. Just because you eat a plant-based diet doesn't mean your Thanksgiving dinner can't be spectacular and even make meat-eaters jones for seconds.
Below, find 7 vegetarian Thanksgiving recipes for dishes that'll wow your entire family.
Article continues below advertisement
1. Whole Roasted Cauliflower with Golden Beet Tahini
800degrees shared this delectable cauliflower recipe with us and our mouths are watering. The recipe below serves 4.
FOR THE CAULIFLOWER
- 1 Medium Size Cauliflower, leaves attached
- 1 gallon Water, Room temperature
- 1 cup Sea Salt
- 3 TBSP Best quality extra virgin olive oil
- Pinch Smoked Maldon Sea Salt
Make a brine with the water and salt. Submerge the cauliflower and brine for at least 2 hours, up to 24 hours. Remove the cauliflower, pat dry, drizzle with half the olive oil, wrap in foil and bake in a preheated oven (preferably woodfired) at 500 degrees for 15 minutes. Remove from the oven, leave in foil for 5 minutes, then open foil to let the steam out. When ready to serve, completely unwrap the flower and roast in a wood burning oven (or regular oven, or covered charcoal grill) at 500 degrees for 10-15 minutes or until nicely browned and hot throughout. Drizzle with remaining olive oil and sprinkle with smoked sea salt. Serve over golden beet tahini sauce.
FOR THE GOLDEN BEET TAHINI
- 2 Medium Golden Beets
- 1/2 cup Tahini
- 3 Garlic cloves, peeled
- 1 tsp Sea Salt
- 1 Lemon, juiced
- 2 TBSP Extra Virgin Olive Oil
- ½ cup Warm water (or more as needed to achieve sauce consistency)
Preheat oven to 400. Roast the beets wrapped in foil and lightly sprinkled with salt and a few drops of olive oil until tender throughout, about one hour. Allow the beets to cool until cool enough to handle, then peel skins. Add beets, tahini, lemon juice, garlic cloves, EVOO, salt and water to a blender and puree until very, very smooth. Adjust the consistency with water and the taste with salt and lemon juice. Enjoy!
2. Elote Croquetas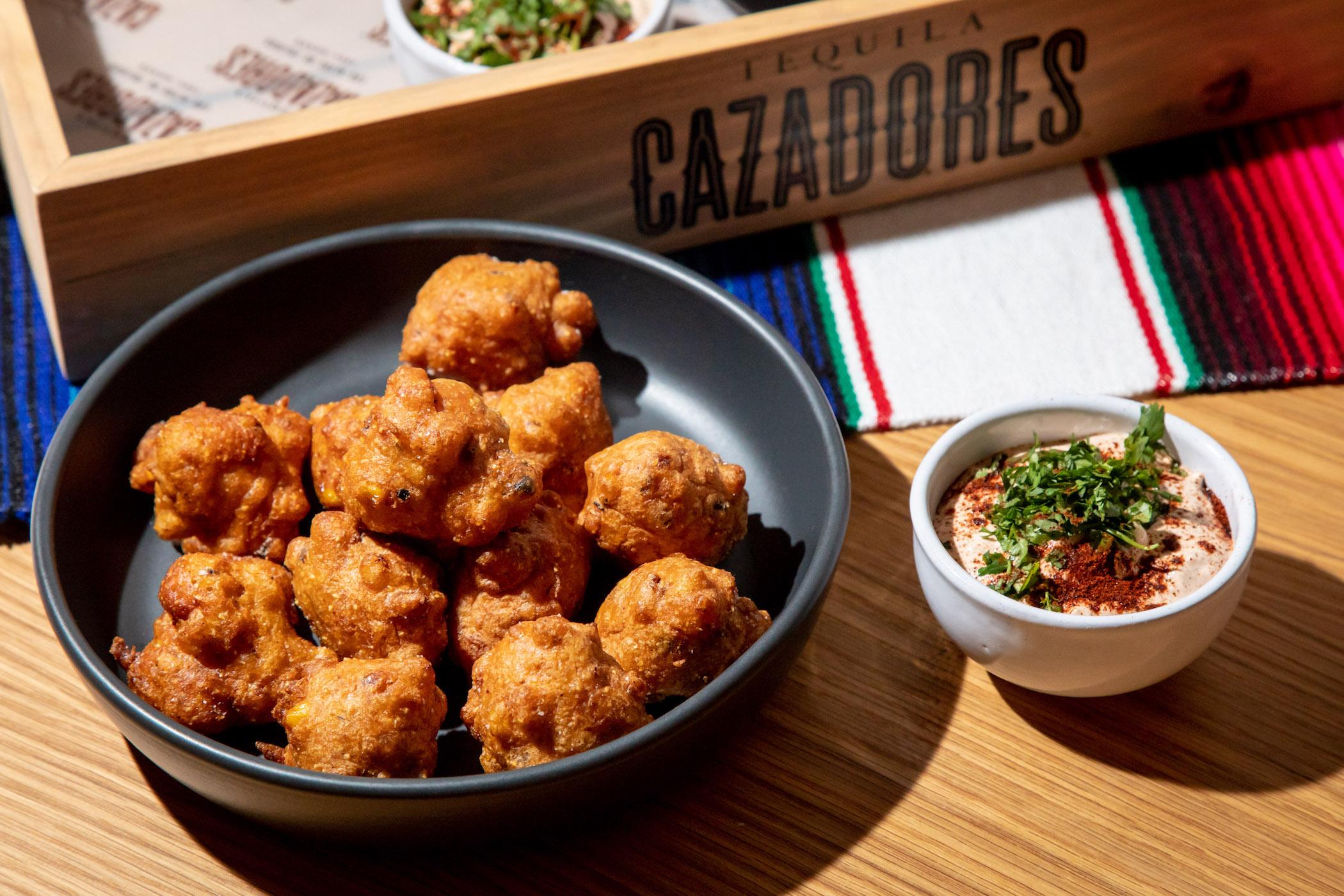 Add some spice to the traditionally bland palate of Thanksgiving dishes with the elote croquetas recipe MasterChef Aaron Sanchez whipped up in collaboration with Tequila Cazadores.
This recipe yields about 36 croquetas, or 8-10 servings.
Ingredients:
- 4 ears corn, shucked
- 1 1⁄2 quarts canola oil
- 2 eggs
- 1 cup milk
- 1 cup flour
- 3⁄4 cup cornmeal
- 2 teaspoons salt
- 1 1⁄2 teaspoons baking powder
- 2 teaspoons chili powder, divided 1⁄2 teaspoon cayenne pepper
- 1 cup crema
- 1⁄2 cup cotija cheese
- 1 tablespoon lime juice
Instructions:
1. Set the corn directly over a medium-high flame, on a grill or gas stove, and cook for 2 to 3 minutes per side, until they're charred all over. Set aside to cool. When they're cool enough to handle, cut the kernels off the corn.
2. Fill a Dutch oven or pot with the canola oil; if you have a thermometer, clip it to the side of the pot. Bring it to 360F over medium heat and line a plate or rack with paper towels.
3. Meanwhile, make the batter: Whisk the eggs with the milk in a large bowl. Separately, combine the flour, cornmeal, salt, baking powder, 1 teaspoon chili powder, and cayenne pepper. Gradually add the dry ingredients to the egg mixture and stir just to combine. Fold in the corn kernels.
4. Drop heaping tablespoons of batter into the hot oil (be careful so it doesn't splash), working in batches so the pot isn't crowded. Cook for 3 to 4 minutes, until they're a deep golden brown all over; use a slotted spoon to turn them after 2 minutes if they're not cooking evenly. When they're ready, remove them to cool on the lined plate and repeat with the remaining batter.
5. To make the dipping sauce, combine the crema, cotija cheese, lime juice, and remaining teaspoon chili powder. Eat the croquetas while they're warm.
Article continues below advertisement
3. Maple Balsamic Brussel Sprouts
These Brussels sprouts make for a healthy and hearty side to any Thanksgiving main. Tone It Up founders Karena Dawn and Katrina Scott shared this recipe that serves 4.
Ingredients:
- 4 cups brussels sprouts
- 2 Tbs grape seed oil
- 4 Tbs pure maple syrup
- 2 shallots, minced
- 4 Tbs slivered almonds
- 4 Tbs balsamic vinegar
Instructions:
Cut off the ends of the Brussels sprouts and cut in half lengthwise. Steam Brussels sprouts for 5-8 minutes or until tender. Next, heat up oil in a pan over medium heat, add shallots, sprouts and almonds. Add balsamic vinegar about 4 minutes in. Sauté Brussels sprouts on medium heat for 5-6 minutes. Add in maple syrup right after removing the pan from heat. Enjoy!
Article continues below advertisement
4. Mini Portobello Tortas with Quick-Pickled Onions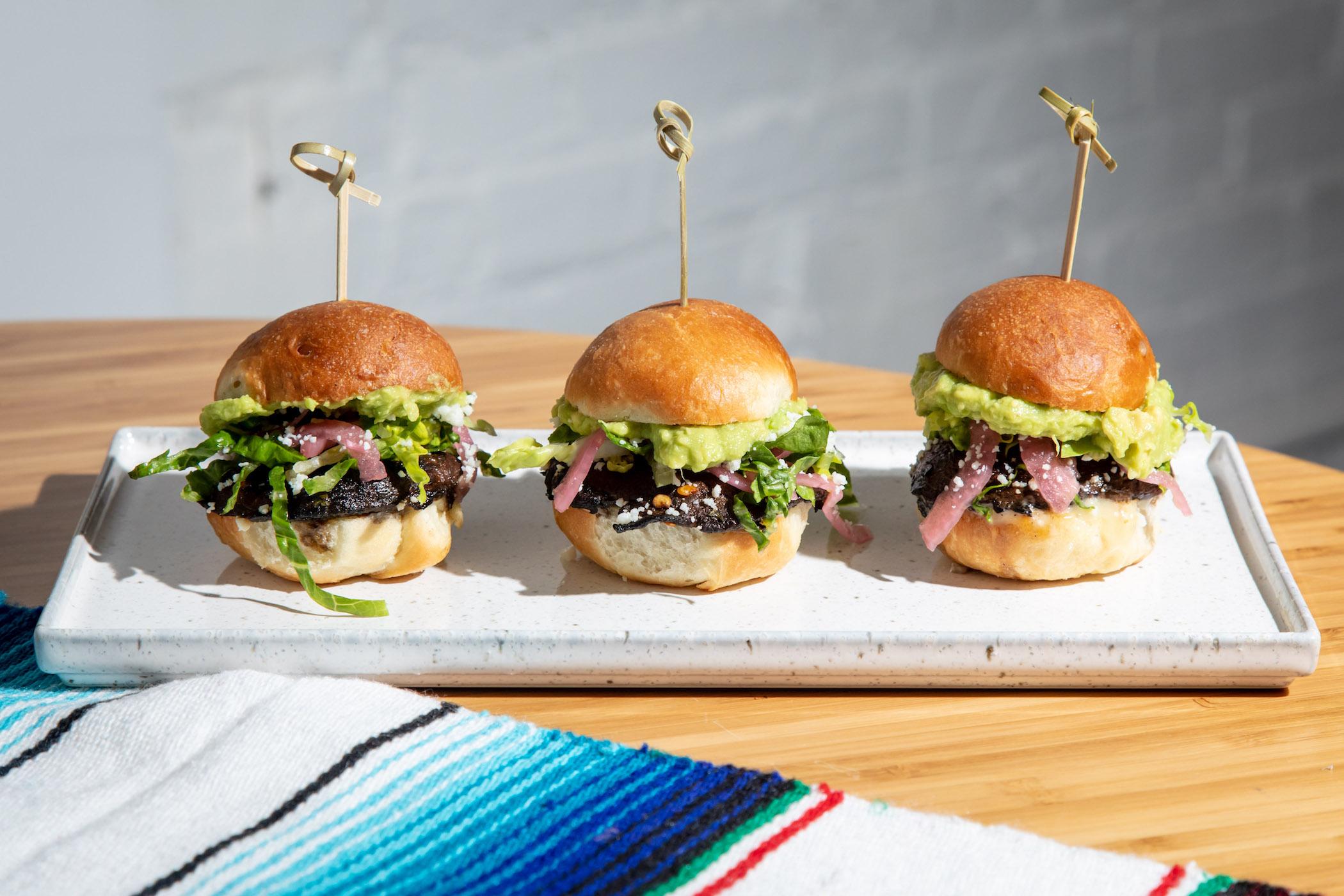 The picture of these mini tortas is making me hungry. Why wait until Thanksgiving when you can "test" out this dish on the family tonight?
This Tequila Cazadores recipe was also thought up by celebrity chef Aaron Sanchez, and yields 8 mini tortas.
Ingredients:
- 1⁄2 red onion, thinly sliced
- 2 teaspoon kosher salt, divided
- 1 teaspoon sugar
- 1⁄2 cup red wine vinegar
- 2 large portobello mushroom caps
- 3 tablespoons olive oil
- 2 tablespoons soy sauce
- 1 tablespoon chopped fresh oregano
- 1⁄2 teaspoon ground cumin
- 1⁄2 teaspoon smoked paprika
- 1⁄2 teaspoon red pepper flakes
- 8 dinner rolls or miniature buns, halved 2 avocados
- 1⁄4 cup lime juice
- Mayonnaise for serving
- Shredded lettuce for serving
- Crumbled queso fresco for serving
Instructions:
Place the red onion in a bowl and sprinkle 1 teaspoon salt and the sugar over it. Cover with red wine vinegar and set aside for at least 30 minutes while you prepare everything else (this can also be done in advance).
Wipe the mushrooms clean. Combine the olive oil, soy sauce, oregano, cumin, paprika, and red pepper flakes, and brush it all over the mushrooms, top and bottom.
Prepare your grill with a medium flame and allow to heat for at least 5 minutes. If you're not grilling, set a cast iron skillet over medium heat and toast the rolls in a 325F oven for about 5 minutes.
Place the mushrooms on the grill, gill side up, and cook for 3 to 4 minutes, until very tender. When they're done, transfer them to a plate to cool and toast the rolls over the grill for 1 to 2 minutes.
Mash the avocados with the lime juice and 1 teaspoon salt. When the mushrooms have cooled, cut them into quarters.
To assemble the tortas, spread mayonnaise over both halves of the rolls. Spread guacamole over the bottom half and layer it with lettuce, quick-pickled onions, queso fresco, and a slice of mushroom. Top with the other half of the roll and eat right away.
Article continues below advertisement
5. Not-Your-Grandma's Cranberry Sauce
This zesty take on the traditional Thanksgiving cranberry sauce also comes to us from Tone It Up founders Karena and Katrina. Not much to know here other than that the extra ingredients infuse the sauce with tons of extra flavor.
Ingredients:
- 12 oz. – 1 lbs. Fresh Cranberries
- 1 Cup of Pears (or apples) Skinned, cored and diced.
- 1 Cup Water
- 1/2 Cup Natural Real Maple Syrup
- 1 tsp. Cinnamon
- Juice from 1 Orange
- 1 tsp. Orange Zest
Instructions:
Rinse cranberries and place in a pot on the stove over high heat with the water. Add diced pears and bring water to a boil. Once boiling, add remaining ingredients except the orange zest.
The berries will begin to burst, thickening the mixture into a sauce. Stir frequently. Once all the berries have burst reduce to a simmer. Add in orange zest and continue stirring occasionally for about 10 minutes. Remove from heat and allow to cool for five minutes. Cover sauce and chill in the freezer for several hours before serving.
Article continues below advertisement
6. Roasted Butternut Squash Soup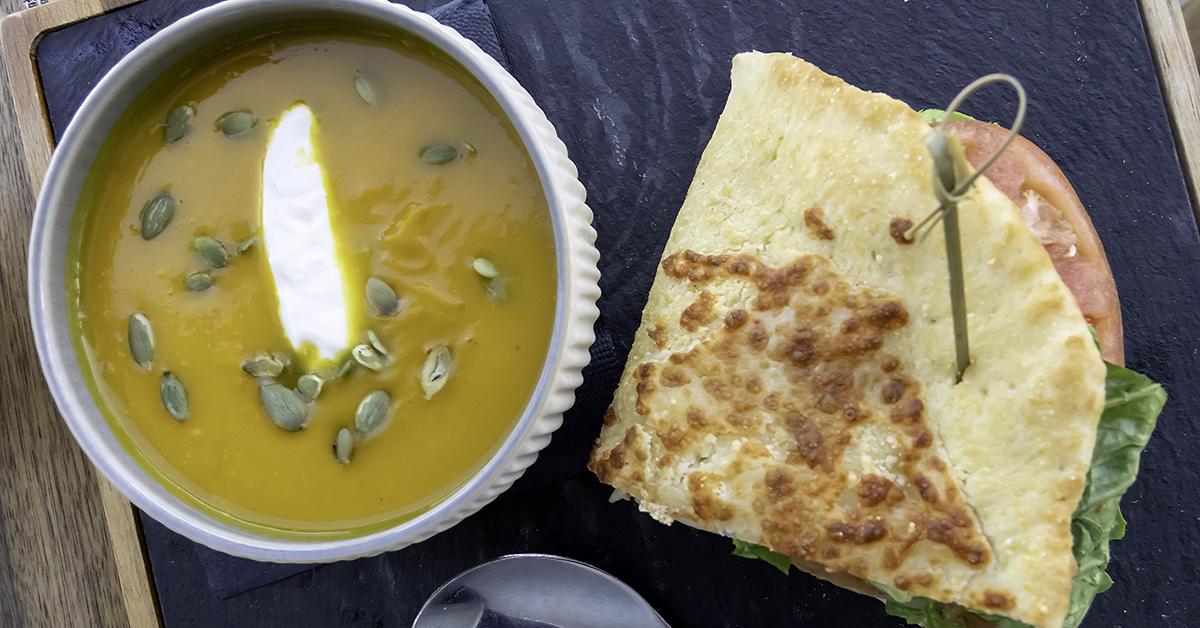 BALEENKitchen, an amazing restaurant tucked inside a Redondo Beach, CA hotel, was generous enough to share their honestly addictive butternut squash soup recipe with us. Seriously, just double the recipe so everyone can serve themselves the portions they really want.
Ingredients:
- 5 lbs. Butternut Squash
- 1 ea. Yellow Onion, diced
- 2 ea. Peeled Carrot, diced
- 3 ea. Stalks of Celery, diced
- 5 ea. Cloves of Garlic
- 2 ea. Peeled Shallots
- 1 ea. Leek, just the white part
- 1 cup White Wine
- TT Salt and Pepper
- 1/2 teaspoon Champagne Vinegar
- 1 oz. Crème Fraiche or Sour Cream
- 1 oz. Toasted Pumpkin Seeds
Instructions:
Split Butternut Squash lengthwise, removing seeds. Brush each flesh side with olive oil and season with salt and pepper.
Roast in 375 degree oven for 1 to 2 hours, until flesh is soft. Remove Squash and let cook until able to remove skins.
In a pot, sweat all vegetables with little olive oil for 6-8 minutes over medium heat, no color. Then add white wine, cooked Squash and cover with enough water to cover all ingredients.
Cook for 1 hour, then careful blend all ingredients and push through a china cap or strainer.
When finished, adjust seasoning and thickness with salt, pepper, Champagne Vinegar and water. Garnish the soup in a bowl with Crème Fraiche and Pumpkin Seeds.
Article continues below advertisement
7. Baked Stuffed Apples
Sam's Club lovers know that it's pretty much the best place to buy everything, so when they shared this super simple Thanksgiving recipe with us, we knew we had to add it to the mix.
Remember, we said vegetarian, not vegan.
Ingredients:
- 4 medium apples
- 1/4 cup crumbled blue cheese, divided
- 1/4 cup quick-cooking oats
- 1 Tbsp. dried cranberries
- 4 Tbsp. raisins
- 2 Tbsp. brown sugar
Instructions:
Cut apples in half lengthwise; remove cores. Place in an ungreased 13x9-inch baking dish. Fill each half with 1 tsp. blue cheese.
In a small bowl, combine the oats, cranberries, raisins and brown sugar; spoon into apples. Top with remaining cheese. Bake, uncovered, at 350°F for 35 to 40 minutes or until tender.