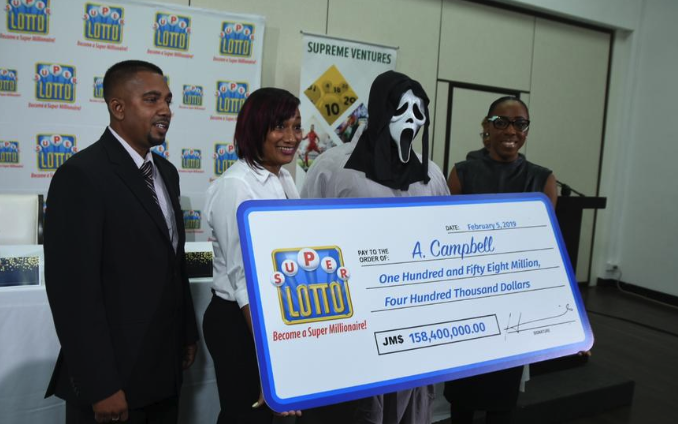 Lottery Winner Wears 'Scream' Mask To Collect Prize So Family Won't Hound Him
Winning the lottery might some like a dream come true for many, just imagine what you could do with all that cash. But for some people, winning the lottery ends up being a curse. Suddenly, all of your relatives, and everybody that you've spoke to one or two times, knows that you're loaded.
Article continues below advertisement
Unsurprisingly, many winners choose to remain anonymous throughout the entire process. Including collecting their check. A Jamaican man, who only identified himself as A. Campbell, recently decided to collect his $158.4 million ($1.17 million US) prize from the nation's Super Lotto while wearing a mask from the horror movie Scream.
Article continues below advertisement
The man reportedly waited 54 days to claim the ticket. According to the Jamaica Star, Campbell became sick when he found out he won the Super Lotto in November, after buying a $200 ticket.
"I found out [I won] the same night," he said. "Normally, I would write down the numbers from the [televised] draw, eat and then go and check my numbers. I looked at my ticket [that night] and ran into my bathroom and said: 'I won! I won!'"
"I want to get a nice house. I haven't found it yet, but I'll be looking for one soon. I like to handle money. I don't beg, I don't borrow," he said. "So I'm looking at things that can turn over the money. I have a little business, so I plan to make it bigger, buy an apartment. I love to have money."
Article continues below advertisement
Back in June, another Super Lotto winner decided to wear an emoji mask to protect her identity after she won $180,900,000 in Jamaican money.
Article continues below advertisement
According to Inside Edition, lottery winners in the Caribbean country often wear disguises while collecting their prizes due to high levels of crime in the country, and fears that they will be hounded for money by family and friends.
Lottery woes are a problem in the United States too. In 1999, a woman named Denise Rossi lost every cent of her lottery winnings when she handed her husband of 25 years, Thomas, divorce papers without telling him she was splitting the $6.6 million win with five co-workers. Since Rossi failed to declare her assets in the divorce proceedings, as the state of California requires, her ex-husband ended up taking everything, instead of half.